#PeaceAndSolitude #PeaceAndSolitudeGuide #SolitudeInYourLife #PeaceAndQuiet #SolitudeTips
Top Quality Peace and Solitude In Your Life PLR Report
Guide to Ways of Adding Peace and Solitude to Your Daily Life
In the midst of a busy, hustle-bustle day, you may yearn for some peace and quiet. The phone is ringing off the hook. People are knocking on your door. Partner, children, and boss are all clamoring for your attention. If one more person asks you to do something for them, you just know you're going to snap. It's on days like this you simply want to get away from it all.
The odd thing is, however, that even though there's so much going on in everyone's lives, they rarely take the time to get away from the noise, the unending activity, or demands on their attention. It's no wonder people are feeling stressed and burned out. They don't take the time to sit in silence.
This report will outline some ways of adding peace and solitude to your daily life when it seems like all you want to do is yell, "Stop the world, I'm getting off!"
Many people aren't even aware of how to be quiet any longer. They don't know how to spend time in their own presence without music or the television playing in the background. Some of them rarely get outdoors to enjoy the beauty of the world around them. They simply keep their nose to the grind stone and watch the world pass them by.
Introducing The…
Top Quality Peace and Solitude In Your Life PLR Report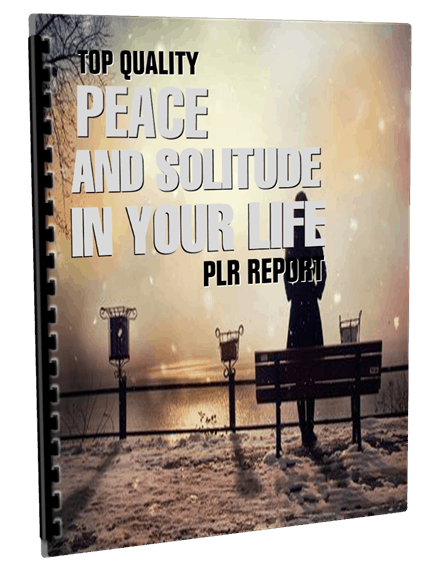 Understanding Why Times of Peace and Solitude Are Important
Why would anyone want to take time out of their busy schedule to get by themselves? What could they hope to accomplish? How could time spent in peace and solitude affect their lives? The answers may surprise you.
Perspective
Allowing yourself some time each day to reflect on the days that have passed will give you a new perspective on things. Pay attention to how much of your time you work and how much time is devoted to having a healthy relationship with those around you. You may find you're spending too much time in one of those endeavors and not enough in the other.
Since you've taken some time to reflect, you're now able to see the balance you seek may not be there. If you know there's no balance, you can choose to make changes in your life or leave things as they are. Which relationships are nurturing and which ones are dragging you down?
What about your career or what you do to earn a living? Have you set goals for where you'd like your career to go? Are you working toward those goals or have you become stagnated by the status quo and are simply trying to get by? How you answer any of these questions can greatly affect your life, what you do with it, and any changes you may choose to make.
Independence
Spending time in solitude and peace can also help you learn to be independent. It gives you emotional maturity you may not be able to attain if you're constantly glued to a television, your ear permanently attached to your cell phone, or your nose stuck to your computer. Technology can be a great asset, but it can also be a hindrance to personal growth.
Are you comfortable in your own skin? That may seem like a silly question, but it's one you may want to answer. If you're comfortable in your own skin it means you don't need others around to feel fulfilled. You like who you are and spending time in your own company. You're also aware that being in solitude and quiet can help you learn about yourself and what you're capable of.
Creativity
Peace and solitude may also bring out creative juices you had long since buried or never knew existed. Creative minds need solitude to create. You may be able to begin the creative process with flurry of activity around you, but your best creative effort will come when you're alone with your own thoughts and peace surrounding you.
Relationships
You've undoubtedly heard the saying "Absence makes the heart grow fonder." While that may seem contrary to what seems right, there's also a good deal of truth in it. Men and women need an opportunity to be apart from each other. If they spend too much time together, all that togetherness may breed contention and stress.
Men may feel trapped in a relationship if they're with their partner all of the time. They need their space to be alone as well as time to nurture friendships with their male friends. The same is true of women. They need time to relax in a bathtub for hours, if necessary, or to spend a 'girl's night out' on occasion. The time apart will give them both a breather and could very well improve the times they are together.
Spiritually
Spiritual leaders of the past have nearly all spent time alone. Jesus spent 40 days in the wilderness before beginning his earthly ministry. Buddha sought spiritual enlightenment by spending long periods of time in meditation. Look at the importance these and other spiritual leaders places on solitude and times of peace and you may begin to realize the importance in your own life.
Freedom
Spending time in peace and solitude also affords you the ability to do what you want to do which gives you a sense of freedom. There's no end to what you can do if you're alone. The choice of what to do is yours and the options are limitless.
Learning Ways of Adding Peace and Solitude to Your Daily Life
Now that you know some of the reasons why peace and solitude are so important, you may be wondering how to add it to your life. It's really not as hard as it may seem. However you'll want to let others in your life why you need to be alone and that everything is alright. You simply need time to reflect and refresh yourself so you're more 'there' for them when you rejoin them.
has been added to your cart!
have been added to your cart!
Package Details:
Download File Size – 1.00 MB
Total Word Count: 3112+ Words
Word Doc Format – Source File
Text Doc Format – Source File
License Details:
You can add the articles or content to an ebook or product that you plan to sell or give away for individual use.
You can use the content to build your email list.
You can modify the content by removing, adding or otherwise editing to suit your needs.
You can use the content on your websites, blogs, newsletters or anywhere you publish content.
You can add your affiliate links, product links, Adsense and other ad code.
You can bundle the content into a viral report, free ebook, product or bonus for your customers.
You can charge for access to read this content. For example, a paid ebook, membership site or other paid access content.
You can translate it into another language and resell with personal use rights.
You can add the content as a autoresponder email series.
What you CANNOT do:
1 – You cannot give any type of resell rights to others. In other words, you can sell this stuff, but your customers can't.  Why?  This protects all our members and helps ensure there is a consistent limit on the number of sellers of this PLR. We allow 100 members/sellers maximum. Period.
2 – You cannot submit any of the content provided by Buy Quality PLR to reprint article directories or other websites which accept reprint content even if you have edited or reworded the content.
Why? Because many article directories won't take PLR articles. If everyone started submitting similarly written articles to these directories it wouldn't be fair for the directory owners, their users or our members. Be fair to everyone involved and don't do it, even if you feel you've edited or reworded the article.
has been added to your cart!
have been added to your cart!
Share this and get 20% off!
---
TAG : peace and solitude plr, peace and solitude plr content, peace and solitude plr report, plr peace and solitude, solitude plr, tips for new peace and solitude plr, tips for peace and solitude today
CATEGORY : Lead Magnets, PLR Lead Magnets, PLR List Building Reports, PLR List Building Reports, Private Label Rights Products, Reports, Spiritual PLR