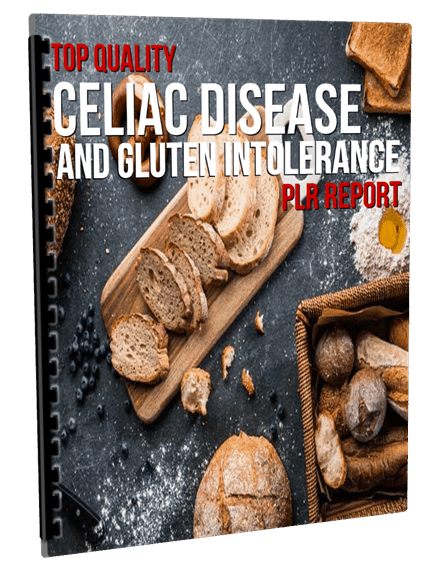 Choose Your Desired Option(s)
has been added to your cart!
have been added to your cart!
#CeliacDisease #GlutenIntolerance  #CeliacDiseaseTips  #GlutenFree #GlutenFreefoods
Top Quality Celiac Disease and Gluten Intolerance PLR Report
A Guide Explaining the Facts about Celiac Disease and Gluten Intolerance
If you were to ask most people what Celiac disease is the chances are they won't know. In fact, unless you or a loved one has Celiac disease you may not know much about it either. The same can be said about gluten intolerance. Unless you're faced with it you may not be aware of it or even know what it is.
Celiac disease and gluten intolerance aren't new conditions but they are now becoming more readily known. It's not uncommon to go to a grocery store now and be able to find foods which are gluten free. Learn the facts about Celiac disease and gluten intolerance by continuing to read. You may be surprised at what you learn.
What is it Celiac Disease?
Celiac disease is a disease affecting the digestive system. Not only does it damage the small intestine, but it also keeps the nutrients in the food from being absorbed. The main culprit in the development of this disease appears to be gluten as there is an abnormal immune reaction to it.  Gluten is a protein found in barley, rye, and all forms of wheat (durum, semolina, spelt, einkorn and faro). You may think gluten is only found in foods but it can also be found in lip balms, vitamins and medicines as well.
How does the body react when someone with Celiac disease eats gluten? Their immune system destroys the villi, the tiny fingers which line the small intestine, which are necessary for food absorption. If the villi are destroyed, due to Celiac disease or any other reason, the small intestine does not absorb the nutrients from the food which is eaten and the person very quickly becomes malnourished. No matter how much food they eat, or the quality of that food, their body simply will not receive the benefit of those nutrients.
From everything scientists can determine, Celiac disease is hereditary and will run in families. It can affect children and adults alike. Once the disease becomes active it will continue to manifest itself throughout the remainder of that person's life. Doctors believe the disease may be triggered by common occurrences in life such as surgical procedures, pregnancy and childbirth, severe emotional trauma or viral infections.
It is believed one out of every 133 people in the United States is affected by this disease. Celiac disease is not an allergy to gluten which can be outgrown. It is an autoimmune disease which can adversely affect one's life if not treated. Some doctors recommend that everyone in the immediate family of someone diagnosed with Celiac disease be tested since the disease is so prevalent among family members.
If someone has Celiac disease, whether diagnosed or not, continuing to consume gluten can lead to other complications such as anemia, some forms of cancer, and osteoporosis. It is for this reason anyone having a reaction to gluten would want to check with their doctor about the possibility of their having Celiac disease.
Introducing The…
Celiac Disease and Gluten Intolerance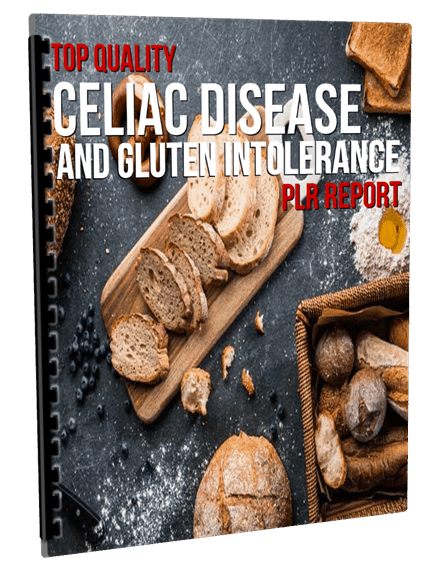 What is Gluten Intolerance?
Many people believe Celiac disease and gluten intolerance is the same thing.  While those with Celiac disease are intolerant to gluten, it is much more than that. Gluten intolerance can include any sensitivity to gluten no matter how small. So, even though there are some similarities between gluten intolerance and Celiac disease, they aren't the same thing.
Some people who have intolerance to gluten may test positive to Celiac disease but most don't test positive. People who are sensitive to gluten but do not have Celiac disease are called Non-Celiac Gluten Sensitive (NCGS). As many as 15% of all people will have some type of sensitivity to gluten but will not be diagnosed with Celiac disease.
The number of people with diagnosed Celiac disease could be as high as one in every 200 people. For NCGS, the numbers are nearly 30% higher with as many as one in seven people having this condition. The symptoms of either condition, if they go undiagnosed, the potential for damage continues to increase.
has been added to your cart!
have been added to your cart!
Package Details:
Download File Size – 1.00 MB
Total Word Count: 3649+ Words
Word Doc Format – Source File
Text Doc Format – Source File
License Details:
You can add the articles or content to an ebook or product that you plan to sell or give away for individual use.
You can use the content to build your email list.
You can modify the content by removing, adding or otherwise editing to suit your needs.
You can use the content on your websites, blogs, newsletters or anywhere you publish content.
You can add your affiliate links, product links, Adsense and other ad code.
You can bundle the content into a viral report, free ebook, product or bonus for your customers.
You can charge for access to read this content. For example, a paid ebook, membership site or other paid access content.
You can translate it into another language and resell with personal use rights.
You can add the content as a autoresponder email series.
What you CANNOT do:
1 – You cannot give any type of resell rights to others. In other words, you can sell this stuff, but your customers can't.  Why?  This protects all our members and helps ensure there is a consistent limit on the number of sellers of this PLR. We allow 100 members/sellers maximum. Period.
2 – You cannot submit any of the content provided by Buy Quality PLR to reprint article directories or other websites which accept reprint content even if you have edited or reworded the content.
Why? Because many article directories won't take PLR articles. If everyone started submitting similarly written articles to these directories it wouldn't be fair for the directory owners, their users or our members. Be fair to everyone involved and don't do it, even if you feel you've edited or reworded the article.
Share this and get 20% off!