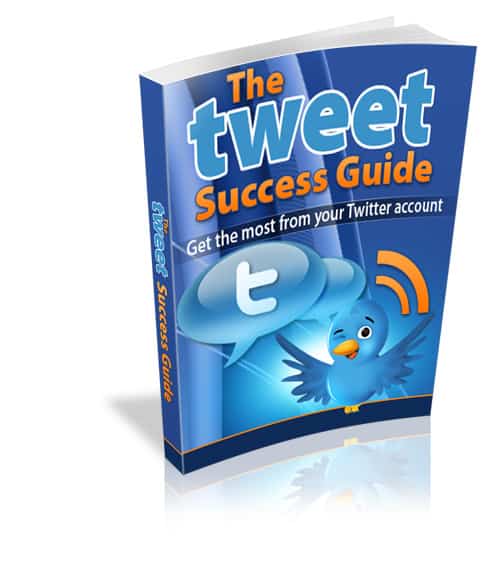 Choose Your Desired Option(s)
has been added to your cart!
have been added to your cart!
The Tweet Success Ebook with Basic Resell Rights
Social Network Sites Such as Twitter are One of the Major Marketing Venues for Successful Promotion of Your Business, Products and/or Services, but Effective Strategy is Crucial to Achieve Your Objectives
Our eBook The Tweet Success Guide Teaches You How to Tweet Right so You Market and Promote Effectively Through Twitter
has been added to your cart!
have been added to your cart!
Introducing…
The Tweet Success Ebook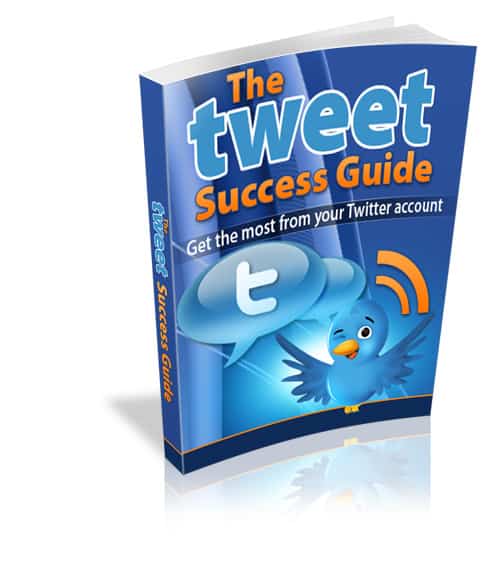 The cost of marketing to achieve your objectives can be substantial, while using Twitter and tweeting is FREE. Start developing your company and brand through social networking so you can increase sales of your products and/or services. If you are a business with any type of need for marketing or promotion, then taking advantage of Twitter for free promo is a win-win with nothing to lose.
However, The Tweet Success Guide is not only a simple manual on how to use Twitter and how to tweet. Instead, it offers critical strategies, tactics, and tips on how to use Twitter in an effective way that will produce visible results that expand your customer base and increase your profitability. We will teach you exactly how you can manage your Twitter account and carefully control your tweets in order to maximize your success!
Here is Just Some of What You Will be Taught in The Tweet Success Guide:
Basics of network marketing with Twitter
Determining the difference between posting and spamming
How to be clear on what you are promoting
Strategy for conveying professionalism in your Twitter posts
Tips on how to effectively interact with the community
Successful ways to follow others and post relevant tweets
And much, much more …
The Tweet Success Guide is a Priceless Tool for Thriving on the Twitter Social Networking Platform, Where You Will Learn the Tricks of the Trade From the Professionals Who Will Tell You How it's Done!
Because there are hundreds of thousands of companies with their products and services fighting for market share within the social networking battleground, you need a competitive edge to take your proper share of the Twitter populace. This eBook will show you how to effectively make that happen so you can expand your follower base on Twitter, secure new clients through strategic tweeting, and increase your overall profitability from social networking. Let us show you how it is done correctly in a way that produces significant results that matter.
Whether you are a current business owner looking for the best inroads into social network marketing, or someone getting ready to start a business that needs to build up your client base, The Tweet Success Guide is an extremely valuable resource that will teach you how to approach and embrace social networking in a fun and highly productive manner.
If you are going to dedicate time to take advantage of social networking to promote and market your company and what it offers, then you should make certain that your time is not wasted reinventing the wheel or making a wheel that simply doesn't work the way you intended. Any wise business guru understands the concept that time spent on any business has a monetary value. So let the pros who have already ventured down this way show you how to do it right the first time. The Tweet Success Guide is the best eBook available on this subject, providing you with everything you need to know to become a Tweeter success story.
Get your copy of our eBook now and start implementing a Twitter campaign in a strategic manner that will bring you the results others might only dream about. Read the crucial info in our eBook, then put our suggestions into action in order to watch your Twitter followers grow and your profits soar!
Valuable Secrets and Strategies on FREE Marketing With Twitter
The secrets you will discover in The Tweet Success Guide cannot be measured adequately in dollar value since it will affect your future sales volume on a perpetual basis, but the minimal cost for the eBook is nothing in comparison to the gain. Now you can have your own strategic handbook full of knowledge gained by social networking marketing professionals so that you can do it yourself without having to hire marketing firms or waste valuable time learning the hard way.
Though marketing costs can get rather expensive, this eBook will offer a cash return that will last for many years to come, allowing you to benefit as long as Twitter is still around. It is by developing marketing venues for perpetual results that you can reduce your cost per customer acquisition (CPA) and minimize your overall marketing costs. This book is not available in retail book locations, and its contents are unique to anything out there in softcover or hardcover, so get your copy today and jump into the Twitter action armed and prepared.
has been added to your cart!
have been added to your cart!
Package Details:
Download File Size – 2.3 MB
eBook Format – PDF,
Reading Requirements – Any PDF Reader
License Details:
[ Yes ] Can sell the eBook to your customers. (personal and resell rights).
[ Yes ] Can be sold, "as is" or can rebrand/rename/re-format.
[ Yes ] Can be edited, renamed, add your name as the author/publisher.
[ Yes ] Can be translated into other languages and sold.
[ Yes ] Can include within website flips (personal rights only).
[ Yes ] Can give away eBook (PDF Format).
[ Yes ] Can be used as a bonus (PDF Format).
[ Yes ] Can include eBook in membership site (PDF Format).
[ Yes ] Can be combined with other offers or sold as a package.
[ No ] Cannot sell Private Label Rights to customers.
[ No ] Cannot pass the source files to customers.
Share this and get 20% off!