#SolarPower #GreenEnergy #AlternativeEnergy #PLRNewsletter #Solarpowerbasics #savingmoney #autoresponder #privatelabelrights
Solar Power PLR Newsletter
Did You Know That Solar Power Is A Safe & Affordable Form of Alternative Energy That Anyone Can Use?
The Solar Power Basics Newsletter will provide you with proven, effective information, tips and advice that will help you understand the different aspects of solar power as an alternative energy source.
has been added to your cart!
have been added to your cart!
Introducing The…
Solar Power PLR Newsletter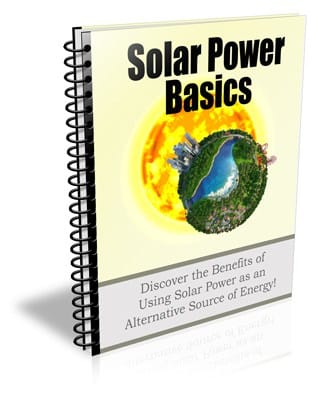 Are You Ready To Learn Valuable Information That Will Help You Decide If Making The Switch To Solar Power Is Right For You?
Inside each issue you'll learn valuable information about solar power, its benefits, uses and why it's an excellent option for powering almost anything, including your pool, home, business and more.
Inside every issue of the "Solar Power Basics" newsletter you'll learn valuable information that will help you understand the benefits of using solar power!
You learn things like:
How solar power works, its benefits and uses as an alternative from of energy
Solid information that will help you decide whether or not incorporating solar power into your lifestyle is the right option.
The different types of solar power, including solar cookers, generators and thermal systems.
Some important things to consider before you begin converting your home or business to solar power.
Some simple, yet effective tips for saving time and money when making the switch to solar!
And that's just the beginning. Once you join the "Solar Power Basics" newsletter you'll have access to great information in every issue that will help you understand the basic concepts of using solar power!
has been added to your cart!
have been added to your cart!
Sample Solar Power PLR Newsletter Message:
Hello "autoresponder code here",
Welcome to the Solar Power Basics newsletter. In each issue you will learn valuable information about solar power including its benefits and uses as an alternative from of energy.
We all know what solar power is. It is the conversion of sunlight into electricity, either directly using photovoltaics (PV), or indirectly using concentrated solar power (CSP).
Either way, concentrated solar power systems use lenses or mirrors and tracking systems to focus a large area of sunlight into a small beam. Photovoltaics convert light into electric current using the photoelectric effect.
It has been used for many years but, even with resent technological advancements the simple fact is that it still isn't being utilized to its fullest potential. Researchers and scientists are continuously striving to make improvements so that home and business owners can use solar power as an alternative to other forms of high cost fossil fuels.
To understand solar power better, you must first get to know some of its components. Firstly, take a look at photoelectric or photovoltaic cells. These cells are responsible for converting the sun's rays into electricity. A solar panel contains photovoltaic cells that produce the needed energy. With a square meter of the solar panel, you can generate enough electricity to light a 100w light bulb.
Solar power can be used to power many things, for instance heating the water in your home by installing panels on your roof. As a matter of fact a solar power thermal system can benefit you in many ways including decreasing your monthly electric bills.
Are you familiar with solar furnaces? They make use of mirrors to capture sunlight which can then be used to raise temperatures.
When it comes to using solar power, you need to understand its good and bad points.
For instance, solar energy can help in reducing pollution and waste. It reduces dependency on fuels for energy and best of all is that it is totally free (that is, once you have installed a solar power system).
It is an excellent option for dwellings that are located far from conventional energy sources and in sunny countries, solar power can be used to the fullest but since resources are limited, very few are able to enjoy its benefits.
Another benefit of using solar power is that it is renewable and it can be used for many different purposes. Some examples are solar calculators, garden lights and fountains, and battery chargers. As long as the sun shines, you'll get a renewable source of energy.
The problem faced by researchers today is that many places don't get enough sunlight all throughout the year. Solar power devices work most effectively in places where the sun is brightly shining. In places that don't enjoy much sunlight is where solar power becomes somewhat unreliable. A very good example is United Kingdom. In the UK, solar power can only be used in low powered or small devices.
In the US particularly in California, solar power is used by many homes and establishments. The Los Angeles area gets a lot of sunshine and because of this it is much easier to generate solar energy. In fact, California's goal is to increase the use of solar power consumption to 10% in the coming years.
The use of solar power is being improved year after year with the advancements in technology. Scientists and researchers are discovering new ways to use solar power to the fullest. Several years ago, using solar power was rather expensive but today, you can enjoy its benefits for a small investment. Solar power system kits are very affordable and you can use them to light your garden and other outdoor lights. If you can expand the system, you will soon be able to use it indoors.
As with other forms of energy there are advantages and disadvantages to using solar power, but as the technology is improved there is little doubt that it will be a viable alternative for anyone who wants to use it.
Make sure you look for your next issue soon. We will be talking about more about solar power and its uses.
Thank you again for joining,
"your name here"
"your email address"
"your URL here"
Package Details:
12 Solar Power Email Messages (Word Doc & Text Format)
Clickbank Affiliate Recommendations (Word Doc & Text Format)
Bonus Content Containing Extra Paragraphs, Extra Titles & Opening and Closing Paragraphs (Word Doc & Text Format)
HTML Squeeze Page
HTML Thank You Page
Web Ready eCover Graphics
Editable PSD Graphics Files
Download File Size – 22.5 MB
License Details:
What You CAN Do:
[YES] Customized issues can be given away
[YES] Squeeze pages can be customized
[YES] Can be Re-titled, Re-written or Re-edited.
[YES] You can add your name as the Author.
[YES] Your links can be added to the messages
[YES] They can be used as Web Site/Blog Content.
[YES] They can be broken down into Articles.
[YES] They can be added to Autoresponder Courses.
[YES] Customized content can be compiled into an e-book
[YES] Subscriptions can be be offered as a bonus
What You CANNOT Do:
[NO] You can claim copyright to any of this content unless substantial changes are made that legally separate the original content with your own reedited/rewritten content, articles or products. (basically "substantial changes" means that your reedited/rewritten versions bear NO resemblance to the original content).
[NO] Can sell the PLR Newsletter sets
[NO] Can be offered through auction sites
[NO] Can sell Resale Rights
[NO] Can sell Master Resale Rights
[NO] Can sell Private Label Rights
Why Purchase This Solar Power PLR Newsletter eCourse From BuyQualityPLR.com?
Our Prices are among the cheapest out there and very affordable
We use the 2checkout secure payment gateway and accept PayPal and all major credit cards.
Our products are instantly available for download after purchase and are nicely packaged in ZIP files, so you'll need a zip program like Winzip, 7Zip or any other program that supports unzipping files.
We Provide priority email support to our customers via email.
How to Purchase This Solar Power PLR Newsletter eCourse
Simply add it to cart, and checkout using with our secure 2Checkout Payment Gateway which supports PayPal and all major Credit Cards.
We will only be selling 50 copies of this solar power niche newsletter ecourse, so don't waste any time and grab your PLR license while it's still available for sale.
Remember: All downloads are available instantly after purchase. Your purchase receipt will be sent to your email address you use to sign-up and will contain your download links.
To download the files… Just right click on the links above and select "Save As". Then unpack the zip files using WinZip or 7Zip.
has been added to your cart!
have been added to your cart!
Share this and get 20% off!
---
TAG : green energy plr, plr solar power, solar energy plr, solar power, solar power newsletter, solar power newsletter ecourse, solar power newsletter ecourse plr, solar power newsletter ecourse private label rights, solar power plr, solar power plr newsletter ecourse
CATEGORY : Lead Magnets, PLR Autoresponder Series, PLR eCourses, PLR Lead Magnets, PLR Newsletters, Private Label Rights Products, Products with Squeeze Pages, Solar Power PLR