#RapidInstagramTraffic #InstagramTraffic #Instagram #InstagramFanBase #DrivingTraffic
Rapid Instagram Traffic PLR Videos
Want to Learn How to Rapidly Grow a Super Targeted Instagram Fan Base… The Right Way?"
It's no secret that Instagram has grown to be an incredibly powerful social media platform.
In fact, even Facebook saw the opportunity and bought the company out.
This means more opportunity for you as an advertiser and brand.
If you have an Instagram profile and would like to learn how to properly grow it…
There's a way to do things and there's a way not to do them.
Have you tried building a following with this platform before and failed?
Here's why…
Many people fail to create a successful following simply because they focus on trying to get the biggest following.
"I have a list of 100k followers!"
You often hear this, but many people have little or no conversions when it comes to promoting any product or service.
What's the point of a massive following when they don't follow you to the end?
Exactly my point.
How would you like to learn how to do it right?
How would you like to learn how to invest your time and money the right way?
Instead of realizing months later that it's all wrong and you've wasted precious time you can't get back!
How do you build a social following that creates an opportunity for you for the long haul?
has been added to your cart!
have been added to your cart!
Who is this PLR Video Course Perfect For?
Internet Marketing Coaches
Book Marketers
Affiliate Marketers
Digital Product Resellers
Email Marketers
Membership Site Owners
Marketers looking for Editable Video Guides and Tutorials with Private Label Rights
Newbie marketers looking to learn from it
Online businesses looking to grow
Serious Marketers
And many other ways!
The fact is that people love learning from videos and video training in highly in-demand because people prefer learning from videos.
Introducing…
Rapid Instagram Traffic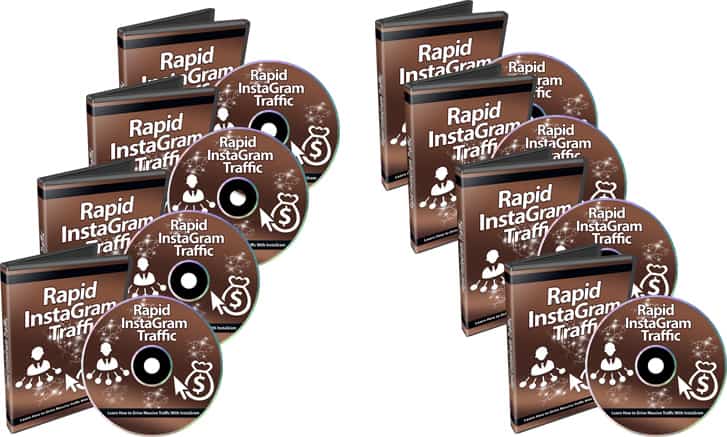 Here's a list of this 8-part video series in more detail.
Video #1 – Introduction
In this video, you'll be given a quick overview of the course itself, as well as getting you in the right "quality" mindset before we get started, which is crucial to your success.
Video #2 – Before You Drive Traffic
Before you can drive traffic, there are a few things you must do. In this video, you'll learn exactly what steps you need to take and why they are crucial to converting as many prospects as possible into high-quality fans.
Video #3 –  Broad Niche & Specific Posts
Now that we've discussed what you need to do beforehand, it's time to do a little keyword research to ensure you attract the right person. What keywords should you use? More importantly, how do you find ones that are in high demand? How do you use them to rank your Instagram profile higher within Instagram?
Video #4 – Demographics
Once you've done some basic niche and keyword research, it's time to verify the exact type of person you are trying to attract. Knowing the type of person will enable you to know exactly what pictures, content and words to use. One of the biggest mistakes people make is forgetting this step and jumping straight into trying to build a massive following.
Video #5 – Traffic Source #1
The first traffic source will allow you to build your Instagram following fast. And while the majority of "fast methods" don't work, this one does—and it works really well too. It does cost you, starting at $50 and up, but it's a nice shortcut if you don't want to spend months on end trying to build your profile up. But again, you must do this right, which is why you'll be using what you learned in the previous videos and applying them to this step.
Video #6 – Traffic Source #2
This second traffic source can also help you build a large following at a fast rate through the use of software. This software will automate a process that you can do by hand, but just speeds things up a bit. Some software apps are free, while others cost a little bit of money, but in the end they work very fast.
Video #7 – Traffic Source #3
This traffic source is free, and uses a method that is quite popular in the world of social media. You will use what you learned in Video #3 and apply it here. Also, this specific traffic method allows you to piggyback on existing traffic that is already out there, and you'll learn how to double or even quadruple your exposure.
Video #8 – Traffic Source #4
The next traffic source is all about optimizing your images. Believe it or not, even though this method isn't related to an outside traffic source, doing this allows you to rank higher within the Instagram search engine.
So, with that said, grab this video series today and learn how to build a high-quality Instagram following that will love, consume, and buy your recommended products and services.
has been added to your cart!
have been added to your cart!
Follow this simple step-by-step system and start setting up your very own digital membership site!
This Private Label Rights Video Course comes with an entire business in a box reseller package that you can use, rebrand and resell at your wish.
Here's The Sales Video You'll Be Getting With This PLR Video Course:
Here's a Sample Video So That You Know What To Expect From These PLR Videos:
Download Package Details:
8 640X360 MP4 Flash Videos
8 1280X720 MP4 Videos
8 MP3 Voiceovers
8 Transcripts
Sales Video in MP4 Format
Sales-letter in DOC, HTML and PDF Format
Editable Graphics: Covers, Flat Cover, Header, Footer, Button (Images and PSD)
Total File Download Size:
653 Megabytes (MB)
Private Label Rights License:
Legal Disclaimer: This license is Non – Transferrable, meaning you cannot give these same rights away. If you want to sell rights to your customers, pay close attention to the license below. We closely monitor vendors that sell the product and take legal violations seriously.
DO NOT Change this license…violations will be obvious will be prosecuted under the DMCA federal law.
You cannot give the product away for free, even to your list…
What You Can do:
[YES] Can Sell This Product
[YES] Can Be Packaged with Paid Products. 5 PRODUCTS MAXIMUM CAN BE BUNDLED
[YES] Can Be Offered as a bonus to Paid Product
[YES] Can Be Added to monthly Paid MEMBERSHIP or Training SITES If you have a membership site where people pay a onetime fee to get into download 100's of products, then you cannot include resell rights this product in that bundle.
[YES] Can Put Your Name on the Sales Page
[YES] Can Sell Resale Rights (Does not relate to PLR, meaning your customers can resell the video as is…)
[YES] You can stamp your name on the videos, but you cannot sell PLR.
What You Can't Do:
You CANNOT Give your customers the AVI files or 1280 x 720 HD MP4 files
You CANNOT Give Transcripts
You CANNOT Offer In Firesales
You CANNOT Offer in Dimesales
You CANNOT Offer These Videos in Firesales if there are more than 5 products.
You CANNOT Sell Master Resale Rights to videos as is.
You CANNOT Give away resell rights for free
You CANNOT Give away videos for free
You CANNOT Claim Original Copyright
Repeat: You CANNOT Sell Private Label Rights
has been added to your cart!
have been added to your cart!
Share this and get 20% off!
---
TAG : high quality plr videos, instagram traffic, instagram traffic plr, instagram traffic plr video, instagram traffic plr videos, instagram traffic videos, instagram traffic videos with plr
CATEGORY : Featured PLR Products From Our Store, Instagram PLR, PLR Videos, Social Media PLR Videos, Traffic Generation PLR Videos, Traffic PLR Videos, Video Courses