#ProfitEqualizer #DigitalProducts #CreatingProducts #SellingProducts #OnlineProducts
Profit Equalizer Unrestricted PLR eBook
Get Ready to Give Your Business a Huge Upgrade, Because You're About to Discover the Time Saving, Profit Boosting Magic of…
I know your time is valuable, so I'm just going to give you a quick description of this incredible ebook…
Introducing…
Profit Equalizer Unrestricted PLR eBook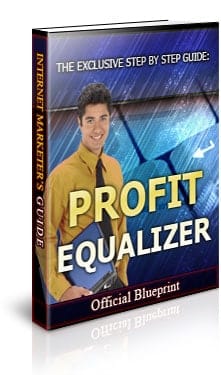 Teaches you a proven system for developing digital products that has never failed to generate constant and steady streams of income. Includes a step-by-step process of creating and selling products online. How to do it the right way and then duplicate the system over and over again in order to continue generating substantial income year after year.
Learn the precise and specific sequence of events that needs to be followed in order to generate unlimited income.
The two things you absolutely must adhere to – ignoring these will prevent you from ever reaching financial success.
How to get started on the right foot so that your business can be easily and soundly developed and expanded.
The easiest way to earn money online and the exact steps that you need to take one at a time.
How to determine what areas of interest consumers are hungry for, ones that will bring in the most profit.
What type of research can get you the best results and how to conduct it properly.
The three characteristics a keyword must have in order to qualify as a candidate for generating substantial income.
How to locate and select the best affiliate products and where to invest most of your time and effort.
The mistake most "amateurs" make when pursuing a joint venture and how to guarantee that your proposals will be accepted.
The one "secret" all super affiliates rely on in order to bring in huge amounts of income year after year.
All you have to do is grab your copy below now!
has been added to your cart!
have been added to your cart!
Here's a Sample of The Content in The Profit Equalizer PLR eBook:
Gotten excited about some money-making program or system that came our way. After all, it's hard not to when there are so many of them out there. No matter how reserved or hesitant you are – no matter how skeptical you might be – sooner or later something will strike a cord deep down in your soul.
Maybe it was pointed out to you by a friend or business associate you trusted. Or maybe it was recommended by some internet marketing expert or guru you greatly admired. Either way, the money-making strategy they've put you on to really does sound like the next best super-duper income-producing method… one you couldn't possibly turn away from.
You try to ignore the hype, the sales pitch. But there's something that catches your eye, something that makes you pause just long enough to think, is it really possible… Whatever it is, you decide to take a closer look.
So you click on the link, read the sales copy, get impressed by all the glowing testimonials that verify this is in fact a can't-lose, make-money-while-you-sleep kind of deal, one that any intelligent individual would be insane NOT to take advantage of.
Do you remember how it felt? That rush, that high… that feeling that you were only a stone's throw away from generating the kind of income you had only previously dreamed about? Yep… you could feel it in your bones. This was definitely IT. The opportunity you had been searching, hoping, waiting for.
You were pumped, you were psyched… you were literally chomping at the bit to run this particular race to the finish line!
And since you couldn't wait to get started, you immediately hit the order button. Within minutes, you had the information in hand… the process that would finally – once and for all – lead you directly to your ultimate goal…
FINANCIAL FREEDOM!
Now let's fast forward to a few days (or maybe a few weeks) later.
You've finished absorbing all the instructions, all the advice, all the steps that will place you in a position to earn unlimited income. You've even managed to implement some of the first stages of this money-making system. But in the process, some of the "shine" has begun to fade. Although you're still optimistic, you're not QUITE as psyched as you were in the very beginning, when the whole money-making scenario was merely a mental image.
You… lounging on the beach of a tropical island. You… sitting behind the wheel of a $200,000 sports car. You… dressed in designer clothes and attending posh exclusive parties of the rich and famous.
That's the kind of pot-of-gold, end-of-the-rainbow lifestyle the guy who wrote the sales copy told you to imagine. And you did, right up until the time you actually started to invest real time and effort, started to "work" toward that vision.
Nonetheless, you still want desperately to see this through to the finish, to prove you've got the metal, the right stuff. After all, there's that pot of gold waiting at the end of this rainbow. And that's when it hits you. Pot of gold? Isn't that where the devious (albeit imaginary) leprechaun hid his own fortune?
Whatever commitment you originally had is now replaced with stark reality. There is no pot of gold, no magical mystical means of getting rich. You either inherit a fortune, win the lottery, or rob a bank. That's it.
Oh sure. Some people strike it rich online (or, at the very least, become financially comfortable). But that's just a fluke, something that only happens to a fraction of a percentage of all the people who pursue the dream of becoming financially independent via the internet. Right?
has been added to your cart!
have been added to your cart!
Package Details:
Total File Download Size:
1.38 Megabytes (MB)
Private Label Rights License:
[Yes] Products may be sold separately
[Yes] Products may be bundled
[Yes] Products can be a bonus for another product
[Yes] Can be added to paid membership sites
[Yes] Can add bonuses to the Product(s) for sale
[Yes] Can be sold as a physical product
[Yes] Can be sold as a digital product
[Yes] You may put your own name on the sales letter
[Yes] You may rename the Products
[Yes] You may edit the sales material
[Yes] You may edit the content of the product
[Yes] You may use the source code to create new products
[Yes] Can be added to free membership sites
[Yes] Can be given away for free
[Yes] Can sell Resale Rights
[Yes] Can sell Master Resale Rights
[Yes] Can sell Private Label Rights
has been added to your cart!
have been added to your cart!
Share this and get 20% off!
---
TAG : profit equalizer, profit equalizer plr, profit equalizer plr content, profit equalizer plr ebook, profit equalizer private label rights
CATEGORY : Ebooks, Master Resell Rights Products, MRR eBooks, PLR eBooks, Private Label Rights Products, Resell PLR Products, Resell Rights Ebooks, Resell Rights Products, Unrestricted PLR