The Paleo Blueprint PLR Ebook
Shed Body Fat, Raise Energy & Stay Healthy for Life
For 2.5 million years, early man foraged and hunted for seafood, meat, vegetables, fruit, nuts, roots and seeds. This period of time before the development of agriculture is known as the Paleolithic era. The Paleo diet is also known as the Stone Age diet, hunter-gathering diet and the caveman diet. No matter what you call our ancestors, some things haven't changed. Man's digestive systems have evolved only the slightest amount in the 10,000 years since farming changed our diets. Shortened to Paleo, the modern diet is an approach to nutrition that mimics the early man's diet for ultimate health.
has been added to your cart!
have been added to your cart!
Introducing…
The Paleo Blueprint ebook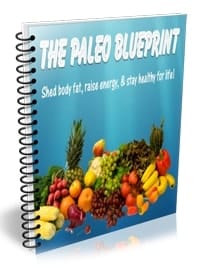 Our minds are modern, but our bodies and brains still need the same food. Gastroenterologist Walter L. Voegtlin first popularized the Paleo diet in the 1970's. He argued in, "The Stone Age Diet," humans as carnivores, chiefly needs fats, proteins and a small amount of carbohydrates for optimum performance. For the last 30 years, obesity has been increasing in the United States. Our modern diets are laden with preservatives, processed sugars, and fried foods. Today's health crisis has led to a renewed interest in Voegtlin's tested approach to healthy living.
Benefits of the Paleo Diet
The advantages of the Paleo Diet have been researched and proven in numerous academic journals. It is amazing how changing what we put in our mouths can cause dramatic changes in our quality of life.
o Lose fat- Though the Paleo diet is designed as a weight loss plan people inherently lose weight. The foods that make up the Paleo diet are what we call fat burning foods. In fact, the Paleo diet allows you to eat large quantities of delicious food while restricting calories. The result is a lean, fit body.
Fight Disease- The Paleo diet is proven to help prevent diabetes, Parkinson's avoid Parkinson's, cancer, heart disease and strokes.
Improve Digestion- Many digestive problems such as, irritable bowel syndrome, Crohn's disease and indigestion can be avoided.
Combats Acne– Eating the Paleo way means avoiding the foods that cause acne. When sebum is overproduced or obstructed the sebaceous glands enlarge and form pimples. Foods in the Paleo diet do not cause the insulin spikes that cause a sebum boost. As a result, you can expect smoother, more attractive skin.
Feel Good- Not only does the Paleo diet help people healthier and look younger it also makes you feel better. Paleo supporters swear by the caveman lifestyle because it just "feels" right. The only way to find out the energy and confidence they experience is to try it for yourself.
Diet Basics
People assume the Paleo Diet is complicated are difficult to follow. It is actually quite simple. Eat real foods. For a guideline on portions, 56–65% of your calories should come from animals, 36–45% from plant based foods. Keep proteins high at 19-35% carbohydrates at 22-40% and fat at 28-58%.
What to Eat
Eating a Paleo Diet is more about experimenting than limitations. Mother Nature provides a large variety of delicious foods to explore. Instead of settling for a box of processed macaroni and cheese, feast on a meal that excites your taste buds and your energy level. Here is a small list of the many foods to incorporate into your diet.
has been added to your cart!
have been added to your cart!
Package Details:
Download File Size – 3.98 MB
eBook Format – PDF,
Source File – Word
Number of Pages – 11
License Details:
[YES] Can edit the product.
[YES] Can put your name as the author.
[YES] Can be broken down into articles.
[YES] Can be used as web content.
[YES] Can be used as eCourse or autoresponder series.
[YES] Can be translated to other language.
[YES] Can edit the sales page and graphics.
[YES] Can be given away (in any format).
[YES] Can be added into paid membership sites.
[YES] Can be added into free membership sites.
[YES] Can be bundled or packaged.
[YES] Can be offered as a bonus.
[YES] Can be sold in any format.
[YES] Can be sold on auction sites.
[YES] Can be sold on forums.
[YES] Can sell Private Label Rights.
[YES] Can sell Master Resale Rights.
[YES] Can sell Basic Resale Rights.
[YES] Can sell Personal Use Rights.
[YES] Can be published offline.
[YES] Can do whatever you want with this product.
has been added to your cart!
have been added to your cart!
Share this and get 20% off!
---
TAG : diabetes plr, diabetic plr content, health plr, health plr content, Paleo Blueprint, Paleo Blueprint ebook, Paleo Blueprint plr, Paleo Blueprint private label rights ebook, paleo diet plr content, paleo plr, paleo private label rights content, plr health, plr paleo diet content, plr weight loss, weight loss plr
CATEGORY : Diabetes PLR, Diet PLR, Ebooks, Health, Health PLR, Master Resell Rights Products, Paleo Diet PLR eBooks, Paleo PLR, PLR eBooks, Private Label Rights Products, Resell Rights Ebooks, Resell Rights Products, Weight Loss, Weight Loss PLR