Choose Your Desired Option(s)
has been added to your cart!
have been added to your cart!
Opening Your Heart eBook With Master resell rights
"Get All The Help And Knowledge You Need To Help Yourself By Helping Others!"
This Book Is One Of The Most Valuable Resources In The World When It Comes To The Information On How Helping Others And Volunteering Really Helps You!
"This Book Below Will Show You Exactly What What You Need To Do To Get MotivatedReap The Rewards Of Helping Others!"
As a person just like you who has struggled with the mindset of helping others and understanding the benefits, I have searched high and low to find the best strategies to fix this problem and I am fully ready and able to help you put an end to the way you think about this subject as well as your lack of knowledge!
The love and appreciation that will be reciprocated as a result of you working with others will live long in your thoughts and will have a favorable influence and may even transform your outlook on life and the way you carry on your life in the future.
Are you ready?
"Introducing… Opening Your Heart!"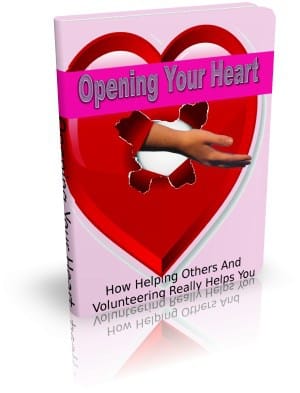 This powerful tool will provide you with everything you need to know to be a success and achieve your goal of opening your heart and helping others.
With this product, and it's great information on volunteering it will walk you, step by step, through the exact process we developed to help people put an end to a closed mindset.
Who Can Use This Book?
Personal Development Enthusiasts
Self Improvement Bloggers
Writers and Content Creators
In This Book, You Will Learn:
Less Fortunate And Disabled Kids
Helping Others Via Your Occupation
"Why It Is Very Important For You To Invest In This Book Right Now…"
What's really important now is NOT the tiny amount you'll invest in this book but how much you'll LOSE OUT if you don't!
Understand that you could really be missing out on experiences that could change your life.
Don't let anything stand in the way between you and your success with your life and possibly the lives of others as well.
You see, how much longer are must people learn the HARD WAY before investing in themselves and thier fellow humans?
Think about how much you could change your life if you really applied the strategies in this book. You could really change your life in a short period of time.
I cannot even begin to imagine someone who would not take advantage of this – it's simply selfish!
Thankfully, you are a sharp person… otherwise you wouldn't be looking for a way to better your life and the lives of others.
And to show my sincerity, I'll show you something that will definitely sweeten the deal…
Share this and get 20% off!