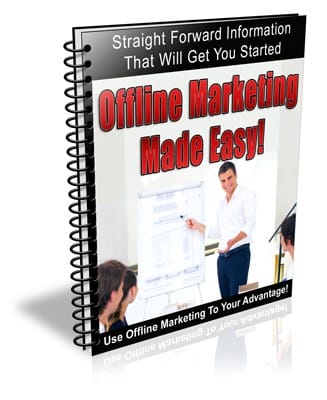 Offline Marketing PLR Newsletter Email Course
in
Business , Business PLR , Entrepreneur PLR , Internet Marketing , Internet Marketing PLR , Lead Magnets , List Building , List Building PLR , Offline Marketing PLR , PLR Autoresponder Series , PLR eCourses , PLR Lead Magnets , PLR Newsletters , Private Label Rights Products , Products with Squeeze Pages
Choose Your Desired Option(s)
has been added to your cart!
have been added to your cart!
Offline Marketing PLR Newsletter Email Course
#OfflineMarketing #Marketing #OfflineMarketingPLR #PLRnewsletter
Marketing Your Business Offline Is A Vital Part Of Running Any Successful Campaign!
Offline Marketing Made Easy will provide you with proven and effective information, techniques and tips that will help you understand the different aspects of offline marketing, so that you can use to effectively build your business and sell more of your products and services!
has been added to your cart!
have been added to your cart!
Introducing The…
Offline Marketing PLR Newsletter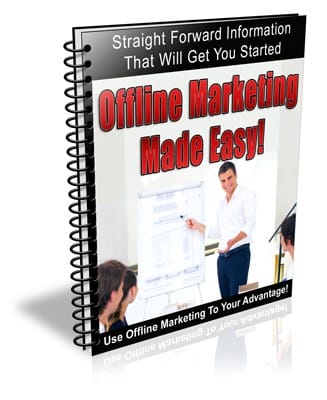 Are You Ready To Learn Valuable Information ThatWill Help You Understand How To Effectively Use Offline Marketing To Promote Anything You Want?
Inside each issue of the Offline Marketing Made Easy, you will receive easy to understand information on how to quickly and effectively use offline marketing techniques to your advantage.
You will also learn great information and tips that you can use to ensure that you make the most of all of your offline marketing efforts and that you don't waste your time or money!
You learn things like:
Valuable information on how you can successfully market your business, products and services offline
The different resources available to help you expand your knowledge of offline marketing methods, so you can use it to your advantage.
Some of the more common offline marketing mistakes, so you can avoid making them and wasting your time and money.
Some creative and unique offline marketing ideas that you can use to make your campaigns more effective.
The basics of using online and offline marketing together to increase your chances of success.
How to effectively use newspapers and other form of advertising in your offline campaigns.
And that's just the beginning. Once you join the "Offline Marketing basics" newsletter you will have access to great information in every issue that will help you learn exactly how to use offline marketing techniques to your advantage!
Exactly What's Included in the…. "Offline Marketing" Newsletter Package?
With this series, you will receive 12 preformatted email issues that have quick and easy to understand information that you can use to break into the Offline Marketing niche immediately. It contains everything you need to start using it right away!
Including:
12 customizable issues in text and word format that be easily edited to suit your needs and promote your products and affiliate programs.
1 ready to go squeeze page that you can simply add your subscription from to, upload to your domain and start collecting subscribers.
1 ready to go thank you page that you can send your subscribers to immediately after they join your list asking them to confirm their subscription so that they will be sure to receive their newsletter issues right away.
A complete, custom designed graphic package including website and cover graphics to make your newsletter look appealing to prospective subscribers!
Sample Offline Marketing PLR Newsletter Message:
Hello "autoresponder code here",
Welcome to the first issue of Offline Marketing Made Easy.
In each issue of Offline Marketing Made Easy you will learn valuable information on how you can successfully market your business, products and services offline.
In this first issue we are going to take a look behind the marketing machine and see what happens in offline advertising.
Everywhere you look, technology and the Internet have touched our lives.  From things as simple as staying connected with friends to grocery shopping to even diagnosing issues with our cars,
computers are feeding and sending information.
Being online is one of the greatest marketing tools that you could use because you are not limited to just your local area, but you have a whole world that you can market your unique product to.
But, even if you have the best website, with the absolute best product that could change the lives of millions of people, folks won't go to your site unless you are actively marketing your site
and product offline.
Offline marketing is where businesses are made and are still the backbone of any online marketing success story.  While it is true that online marketing can garner you a lot of attention, offline
marketing is how you keep those customers coming back for more.
So, what is offline marketing and how is different from marketing your business through the Internet? Offline marketing is an old school way of doing business and is still an extremely viable way of creating buzz about your business.  You do this by:
Placing ads through different mediums like television and radio. Most cable and regular T. V. stations will have custom packages what will fit your advertising budget to create the right commercial.
This can be as expensive or as inexpensive as you want it to be, but it generally depends on what market you are in; major markets cost more money and smaller markets cost less. You can also
accomplish this by getting involved as a person of interest in your local radio and TV programming.
If you are have extensive knowledge about a particular subject and you have a good personality, you could be a fantastic guest on any type of program! And as often as you are allowed, add little plugs
about your business by saying the name and where you are located.
You can also put your ads in print media like magazines, publications and newspapers. Newspaper and print media ads are good since they reach a large audience of people who might not watch TV or have Internet access.
You can easily promote your business by paying for a small section where you do an editorial write up of your business.  You could write about how new you are to the community, what you specialize in and where you are located.
You can also add in a special coupon as you talk about your business.  Then, a few weeks later, if the ad panned out, you should continue with a follow up of how business is going.  You can also place a regular advertisement in the paper. If you do the editorial, you probably will get more bang for your buck.
Another marketing tool is handing out business cards. Start by giving them to friends, family and co-workers.  As you start networking your business, hand them to other entrepreneur's that you come into contact with.
Another cheap advertising alternative is posting flyers, tri-folds and posters talking about your business.  You should put your business name, address, phone number, website and a brief
synopsis of what your business does or who you cater to.  Always put a coupon on these because that helps bring customers in.
You can also send newsletters through regular mail. This is easily accomplished once you have established a group of clients.  By sending out newsletters, you are informing your customers of what
is going on, what is coming in and new promotions you are featuring.
Cheap giveaway items like pencils, pens and magnets with your business information on them is another great way to promote your business. Everyone loves a free pen or something else they
can use.  Make sure that your logo, your business name and pertinent information is on the item so they will know who gave it to them. Marketing your business offline is all about making those
important personal connections.
Offline marketing is a very old school way of getting the word out about your business and it is completely different than the impersonal world of Internet marketing. Anyway you go, whether
you use print, TV or radio to advertise your business is considered an offline method of marketing.
Marketing this way is a viable way in which you can bring customers to your business and will produce results. If you want to be successful in any business venture, then you need know how to
use the resources you have to their fullest potential.  That includes knowing how to use the Internet to market online and how to use your real-world network to market offline.
Make sure you look for your next issue soon. We will be talking about some of the different resources available to help you expand your knowledge of offline marketing methods.
Thank you again for joining,
"your name here"
"your email address"
"your URL here"
has been added to your cart!
have been added to your cart!
Package Details:
12 Offline Marketing Email Messages (Word Doc & Text Format)
Clickbank Affiliate Recommendations (Word Doc & Text Format)
Bonus Content Containing Extra Paragraphs, Extra Titles & Opening and Closing Paragraphs (Word Doc & Text Format)
HTML Squeeze Page
HTML Thank You Page
Web Ready eCover Graphics
Editable PSD Graphics Files
Download File Size – 9.12 MB
License Details:
What You CAN Do:
[YES] Customized issues can be given away
[YES] Squeeze pages can be customized
[YES] Can be Re-titled, Re-written or Re-edited.
[YES] You can add your name as the Author.
[YES] Your links can be added to the messages
[YES] They can be used as Web Site/Blog Content.
[YES] They can be broken down into Articles.
[YES] They can be added to Autoresponder Courses.
[YES] Customized content can be compiled into an e-book
[YES] Subscriptions can be be offered as a bonus
What You CANNOT Do:
[NO] You can claim copyright to any of this content unless substantial changes are made that legally separate the original content with your own reedited/rewritten content, articles or products. (basically "substantial changes" means that your reedited/rewritten versions bear NO resemblance to the original content).
[NO] Can sell the PLR Newsletter sets
[NO] Can be offered through auction sites
[NO] Can sell Resale Rights
[NO] Can sell Master Resale Rights
[NO] Can sell Private Label Rights
Why Purchase This Offline Marketing PLR Newsletter eCourse From BuyQualityPLR.com?
Our Prices are among the cheapest out there and very affordable
We use the 2checkout secure payment gateway and accept PayPal and all major credit cards.
Our products are instantly available for download after purchase and are nicely packaged in ZIP files, so you'll need a zip program like Winzip, 7Zip or any other program that supports unzipping files.
We Provide priority email support to our customers via email.
How to Purchase This Offline Marketing PLR Newsletter eCourse
Simply add it to cart, and checkout using with our secure 2Checkout Payment Gateway which supports PayPal and all major Credit Cards.
We will only be selling 50 copies of this offline marketing niche newsletter ecourse, so don't waste any time and grab your PLR license while it's still available for sale.
Remember: All downloads are available instantly after purchase. Your purchase receipt will be sent to your email address you use to sign-up and will contain your download links.
To download the files… Just right click on the links above and select "Save As". Then unpack the zip files using WinZip or 7Zip.
Share this and get 20% off!