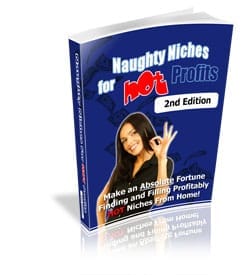 Choose Your Desired Option(s)
has been added to your cart!
have been added to your cart!
Naughty Niches for Hot Profits eBook With Master resell rights
"Discover How To Make An Absolute Fortune Finding & Filling Super Profitably HOT Niches On The Internet… From The Comfort Of Your Home!"
Warning! While The Internet Marketing Niche Is Becoming More & More Crowded Every Ticking Minute, So Are Your Chances Of Succeeding Online! Read On To Learn How You Can Still Make It BIG Time Online By Tapping Into Super HOT Niches With Super Less Competition!
"It's Time For You To Move Out Of The "Internet Marketing" Niche & Into The Spacious Niche Markets For HOT Profits!"
Let's face it: the Internet Marketing niche, by itself, is becoming very crowded and competitive. It's the turf of marketing gurus and every time a guru launches a new product, no new Internet Marketers could squeeze an ounce of chance in winning.
Now don't get me wrong. There is absolutely NOTHING wrong with cashing in on the virtual B2B arena as this demand is growing by leaps and bounds every day. However, you will do well to consider profiting from something you already know best.
Which leads you to the million dollar question:
IS THERE A DEMAND FOR YOUR EXPERTISE?
And when you find that out, what should you be doing next? Now this is where most novice marketers often fail: to analyze a profitable market based on their passion or expertise.
The horrible truth pieces in when you work very hard to build a business around your passion after long hours and money spent – just to find out it didn't amount to profitability. Perhaps you would've learned not many people are into the same interests as you do. Or people just won't pay for it (indulge me in a quick exercise: would you pay even $9.95 to learn how to win a Tic Tac Toe game?).
Look, I respect your time, and so should you. When you want to build a business around your passion or expertise:
You want to sell high ticket products ultimately.
You want customers rolling in… and then over and over.
And you want to build your business in an area of HIGH demand!
Introducing Your Essential Success 'Ticket' To Niche Marketing Riches…
NAUGHTY NICHES FOR HOT PROFITS 2nd Edition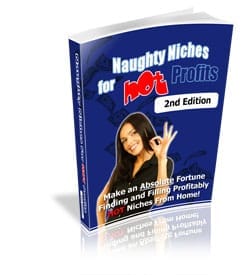 Here's What You'll Discover:
How to build a HIGHLY profitable business around your passion, hobby or expertise!
How to identify if there's a HIGH demand for your expertise in the Internet marketplace!
How to maximize the usage of the Overture Search Tool in uncovering red hot niches!
Gain a sight for problems (it's not as negative as you think it is) – for every problem is a potential answer to profits! (Hint: it has to do with just needing to identify a common problem and then come up with a solution)
The art of providing a better solution – this is a must know if you're an innovative type of person!
How to leverage on your niche marketing research just by walking into your local bookstore!
Five (5) awesome, time-tested ways you can make money from your niche!
How to make money with rich content and profit manifold!
How to build your own personal media and share the same kind of profit power your local newpapers have!
How to start your Niche Marketing business – step-by-step – in 3 different manners! There is guaranteed to be at least one temparament that will suit you.
License Details:
You can put your name or pen name on the product as the author.
You can edit the contents of the product e.g. putting in your affiliate links, adding and removing text, inserting pictures and advertisements, etc.
You can change the title and sub-title of the product.
You can sell the product (E-Book) in PDF format. The suggested selling price is $27.00 – $37.00.
You can break the contents of the product into articles for article submission purposes or add content to your website, blog or e-zine, and include your resource box.
You can spawn a series of short reports (free or paid) by breaking down the contents of the product.
You can add the product into a membership site (paid only).
You can add the product into your product bundle or package and sell for a higher price.
You can offer the Basic Resell Rights or Master Resell Rights to the PDF E-Book. The suggested selling price is $67.00 – $97.00.
You can produce audio/video content from the materials in this product.
You CANNOT give the product away for FREE, under any circumstances at all.
You CANNOT offer the product as a bonus to another product you are selling. However, you can offer other bonuses to this product when selling.
You CANNOT sell the product on auction sites such as eBay.com.
You CANNOT use this product in a dime sale event, under any circumstances at all.
Selling the Private Label Rights (Word Format)
You CANNOT, under any circumstances at all, resell, give away or trade the Private Label Rights to this product, whether in full or partial.
Offline Publishing
You CANNOT use the Private Label materials of this product to publish your work offline. This includes, but not limited to, hard copy books, tapes, CDs, DVDs, and MP3s.
Sales Letter & Graphics Pack
You can edit the sales letter anyhow you like i.e. put your name in the sales letter, insert your order link, enter your own bonuses, make changes to the sales page content, etc.
You can edit the graphics pack to this product anyhow you like i.e. put your name on the E-Cover, alter the design, using your own titles, branding your trade name into the titles and sub-titles, etc.
You can edit the Thank You page anyhow you like i.e. put in your bonuses, enter your name, include the download link, etc.
Share this and get 20% off!