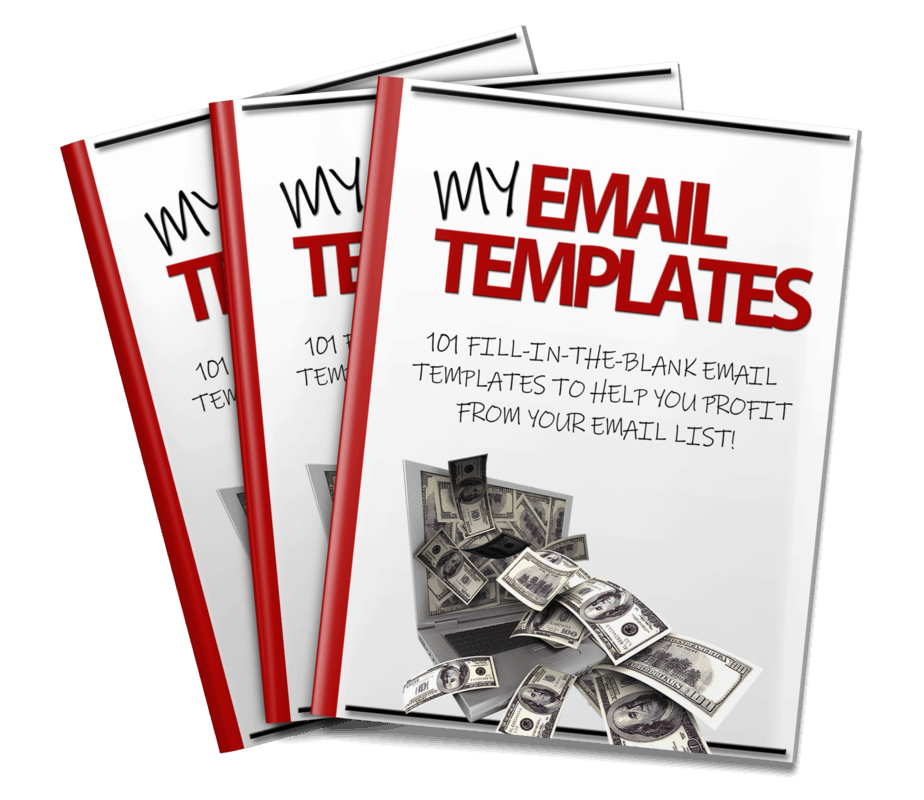 Choose Your Desired Option(s)
has been added to your cart!
have been added to your cart!
My Email Templates Personal Use
Attention Email Marketers: Your Life Is About To Get Much Easier And Much More Profitable By Using This One Resource…
If you're spending too much time on email marketing and/or you're not seeing a lot of results from it then let me give you a ton of your time back while helping you get more results with your email marketing using My Email Templates…
Do you know what the most profitable marketing activity in my business is? The BIG one that makes me money on demand, allows me to keep the bills paid, and live a really cool (and expensive) life?
Email marketing!
Creating emails and sending them out to my list is something I do on a daily basis to keep the money rolling in.
But…
When I first got started I spent so much time learning to write subject lines that got people to open up my emails. I spent so much time learning to write email copy that made people click on my links.
Even after spending all of this time learning what to do I was still getting little to no results. 🙁
I was so freakin' frustrated!
But as time went on I got better and better at it and started watching my profits snow ball.
That learning curve was brutal though! I even almost gave up…
I don't want you to have to spend the years of time it took me to learn to write emails that make money. I don't want you to have to go through all the frustration that comes with it either.
I want to give you a shortcut and put my email templates in your hands.
101 fill-in-the-blank email templates to be exact!
Let me show you what's inside the My Email Templates package…
Introducing: The My Email Templates Email Marketing Package…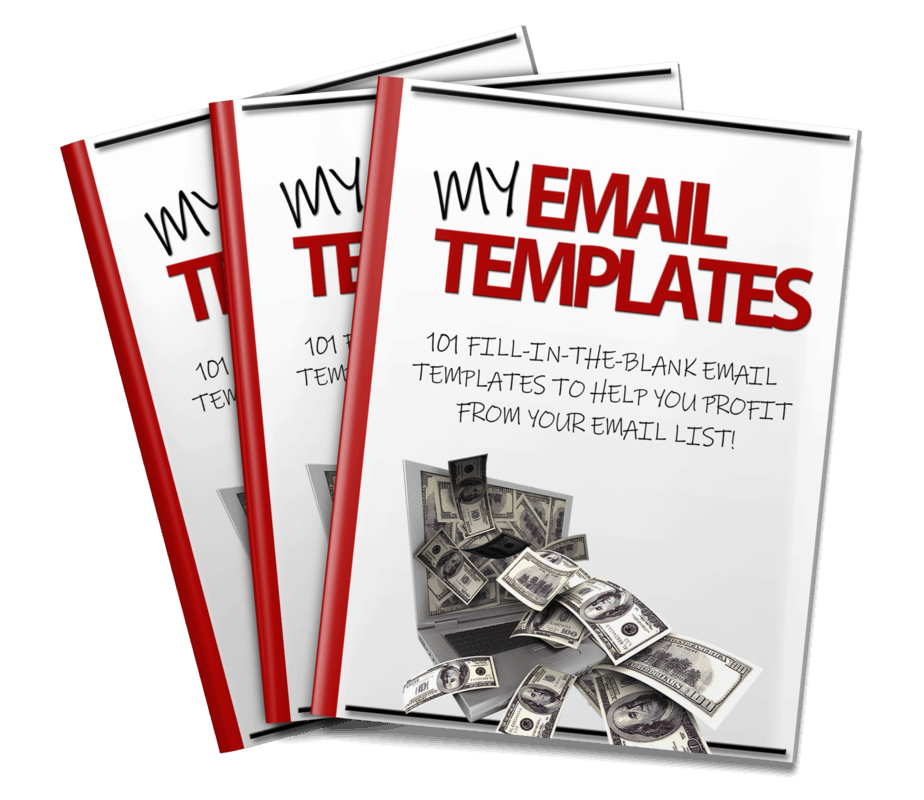 With the My Email Templates package, creating an email is as easy as filling in the blanks and uploading it to your autoresponder. It's so fast and easy that you could have your first money getting emails uploaded and working for you in just minutes from now!
This package of email templates is made up of 101 fill-in-the-blank email templates broken up into 13 different "sets". Each set allows you to create different kinds of emails for your different email needs.
Let me show you all 13 sets right now…
Set 1: The Gain-Logic-Fear Sequence
Not everyone responds to every emotional trigger in the same way. That's why you should develop an email sequence that taps into different triggers, so that you can reach a wider audience. And inside this package you'll get a proven gain-logic-fear sequence that's sure to boost your conversion rates!
This set includes:
Three emails that tap into your prospect's sense of logic, fear and their desires!
A 4th email that uses the social proof buying trigger to generate sales!
A 5th email that generates sales using the scarcity trigger!
Set 2: An Indoctrination Sequence
When your subscribers and prospects first join your mailing list, they're going to be a little clueless (but hopefully curious) about who you are and what you can do for them. The indoctrination sequence answers their unspoken questions and starts building trust.
Here's a sneak peek at what you get:
A welcome email that gets subscribers excited and satisfied right away, so they keep reading every email you send!
A personal-story email that bonds subscribers to you like super glue, and makes it more likely they'll buy whatever it is you're selling!
A "question and answer" email that establishes you as the expert and really gets your prospects attention!
Plus two more emails to engage subscribers, build top of mind awareness and start generating sales!
Set 3: The Engagement Sequence
This sequence is all about giving your prospects some really good information, such as a set of tips, secrets or steps for completing some process. Each email will also promote a specific product that's related to the content.
Here's what you get:
The "mistakes" email that worries your prospects and gets them paying close attention to every word you put in front of them!
An "actionable tip" email that's designed to generate a flurry of sales – you might be surprised at how well it works!
The promo template that boosts conversions through the use of a special offer!
In essence, your emails will be "useful yet incomplete", so that prospects will take a look at your paid offers to solve their problems. It works like crazy!
Set 4: An Ascension Email Sequence
Once you've turned a prospect into a cash-paying customer, your next job is to turn them into a repeat buyer. That's what an ascension email sequence does, as it leads your new customer to more offers and higher-priced offers.
Here's what you get:
A simple "thank you" template that immediately generates repeat sales!
A coupon-offer template so powerful and irresistible that your customers can't help but take out their credit card again!
A template that uses customer testimonials to stir up more sales!
Plus two more emails to create those uber-profitable repeat buyers!
Set 5: A Segmentation Sequence
Want a simple way to start getting a higher response rate from your list? Segment your list by demographics, interest and behavior (such as which products they download or buy), and then write highly targeted emails to these different list segments.
Inside this package you'll get five emails, which show you five different ways to start segmenting your list.
These emails include:
The survey email that gives you a peek inside your prospects' minds.
The freemium email that segments your list by who takes advantage of an offer.
The coaching email that lets you segment according to interest.
Plus two others – you're sure to get some great segmenting ideas!
Set 6: A Re-engagement Sequence
Sometimes your list goes cold, such as if life happens and you weren't able to email for several weeks. In other cases, you may just have one segment of your list grow unresponsive, perhaps due to you not sending them anything to really engage them. This re-engagement sequence can help you warm up your list and get them clicking on your links again.
Here's what you get:
The "come back for another look" template that turns even the coldest list into a bunch of click-happy subscribers!
A sneaky email that pushes your subscribers' deepest emotional triggers to smoothly re-engage them!
A special deal email that not only wakes your list up, it gets them taking out their wallets!
Set 7: An Affiliate Sequence
If you want to have a high-performing affiliate program with affiliates who're constantly promoting your goods, then you need to stay in touch with your marketing partners. And inside this package you'll get a surefire affiliate sequence you can use to:
Welcome new affiliates and get them excited about your program!
Announce events such as contests or sales to get affiliates promoting like crazy!
Motivate passive affiliates with case studies and new marketing materials!
This is a great way to turn your affiliate program into your most powerful and profitable marketing strategy!
Set 8: Conversion Sequence
Blasting your prospects with a steady diet of promotional emails probably won't produce the results you want. If you want to start converting more prospects to buyers, you need to use a conversion sequence like this one:
Presentation, which is where you present your prospects with some good information about how to solve a problem – this is a great way to build trust!
Problem, where you get prospects to self-identify and realize their problem is serious. Now you have your prospects' attention!
Persuasion where you generate big-time sales by showing prospects how you can solve their problems!
Proof, where you boost conversions by showing your product really works!
Promo, where you make one last-ditch effort to get a sale by offering prospects a deal they can't refuse!
And that's the exact surefire sequence of email templates you'll get inside this package!
Set 9: A 90-Day Awareness Sequence
The idea behind this sequence is to send out a new email every nine days, each of which promotes a different product or service. This is an awareness sequence, as it introduces your prospect to ten of your top products or services.
The templates include:
An email that drums up sales by introducing a "sneak peek" at one of your most popular products!
An email template that boosts conversions by offering free trials on software, membership sites and similar offers!
A "gear list" template that generates sales again and again over time as your readers reference it repeatedly!
Plus seven other emails that are sure to get people clicking your order buttons!
Set 10: Direct-Pitch Emails
Sometimes the best way to generate a sale is by directly pitching an offer. You might simply extol the benefits of a product, or you might give prospects a special deal. And now you too can use these templates as great starting points for creating your own direct-response emails.
Here's what you get:
The "social proof" template that knocks people off the fence and gets them scrambling towards your order button!
The "big announcement" template that creates a surge of eager buyers!
The "new trend" email that taps deep-seated emotional buttons to get your prospects taking out their credit cards!
Plus seven other emails to generate instant sales!
Set 11: "Useful Yet Incomplete" Emails
Some of my favorite types of emails are those that are part content and part pitch. This makes them "useful yet incomplete" – the content helps solve part of a problem, while the product you're promoting solves the rest of their problem. End result? You build a good relationship with your prospects, solve their problems, and generate some sales for yourself!
Here's what you get inside this set of ten emails:
The "slap" email, which virtually scares your prospect into buying your product!
The curiosity-arousing "mistake" email that get your prospect kicking himself… and clicking your order button!
The "swipe this" email that builds strong relationships with prospects and soon turns them into loyal buyers!
Plus even other emails for building relationships and generating sales!
Set 12: Five Special-Offer Emails
Sometimes you want to extend a very special offer to your prospects and customers to drum up sales. These special offers might be "no brainers" to turn prospects into customers, or they might be special offers to turn customers into repeat buyers. Either way, you're sure to find a template in this set to suit your needs.
These templates include:
The "payment plan" template that handles a big objection and clears the way for more sales!
The "matching credit" template that gives your prospects a great deal – and generates tons of sales for you!
The "sweet deal" template that extends an offer your prospects can't refuse!
Plus two other emails to jump-start your sales!
13. A Set Of 26 One-Off Emails
Sometimes you just need one quick email to send out to your prospects, customers, affiliates or other lists. That's what you'll find inside this collection. There's something for everyone in this set, including:
An abandoned cart email to save more sales!
The affiliate motivation email that can generate dozens, hundreds or even more sales for you!
The flash sale template that gets prospects scrambling to your order button!
The personal story template that builds trust and generates sales over the long term!
The stealth promo template that doesn't look like a promo, yet it will get your prospects clicking over to your order page!
The "questions" email that stops readers in their tracks and gets them thinking about buying your products ASAP!
Plus 20 other emails you can use to grow your relationships with your subscribers, generate sales and grow your business!
These 101 email templates give you a "fill in the blank" easy way to generate more sales and grow your business with your email marketing efforts!
But How Can I Use These Templates In My Business?
Wondering how you can use these 101 email templates to grow your business?
Check out these examples…
1. Send one-off emails.
Whenever you need one quick email, you'll find it in this package. Generate quick sales with the flash sale template. Motivate your affiliates. Upload an "abandoned cart" email to save more sales. Announce a contest. You can do all these and more with the templates in this package!
2. Boost conversions with a sequence.
Everyone knows the best way to generate more sales is by sending a sequence. That's why My Email Templates includes several sequences, including a "Fear-Logic-Gain" sequence, a high-conversion sequence and more . Whether you're launching a new product or renewing interest in an old one, there's a sequence in this package to fit your needs!
3. Build relationships with subscribers.
Use these templates to build relationships with new subscribers, re-engage cold subscribers, and nurture your bonds with your existing customers. End result? Higher conversions and more money in your pocket!
4. Convert browsers into buyers.
These templates include dozens of emails you can use to get your prospects taking out their wallets. For example, just use the direct-pitch set of 10 emails to start selling more ebooks, apps or other products!
5. Turn customers into repeat buyers.
These templates work well as back-end follow ups. You'll even get an ascension series that's designed to sell more products to your existing customers. What a great way to turn tripwire buyers into premium, lifetime customers!
You've Seen What's In The My Email Template Email Marketing Package And How You Can Use It, So Now Here's Five Reasons To Grab Access To It Right NOW!
Once you see just how fast and easy it is to create high-response emails, you too are going to fall in love with the My Email Templates email marketing package!
Here's why…
1. Creating your own campaigns is time-consuming but using My Email Templates is fast and easy!
All you have to do is copy a template, fill in the blanks, and upload it to your autoresponder. It's so incredibly simple to create high-converting emails with My Email Templates.
2. You don't need any copywriting skills to create highly effective emails!
Copywriters spend many years and thousands of dollars learning and honing their craft. Now you too can create high-converting emails by starting with these professional templates. You can write like a pro – without spending years learning how to do it!
3. My Email Templates is designed to generate cash for your business!
You can't make money from your mailing list if you don't have quality email campaigns cued and active. Now with My Email Templates you can start uploading dozens of emails to your autoresponder today – and these emails add income to your business!
4. No more sitting around trying to think up email ideas!
One of the hardest parts of sending regular emails is coming up with good ideas week after week after week. Problem solved! Just use My Email Templates, and you'll have 101 email templates ready to go – if you're sending out weekly emails, that's nearly two years' worth of content at your fingertips! Now you too can get unstuck and start making money!
5. Anyone can use them to sell a wide variety of offers across any niche!
Online marketers, coaches, small business owners, product creators, bloggers, software developers, affiliate marketers and more can use these emails to sell a wide variety of products and services.
These emails work great for selling:
Ebooks and reports
Membership sites
Videos
Audio
Webinars
Coaching courses
Consultations
Software and apps
Tools such as templates and checklists
Affiliate offers
Service-provider offers
And more!
Fact is, you're sure to find dozens and dozens of emails in this package to meet all of your email marketing needs!
Wow… Those are some killer reasons, right?
I know if you've read this far then you're really liking what you see. 🙂 You know this package is exactly what you need to start moving your business forward. You know it's your ticket to finally getting results with your email marketing.
But you probably have this question now…
The My Email Template Package Sounds Amazing, But How Much Does It Cost?
I think you're about to be pleasantly surprised.
But first, consider this…
Think about how long it would take you to create 101 emails completely from scratch. You'd need to think up the ideas, figure out your angles, and then write every single word. If you spent just 20 minutes creating each of these emails from scratch, you'd spend over 33 hours working on them!
Who has time for that?
And if you outsourced it?
Whew… then you'd be looking at paying thousands of dollars.
So here's an affordable compromise… Get a jumpstart on every email you create by using these fill-in-the-blank templates for a onetime investment of only $47 $7!
That's a steal, because you can use every template over and over again to create hundreds of emails across all sorts of niches. And all you need to do is generate a few sales with these templates in order to recoup your investment.
These email templates WILL pay for themselves over and over again!
All of those emails you haven't written yet aren't making any money. You're not likely to get around to writing them. And so your list is going to remain unprofitable. 🙁
But order now, and you'll have 101 fill-in-the-blank emails that you can start creating and uploading in just minutes from now!
There is no faster, easier or better way to start generating profits with your mailing list!
This is an amazing deal, so grab it while you can by clicking the order button below to get full access to the entire My Email Template Email Marketing Package right now!
has been added to your cart!
have been added to your cart!
Package Details:
101 Fill in the Blanks Email Templates
Total File Download Size:
1.00 Megabytes (MB)
Personal Use License:
[YES] Can be used for Personal Use
[YES] Can Learn from this product
[NO] Can convey and sell Giveaway Rights
[NO] Can convey and sell Resale Rights
[NO] Can convey and sell Master Resale Rights
[NO] Can convey and sell Private Label Rights to the original document
Share this and get 20% off!
Related Products That May Interest You