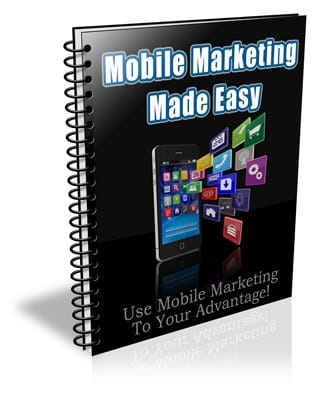 Choose Your Desired Option(s)
has been added to your cart!
have been added to your cart!
Mobile Marketing PLR Newsletter eCourse
Quickly Tap Into the Lucrative Mobile Marketing Niche Without Spending a Fortune or Hours of Your Own Valuable Time Creating the Content Yourself!
If you can answer yes to the following questions you'll want to get your hands on the Mobile Marketing Made Easy Newsletter Package!
Have you been looking for a great way to break into the lucrative Mobile Marketing niche without spending hours doing all of the grueling, tedious research and writing yourself?
Do you like providing quality, informative content to your readers on a regular basis?
Have you been looking for a way to quickly increase awareness, traffic and profits for your business?
This is a complete ecourse consisting of 12 mobile marketing emails messages with private label rights to help train your customers on how they can use mobile marketing to their advantage.
has been added to your cart!
have been added to your cart!
Introducing The…
Mobile Marketing PLR Newsletter eCourse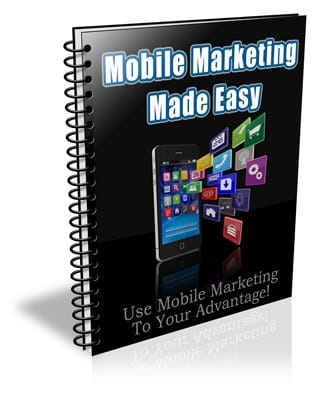 The Mobile Marketing Made Easy Newsletter Package Has Everything You Need!
This incredible package comes with everything you need to get started right away, including; a ready to go squeeze page, conformation page, a complete graphics package and 4 specifically chosen Clickbank products along with 16 prewritten sponsor ads that you can quickly paste into any or all of your issues to help create an extra revenue stream almost instantly. Making it super easy to setup and monetize fast!
You can use the contents of this ready to go newsletter package to quickly tap into the profitable MobileMarketing niche without doing all of the grueling, tedious, time consuming research and writing yourself. All you have to do is customize the messages, copy, paste and send!
"You can literally have everything set up and ready to go in less than an hour!"
This package can save you hours of research, writing and more. Not to mention hundreds of dollars hiring expensive outsourcer's, so you don't have to do everything yourself!
It can be used to increase traffic, establish brand and build a new list of subscribers who are interested in what you have to offer or as an easy way to provide new information to your existing list without any extra effort on your part.
The "Mobile Marketing Made Easy" newsletter was specifically designed with solid, basic niche related information that can be easily edited to suite your needs and even converted into micro-niche topics like; "Mobile Marketing For Resturant Owners, Lawers or even Medical Professionals" making it simple to target specific markets.
This Newsletter Comes With Private Label Rights
Once you get your hands on this newsletter package you will be able to quickly set it up and use it to build your list, inform your subscribers and as a lead generating tool to get more traffic to your website, products and affiliate offers.
The entire newsletter is completely customizable. With a few clicks of your mouse you will be able to add in your own contact information to every issue in the series. You will also have the freedom to include your own product and service recommendations along with links to your favorite affiliate programs as well as to the pre-chosen ClickBank products included with this product. And don't forget I'm even including a ready to go to squeeze page, confirmation page and custom designed graphics package, so that you can get set up quickly and easily!
The best part is with the private label rights to this newsletter you will be the author, providing your subscriber with quality information that they will look forward to receiving and reading every month!
Exactly What's Included in the…. "Mobile Marketing Made Easy " Newsletter Package?
With this series you will receive 12 preformatted email issues that have quick and easy to understand information that you can use to break into the Mobile Marketing niche immediately. It contains everything you need to start using it right away!
Including:
12 customizable issues in text and word format that be easily edited to suit your needs and promote your products and affiliate programs.
1 ready to go squeeze page that you can simply add your subscription from to, upload to your domain and start collecting subscribers.
1 ready to go thank you page that you can send your subscribers to immediately after they join your list asking them to confirm their subscription so that they will be sure to receive their newsletter issues right away.
A complete, custom designed graphic package including website and cover graphics to make your newsletter look appealing to prospective subscribers!
has been added to your cart!
have been added to your cart!
Sample Mobile Marketing PLR Newsletter Message:
Hello "autoresponder code here",
Welcome to your first issue of Mobile Marketing Made Easy. In each issue of this newsletter you will learn valuable information on how you can successfully use mobile marketing to your advantage.
In this issue we're going to talk about whether or not mobile marketing
it is the right choice for your business.
It's no secret that people love to play games on their mobile devices. Whether it's while they're waiting at the doctor's office, riding on a bus, or wasting time at the end of the day, mobile gaming is extremely popular.
Now imagine being able to spread your advertising message to thousands of targeted consumers through their mobile devices. Are you beginning to see the power?
There is no doubt that mobile marketing is an extremely effective
way to reach consumers. However, when it comes to using it
properly there are several things you should keep in mind.
Let's go over a few:
Always get permission from people before you add them to your database. Just like email marketing it's important to have a double opt in system when building your mobile list.  While setting up a single-opt in system may help you build your list faster you could  also end up being plagued with more complaints, so it's better to be on the safe side and get full permission before sending out your
messages.
Landing pages are important to every website and this is especially true for mobile landing pages. It's important to create landing pages specifically for your mobile marketing campaigns. They need to be
much more efficient than regular landing pages. A simple, streamlined design works best for lead-generating pages and customer acquisition. So, it's important to take the time to learn this skill
because it will pay off.
Be sure that you understand that a mobile site is not just a scaled-down version of your business site. Instead, think of it as a summarized version. Many marketers make the mistake of trying to scale down their entire regular sites to take them mobile and ultimately end up losing customers.
Be sure to lay claim to your business on the big social network's. In mobile marketing, it's all about location, location, location. Smartphones and mobile devices, all have location awareness built into their systems, so users can tell what is around them. Make sure they can find you by claiming your page on sites, like Foursquare, Facebook Places, Gowalla and Google Places.
When making ads for mobile platform, always remember to pay attention to the length. Make your advertisements short and sweet. Your ads should be clear, concise and say exactly what you need to convey without taking up too much space or too much of the customers time. In addition, they should convince the customer to take immediate action.
Check out what your competition is doing. Look for their blog or website on your own smartphone and see what they are up to. Take a look at their social media activity, see that they are promoting and pay attention to how they are engaging their customers. When you look at your competition, it will give you some ideas about what you need to do.
Avoid using all caps and abbreviations. You want to make your message look as professional as possible. If you don't avoid these things, you could come off looking like a scammer and your recipients are likely to block you from sending them any future messages. The more professional you
look, the better.
Make sure you look for your next issue soon. We will be talking about some important things you should know about mobile marketing.
Thank you again for joining,
"your name here"
"your email address"
"your URL here"
Package Details:
12 Mobile Marketing Email Messages (Word Doc & Text Format)
Clickbank Affiliate Recommendations (Word Doc & Text Format)
Bonus Content Containing Extra Paragraphs, Extra Titles & Opening and Closing Paragraphs (Word Doc & Text Format)
HTML Squeeze Page
HTML Thank You Page
Web Ready eCover Graphics
Editable PSD Graphics Files
Download File Size – 12.1 MB
License Details:
What You CAN Do:
[YES] Customized issues can be given away
[YES] Squeeze pages can be customized
[YES] Can be Re-titled, Re-written or Re-edited.
[YES] You can add your name as the Author.
[YES] Your links can be added to the messages
[YES] They can be used as Web Site/Blog Content.
[YES] They can be broken down into Articles.
[YES] They can be added to Autoresponder Courses.
[YES] Customized content can be compiled into an e-book
[YES] Subscriptions can be be offered as a bonus
What You CANNOT Do:
[NO] You can claim copyright to any of this content unless substantial changes are made that legally separate the original content with your own reedited/rewritten content, articles or products. (basically "substantial changes" means that your reedited/rewritten versions bear NO resemblance to the original content).
[NO] Can sell the PLR Newsletter sets
[NO] Can be offered through auction sites
[NO] Can sell Resale Rights
[NO] Can sell Master Resale Rights
[NO] Can sell Private Label Rights
Why Purchase This Mobile Marketing PLR Newsletter eCourse From BuyQualityPLR.com?
Our Prices are among the cheapest out there and very affordable
We use the 2checkout secure payment gateway and accept PayPal and all major credit cards.
Our products are instantly available for download after purchase and are nicely packaged in ZIP files, so you'll need a zip program like Winzip, 7Zip or any other program that supports unzipping files.
We Provide priority email support to our customers via email.
How to Purchase This Mobile Marketing PLR Newsletter eCourse
Simply add it to cart, and checkout using with our secure 2Checkout Payment Gateway which supports PayPal and all major Credit Cards.
We will only be selling 50 copies of this mobile marketing niche newsletter ecourse, so don't waste any time and grab your PLR license while it's still available for sale.
Remember: All downloads are available instantly after purchase. Your purchase receipt will be sent to your email address you use to sign-up and will contain your download links.
To download the files… Just right click on the links above and select "Save As". Then unpack the zip files using WinZip or 7Zip.
Share this and get 20% off!