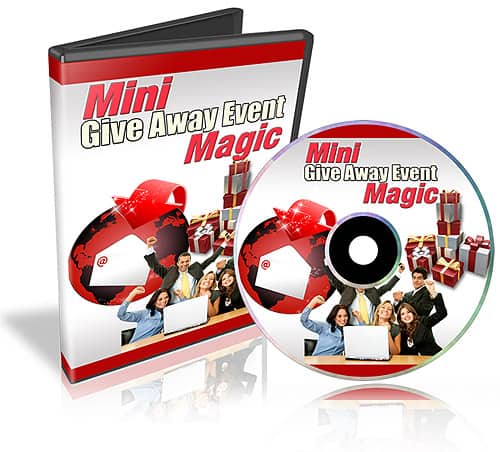 Choose Your Desired Option(s)
has been added to your cart!
have been added to your cart!
Mini Give Away Magic PLR Videos
Finally, Combine the Power of Giveaways and List Building to Explode Your Email List Of Hungry and High Converting Buyers… Using Three Simple and Easy to Implement Strategies… Starting Today!
Announcing The Brand New, 7 Part, Step By Step Video Course That Shows You How To…
This video training course will show you step by step how to set up a giveaway that produces a high converting list.
Who is this PLR Video Course Perfect For?
Internet Marketing Coaches
Book Marketers
Affiliate Marketers
Digital Product Resellers
Email Marketers
Membership Site Owners
Marketers looking for Editable Video Guides and Tutorials with Private Label Rights
Newbie marketers looking to learn from it
Online businesses looking to grow
Serious Marketers
And many other ways!
The fact is that people love learning from videos and video training in highly in-demand because people prefer learning from videos.
has been added to your cart!
have been added to your cart!
Introducing…
Mini Give away Magic  Video Course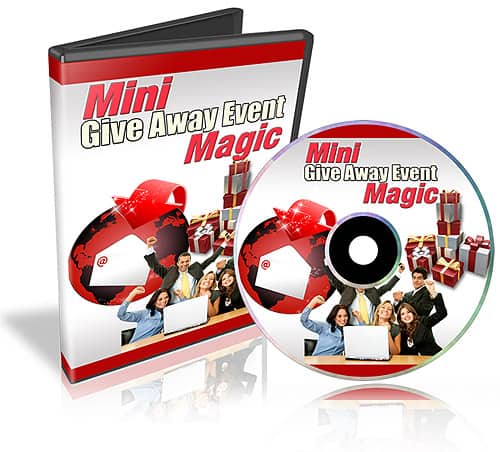 To ease your mind, you'll learn three specific strategies without holding anything back. That's right. All the strategies, the mind maps, and how to implement it. The full step by step process.
Here's a list of this 7 part video series in more detail:
Video #1 :: Introduction ::
This specific video will introduce you to the system by getting you into the right mindset to guide you in the right direction. You'll be given a quick overview of the video series as a whole, given a list of tools you need to get started, and shown how the system will work. By knowing this, it'll allow you to zoom forward and implement the giveaway event quickly and easily.
Video #2 :: Giveaway Type :: Freebie
This specific giveaway strategy covers building high converting freebie lists. While I stated earlier that buyers lists are way better than freebie lists, if done right this specific strategy will help you build more responsive list faster than ever by ensuring the traffic that comes to you is of high quality. This giveaway strategy only requires a small group of list owners to participate and can be setup easily. You'll be given the mind map to how this works and how to implement this strategy with ease.
Video #3 :: Giveaway Type :: Buyers
In this specific video, you'll learn how to build a buyer's list by organizing giveaways that consist of a group of list owners joining together to bundle their products together. This type of giveaway is a little old school, but can still work if done a certain way. We've tweaked the model to ensure that it still converts, because if done incorrectly, it can actually create a negative impact which includes overwhelming your buyers, diluting the responsive of buyers towards other list owners' participants, and more. This video will contain a mind map so you can learn how the process works as well as step by step, over the shoulder instructions on how to implement it.
Video #4 :: Giveaway Type :: Buyer Integration
In this specific video, you'll learn how to build a buyer's list through a more advanced strategy, which is the big fish of this video course. The only downside with giveaways is that they tend to be a one off, meaning they are done during a certain time limit. This strategy creates a giveaway that is consistent and ongoing. The advantage is that it generates buyers on a consistent basis and is a win-win situation for all list and product owners involved in the giveaway. This does really well because you're building a list of buyers faster than ever and you don't have to do anything after the initial implementation. This video will include a mind map as well as the process of implementation.
Video #5 :: Stuck? Don't have a list?
Don't have a list? And still want to build your list using these strategies? Don't fret! If you don't have a list, then you have to offer something beneficial in order for this to work. In this specific video, you'll learn several strategies you can use right away to create a product fast, simply by leveraging the list owner participants involved.
Video #6 :: Finding list owners to participate
In this specific video, you'll learn how to find list owners to participate in your giveaways. The key is not to just choose anyone, but to choose the right list owners in the same niche. Do this wrong and you will set yourself up for failure.
Video #7 :: Getting list owners to jump on board
Now the question is how do you get the list owners to jump on board? You won't be able to get everyone to jump on board, so don't be discouraged. It is what it is and if you get rejected, then move on. But in this specific video, I'll help you by showing you how to increase those "Yes's" by helping to create a win-win situation for all participants.
So, with that said, grab this video series now and start building your high converting list and online ATM the right way. You'll gain access to the full step by step process to help you zoom forward fast.
has been added to your cart!
have been added to your cart!
Here's The Sales Video You'll Be Getting With This PLR Video Course:
Here's a Sample Video So That You Know What To Expect From These PLR Videos
This Private Label Rights Video Course comes with an entire business in a box reseller package that you can use, rebrand and resell at your wish.
Download Package Details:
7 640X360 MP4 Flash Videos
7 1280X720 MP4 Videos
7 MP3 Voice-overs
7 PowerPoint Slides
Sales Video in MP4 Format
Sales-letter in DOC, HTML and PDF Format
Editable Graphics: Covers, Flat Cover, Header, Footer, Button (Images and PSD)
Total File Download Size:
539 Megabytes (MB)
Private Label Rights License:
Legal Disclaimer: This license is Non – Transferrable; meaning you cannot give these same rights away. If you want to sell rights to your customers; pay close attention to the license below. We closely
monitor vendors that sell the product and take legal violations seriously.
DO NOT Change this license…violations will be obvious will be prosecuted under the DMCA federal law. You cannot give the product away for free, even to your list…
What You Can do:
[YES] Can Sell This Product
[YES] Can Be Packaged with Paid Products. 5 PRODUCTS MAXIMUM CAN BE BUNDLED
[YES] Can Be Offered as a bonus to Paid Product
[YES] Can Be Added to monthly Paid MEMBERSHIP or Training SITES If you have a membership site where people pay a onetime fee to get into download 100's of products, then you cannot include resell rights this product in that bundle.
[YES] Can Put Your Name on the Sales Page
[YES] Can Sell Resale Rights (Does not relate to PLR, meaning your customers can resell the video as is…)
[YES] You can stamp your name on the videos, but you cannot sell PLR.
What You Can't Do:
You CANNOT Give your customers the AVI files or 1280x720HD MP4 files
You CANNOT Give Transcripts
You CANNOT Offer In Firesales
You CANNOT Offer in Dimesales
You CANNOT Offer These Videos in Firesales if there are more than 5 products.
You CANNOT Sell Master Resale Rights to videos as is.
You CANNOT Give away resell rights for free
You CANNOT Give away videos for free
You CANNOT Claim Original Copyright
Repeat: You CANNOT Sell Private Label Rights
Share this and get 20% off!