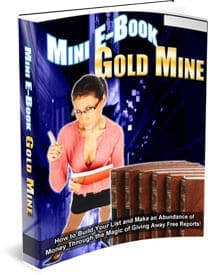 Choose Your Desired Option(s)
has been added to your cart!
have been added to your cart!
Mini E-Book Gold Mine eBook with Master Resell Rights!
"Discover How You – Or Anyone – Can Quickly Solve Three (3) Of Your Primary Goals In Internet Marketing Through The Magic Of Giving Away FREE Reports!"
If You Have A Long Yearning On Building Your Mailing List At Warp Speed And Making An Abundance Of Income In The Process In A Low-Cost Fashion, Then You Owe It To Yourself To Read Every Line Of This Letter!
has been added to your cart!
have been added to your cart!
Introducing The Essential Guide To Making Magic With Mini E-Books And Short Reports:
MINI E-BOOK GOLD MINE
So Here's What You Will Discover: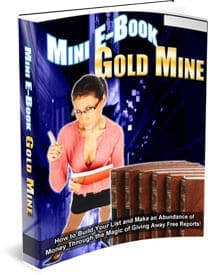 How to use an 8-20 page mini report to be your vehicle to maximum exposure, maximum leads, and maximum profits – even though you're going to give away for FREE!
How to maximize your affiliate commissions with the same mini literature, allowing you to smack other average affiliates down to ground zero!
How to position your report to be unique and bribing visitors into joining your mailing list!
All of what you need to get started on chalking out your own Mini E-Book – no guesswork involved! (Hint: they are mostly free and low-cost resources!)
How to dispense your expertise and credibility into your free report easily – making people offering you the first utmost best impression!
How to uncover and tap into red hot niches – this is especially a "must know" if you haven't decide what niche to be in. As the saying goes, "half of the battle is won simply by choosingwhere to fight"!
The best way to format your Mini E-Book for professional impression and easy reading your reader's part!
How to create your own super pre-seller Mini E-Book in less than 24 hours!
How to get your friends or experts to create the content for you willingly!
Tap into the ghostly resource of automatic writing as used by TOP Internet Marketers you and I know of today!
The single most powerful strategy of compiling reprint rights articles yet still maintain the credibly expert status!
How to use the two "P" resources in building your FREE report in less than a couple of hours!
How to ride the modern wave of the future and go high-tech with your Mini E-Books, leaving other Report writers deeming themselves "old school"!
How to strategically position your Mini E-Book to be the ultimate lead collector for your mailing list while you spend your free time anyhow you like!
Secret: What makes people pass your report around willingly without you having to beg them to do so, in effect creating a viral result for you!
A comprehensive list of E-Book directories you can submit your free report to for maximum exposure!
How to use FREE and low-cost advertising methods in getting the word out about your free report and get your returns more than you imagine – may it be leads, credibility and sales!
The common Mini E-Book mistakes you should avoid doing – it's for other novice marketers to reinvent! But not for you!
And much, much more! This is barely scratching the surface.
has been added to your cart!
have been added to your cart!
License Type: Master Resell Rights
Your Product License Information:
1. You can put your name or pen name on the product as the author.
2. You can edit the contents of the product e.g. putting in your affiliate links, adding and removing text, inserting pictures and advertisements, etc.
3. You can change the title and sub-title of the product.
4. You can sell the product (E-Book) in PDF format. The suggested selling price is $27.00 – $37.00.
5. You can break the contents of the product into articles for article submission purposes or add content to your website, blog or e-zine, and include your resource box.
6. You can spawn a series of short reports (free or paid) by breaking down the contents of the product.
7. You can add the product into a membership site (paid only).
8. You can add the product into your product bundle or package and sell for a higher price.
9. You can offer the Basic Resell Rights or Master Resell Rights to the PDF E-Book. The suggested selling price is $67.00 – $97.00.
10. You can produce audio/video content from the materials in this product.
11. You CANNOT give the product away for FREE, under any circumstances at all.
12. You CANNOT offer the product as a bonus to another product you are selling. However, you can offer other bonuses to this product when selling.
13. You CANNOT sell the product on auction sites such as eBay.com.
14. You CANNOT use this product in a dime sale event, under any circumstances at all.
Selling the Private Label Rights (Word Format)
1. You CANNOT, under any circumstances at all, resell, give away or trade the Private Label Rights to this product, whether in full or partial.
Offline Publishing
1. You CANNOT use the Private Label materials of this product to publish your work offline. This includes, but not limited to, hard copy books, tapes, CDs, DVDs, and MP3s.
Sales Letter & Graphics Pack
1. You can edit the sales letter anyhow you like i.e. put your name in the sales letter, insert your order link, enter your own bonuses, make changes to the sales page content, etc.
2. You can edit the graphics pack to this product anyhow you like i.e. put your name on the E-Cover, alter the design, using your own titles, branding your trade name into the titles and sub-titles, etc.
3. You can edit the Thank You page anyhow you like i.e. put in your bonuses, enter your name, include the download link, etc.
IMPORTANT! If you are offering this product with Master Resell Rights then please pass this license on to your customers so they are fully informed on the terms and conditions to the usage and resale of this product.
Share this and get 20% off!