Discover How You Can Break Free Yourself From The Shackles And Roadblocks Holding You Back From Launching Your Business
Mindset Launch Pad Video Course  that comes with Full Private Label Rights
This step by step, 8 part private label rights video course takes you by the hand and shows you how to change your mindset so that you can improve the way you do online business.
Who is this PLR Video Course Perfect For?
Internet Marketing Coaches
Book Marketers
Affiliate Marketers
Digital Product Resellers
Email Marketers
Membership Site Owners
Marketers looking for Editable Video Guides and Tutorials with Private Label Rights
Newbie marketers looking to learn from it
Online businesses looking to grow
Serious Marketers
And many other ways!
The fact is that people love learning from videos and video training in highly in-demand because people prefer learning from videos.
has been added to your cart!
have been added to your cart!
Introducing The Mindset Launch Pad PLR Video Course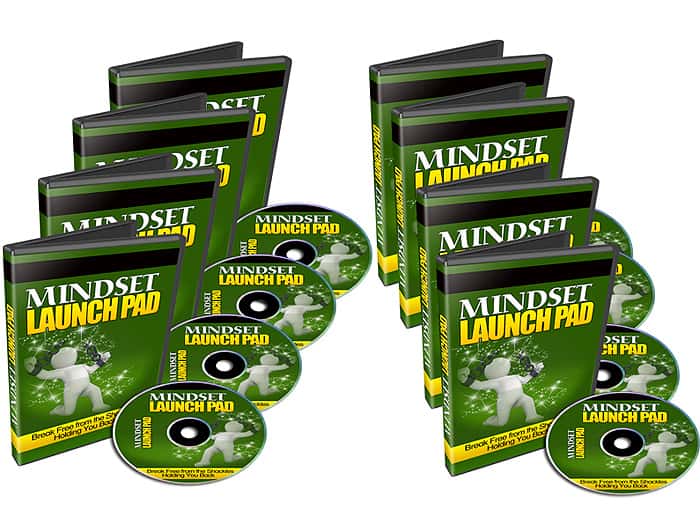 Video #1: Start Changing Your Mindset
In this specific video, you will learn what you need to do to get started on this journey towards figuring out what is stopping you and how this system will help you get around these roadblocks in your life. You'll also be given an overview of the video series as a whole, how this system works, and what tools you will need.
Video #2: Mindset Roadblock #1 – When Right is Not Always Right
In this video, you will meet our first Mindset roadblock. This roadblock is a huge enemy and is something that most business owners face starting out, and may even run into later on. This is often procrastination to launch in disguise and another desire that many people have to make their product the best. You'll learn a strategy that you can use that will help you to break free of this, and in fact…just doing this one thing will change your customer relationships forever.
Video #3: Mindset Roadblock #2 – Others
Like I said earlier, it's easy to blame others for your actions. This specific mindset roadblock can in fact deal with others possibly blocking you from taking action; however your reaction to it will be important, and I'll show you why and how. You'll learn a strategy that you can use that will help you break free of this specific roadblock and in fact…just doing this one thing will change your business relationships forever.
Video #4: Mindset Roadblock #3 – Stop Feeling Overwhelmed
In this video, you will be given strategies that you can use to avoid feeling overwhelmed. Being overwhelmed can cause you to lose focus. Instead of focusing on one thing at a time, you try to focus on multiple projects and therefore you become frustrated because you cannot get anything done. It's time to become realistic. You'll learn a strategy that you can use that will help you break free of this specific roadblock and in fact…just doing this one thing will help you feel like you are accomplishing more than ever.
Video #5: Mindset Roadblock #4 – Quit Dreaming
Dreaming causes you to constantly think of all the amazing and wonderful ideas that are out there. It's time to build your business the right way. Dream more and you will easily lose time, and by losing time, you will fall into specific traps that will block you from moving forward. In this specific video, you will learn about these traps, so that you can avoid them and move forward correctly.
Video #6: Making It Fun and a Game
Now that you understand the first four mindset roadblocks, it's time we switch modes and discuss how you can activate your positive mindset and move forward. These strategies will help you speed things up by making things fun, and turning them into a game. You'll also learn which resources and tools you can use to help support yourself.
Video #7: Become More Self Accountable
Being self accountable allows you to push forward without the "constant" need for support from others. You need to understand how to become self motivated and self accountable if you want to survive, because while it is important to get support from others; this is a mindset you'll want to have. In this specific video, I will reveal to you a simple spreadsheet that will help you become more self-accountable.
Video #8: What Are You Wasting Time On?
When your mindset is changed, you'll need to organize yourself. So, mindset merges into time management, but while that is the biggest point of this video series, we will discuss this briefly to help you push forward and have a greater impact. Do you know how much time you are spending and what you are spending it on? Are what you spending your time on helping your business grow? Or is it working against your goals? This is something that you need to figure out and in this video, you will learn about a tool you should never work without that will help you solve this problem.
So…with that said, grab this video series now and learn how you can break through the roadblocks by making simple changes in your mindset; so that you can launch your business and a product.
has been added to your cart!
have been added to your cart!
Here's The Sales Video You'll Be Getting With This PLR Video Course:
Here's a Sample Video So That You Know What To Expect From These PLR Videos:
Here's a Link Where You Can Preview the Actual Sales-letter and Sales-page:
Click Here To View The Sales Page
This Private Label Rights Video Course comes with an entire business in a box reseller package that you can use, rebrand and resell at your wish.
has been added to your cart!
have been added to your cart!
Download Package Details:
10 640X360 MP4 Flash Videos
10 1280X720 MP4 Videos
Sales Video in MP4 Format
Sales-letter in DOC, HTML and PDF Format
Editable Graphics: Covers, Flat Cover, Header, Footer, Button (Images and PSD)
Total File Download Size:
242 Megabytes (MB)
Private Label Rights License:
Legal Disclaimer: This license is Non – Transferrable; meaning you cannot give these same rights away. If you want to sell rights to your customers; pay close attention to the license below. We closely
monitor vendors that sell the product and take legal violations seriously.
DO NOT Change this license…violations will be obvious will be prosecuted under the DMCA federal law. You cannot give the product away for free, even to your list…
What You Can do:
[YES] Can Sell This Product
[YES] Can Be Packaged with Paid Products. 5 PRODUCTS MAXIMUM CAN BE BUNDLED
[YES] Can Be Offered as a bonus to Paid Product
[YES] Can Be Added to monthly Paid MEMBERSHIP or Training SITES If you have a membership site where people pay a onetime fee to get into download 100's of products, then you cannot include resell rights this product in that bundle.
[YES] Can Put Your Name on the Sales Page
[YES] Can Sell Resale Rights (Does not relate to PLR, meaning your customers can resell the video as is…)
[YES] You can stamp your name on the videos, but you cannot sell PLR.
What You Can't Do:
You CANNOT Give your customers the AVI files or 1280x720HD MP4 files
You CANNOT Give Transcripts
You CANNOT Offer In Firesales
You CANNOT Offer in Dimesales
You CANNOT Offer These Videos in Firesales if there are more than 5 products.
You CANNOT Sell Master Resale Rights to videos as is.
You CANNOT Give away resell rights for free
You CANNOT Give away videos for free
You CANNOT Claim Original Copyright
Repeat: You CANNOT Sell Private Label Rights
has been added to your cart!
have been added to your cart!
Share this and get 20% off!
---
TAG : high quality plr videos, internet marketing plr videos, mindset launch pad plr, mindset launch pad plr videos, mindset launch pad plr videos with resell rights, mindset launch pad private label rights videos, plr videos internet marketing
CATEGORY : Business PLR Videos, Internet Marketing PLR Videos, PLR Videos, Private Label Rights Products, Resell Rights Products, Video Courses