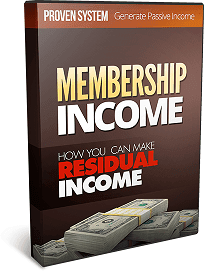 Choose Your Desired Option(s)
has been added to your cart!
have been added to your cart!
Membership Income Video Series With Master Resell Rights
Unlock The Secrets To Generating Monthly Passive Income Paydays With Easy To Setup Membership Sites
You can start your own membership site this week!
has been added to your cart!
have been added to your cart!
Who Can Start A Membership Site?
Membership sites are great for any experience level! Actually if you are brand new to generating income online you should use this business model! It is an awesome way to make money. Your niche does not matter either!
Here are some examples of industries where membership sites can be found:
Sports training
Real Estate
Internet marketing
Fitness training
Dieting
Content for youth pastors
Cooking
Plus many more niche markets.
I have the pefect course here that helps you leverage your time invested with membership sites.
Introducing
The Membership Income Blueprint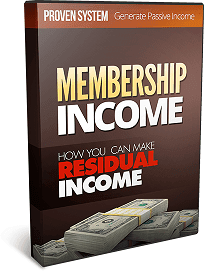 Inside this 10 video course you will get in depth training on all of the proven methods to get passive income from membership sites. Here is a taste of what you will find in each video:
Video 1: Introduction To Membership Income
To fully grasp this training you are going to need to understand the basics of membership sites. We will introduce you to some examples of successful membership sites in this video, plus show you why you should have membership site income as part of your overall strategy.
Videos 2 and 3: Creating Your Content
What should you include inside your membership sites, and how should you create this content.
Video 4: Different Types of Membership Sites
Inside this course we will reveal before you 3 different types of membership sites that you can setup and profit from!
Video 5: Technical Side of Setting Up Your Membership Site
Know exactly how to setup your membership site including structure of your content.
Video 6: Technology For Membership Sites
Uncover exactly which technology the pros use for their membership sites. We will disect several well known membership site solutions, and give you the benefits for each one so you can make an informed decision!
Video 7: Promoting Your Membership Site
Getting traffic to your membership site is extremely important for growing your member base, and ultimately your hands free income!
Video 8: Joint Venture Strategies
One of the fastest ways to grow your membership site is through joint venture partners or affiliates. You will learn several key JV strategies in this video.
Video 9: Membership Income Case Studies
We will show you real life membership sites that are making money to help you better understand how this works for you.
Video 10: Wrapping It All Up
Finally we will summarize everything in this last video so you can quickly get out there, and start profiting!
Bonus #1: PDF Notes of Training
To help you quickly grasp this training I am also including the PDF notes as well. These are taken from the videos, but gives you a unique perspective on this training.
If you want passive, hands free income…
The bottom line is that if you want passive, hands free income, then this product is for you. So let me ask you this:
What Is This Membership Income Blueprint Course Worth To You?
If you could get even 25 new members paying you a modest $19.95 per month as a result of these methods, just imagine how that would improve your quality of life. That is an extra $498.75 or an extra $5,985 per year! That is with only 25 members each month! These are conservative figures here!
Imagine if you had 100 members, 200, or even 500 members which many have! Your potential income explodes. What if you charged more per month for your content? Just keep doing the math, and you can see how powerful this is!
Did you know you can even sell a brand new membership site for 12 times what is makes per month? You could build up membership sites with this training, and flip them for easy cash! How cool is this?
The good news is that we aren't even going to make you pay $5,985 for this one of a kind training.
Now, the good news is that you don't need to even pay $997 or $497 for this course (though it's certainly worth it). Because if you act now, you'll get everything you see on this page for just $47 – and when this course starts getting you hands free, passive income, you can count on recouping your investment.
has been added to your cart!
have been added to your cart!
Here's a Sample Video So That You Know What To Expect From These Membership Income Videos:
has been added to your cart!
have been added to your cart!
Package Details:
Audios Mp3s
MP4 Videos
Flash Videos
Source Videos In WMV
Screenshots
Salespage
Total File Download Size:
523 Megabytes (MB)
Master Resell Rights License:
[YES] Product may be sold separately
[YES] Product may be bundled with other products (May sell 3 courses in one firesale.)
[YES] Product can be a bonus for another product (Minimum $47 price.)
[YES] Can be added to paid membership sites (Must be at least $9/Mo. or $97/Year.)
[YES] Can add bonuses to the Product for sale
[YES] Can be sold as a physical product
[YES] Can be sold as a digital product
[YES] You may put your own name on the sales letter
[YES] You may rename the Product
[YES] You may edit the sales material
[YES] You may edit the content of the product
[YES] You may use the source code/material to create new products
[YES] Can translate the course into other languages
[YES] Can sell Resale Rights
[YES] Can sell Master Resale Rights
[NO] You may use the name(s) of the author/creator/seller of the Product
[NO] Can be added to free membership sites
[NO] Can be given away for free
[NO] Can sell Private Label Rights
Share this and get 20% off!
Related Products That May Interest You