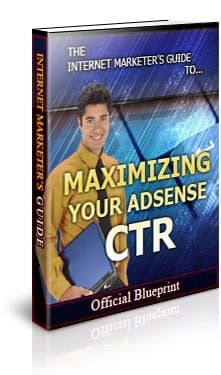 Choose Your Desired Option(s)
has been added to your cart!
have been added to your cart!
#MaximizeYourAdSense #AdSense #AdSenseCickthrough #AdSenseRevenue #AdSenseAds
Maximize Your AdSense Unrestricted PLR eBook
Skyrocket Your AdSense Clickthrough Rates With These Amazingly Simple 'Tune-Ups' That Immediately Kick Your Revenue Into Hear Gear!"
Effortlessly Transform Website Browsers Into Active Visitors That Click On Your AdSense Ads Like Crazy!
It's amazing how with just a few simple tweaks you can send your AdSense clickthrough rates through the roof!  As a result, you get paid more for working less.
Yet, optimizing your AdSense pages is a mystery for most.  There are countless tricks and strategies to boosting your income.
However, it takes time and a lot of testing to discover them.  Few people have the patience and end-up never changing how they use AdSense.
They then lose a fortune in lost revenue.  However, it doesn't have to be this way.
has been added to your cart!
have been added to your cart!
Introducing…
Maximize Your AdSense Unrestricted PLR eBook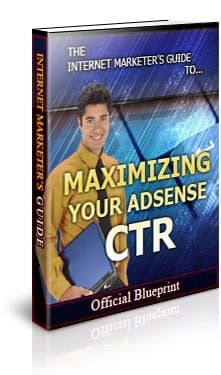 You Can Quickly and Easily Skip Months or Years Of Trial and Error Trying To Figure AdSense Out!
Let me introduce you to a new e-guide called, "Maximizing Your AdSense CTR."
This simple, yet powerful guide reveals a wide-range of proven secrets to skyrocket your clickthrough rates.
With this guide in your hands, you now avoid countless mistakes most people make with AdSense, costing them hundreds or thousands of dollars.
In other words, it contains a goldmine of information you can immediately implement.
Here's The Full Range of What's Revealed:
The 5 essential "keys" you must implement to maximize your AdSense revenue. These virtually guarantee you generate substantial income every time you set-up a new site!
What you should never do if you want Google to approve your web pages for ad placement.  Too often beginners hear about AdSense and immediately get rejected.
What each and every one of your pages should be centered around if you want to make serious money!  This is often the difference between falling flat on your face or enjoying wild success!
The two must-have programs that slash the time it takes to create pages and add content manually to your sites (you can now create as many as 1,000 pages an hour)!
The type of keywords you should build your articles around if you want to skyrocket the amount you get paid for every click!  Do this wrong and you'll earn a tiny fraction of what you so easily could.
How to build your site around the highest paying keywords, while maintaining a relevant theme that keeps visitors coming back for more!  Watch out!  Most people's first instinct of building their sites around the best paying keywords often causes disaster once the site is complete!
Discover exactly how and where to place your AdSense ads to get the maximum click-results possible!  You're going to skyrocket your AdSense income with these amazing little-known tips!
How to make absolutely certain Google is capable of spidering all your pages so they start producing cash fast!  If you don't know this, then a majority of your pages are likely never going to make 1 cent!
Plus, much more, including a dozen killer tips that will help give you even more financial success!
Simply put, it comes down to this…
How Much More Money Are You Going To Make With Just A Small Increase In Your Clickthrough Rates?
Even if you increase your clickthrough rates by just a tiny percent, then this easily adds up to thousands of dollars over time.
For instance, let's say a site with 10,000 visitors a month has a clickthrough rate of 1%.  When you increase it to 2%, then you immediately go from 100 to 200 clicks.
Now, just imagine the increase in revenue you get when you do this on all of your sites!  You've just doubled your current income!  This is why the investment of $3.99 to get your copy is just a drop in your pocket.
It's a miniscule amount to pay for a gigantic increase in your pay.  You're going to love seeing those larger AdSense checks arriving in the mail.
All you have to do is grab your copy below now!
has been added to your cart!
have been added to your cart!
Here's a Sample of The Content in The Maximize Your AdSense PLR eBook:
The purpose of this ebook to is to help you increase your revenue from click-thrus using Google AdSense. Following the steps outlines will help you optimize your websites to give you the best possible moneymaking strategies.
Although I cannot guarantee how much money you will make using Google AdSense, I can tell you that the steps outlined in this document have been tested on over 50 Traffic Equalizer websites and produce excellent hassle-free income each and every day of the week!
For more info on Traffic Equalizer, please visit:
http://www.trafficequalizer.com
Five Keys to Maximizing Revenue With Google AdSense
Earn more money with every click but at the same time maintain relevance with the ads displayed on your pages.
Have lots of pages that display AdWords.
Maximize the number of visitors to your website that view more than one page displaying AdWords.
Improve the "click-thru" rate of your website.
Increase the traffic to your website.
Steps to Increasing Click-Thrus With Google AdSense
Step 1 – Apply and Comply
Having a website can generate revenue for you twenty-four hours a day, seven days a week. Google AdSense is a free program that has an advertising revenue especially designed to help websites like yours to increase their revenue simply by displaying AdWords ads. You can apply online at:
http://www.google.com/adsense
Apply to Google to have your website reviewed. Each page on your website must be content rich on various topics. These pages should all be centered around a theme which Google will use to target relevant ads to your website.
Once you have applied, Google will require you to reply to an email to confirm that you have actually applied. In about 2 –3 days, Google will inform you of the review of your website and whether or not it has been accepted or rejected.
Google will set up an account for you and provide you with the HTML code you need for displaying ads.  Insert the HTML code into the pages on your websites and you can start displaying ads immediately.
Google search and page-ranking technology will search for ads that are relevant to your content pages. This technology matches the primary language of your pages and ads are targeted to your specific geographic location. This means that ads that serve users from Canada, for example, will not be the same ads that appear on your website for users in Australia. This 'geotargeting' by Google makes the ads relevant to all the visitors to your website and it also means that you may not see all of the ads that are targeted to your website.
You do not have to be technologically literate to display AdSense ads on your web pages. Google does it all for you. All you have to do is insert the HTML code and maintain the website.
It may take a few hours before the ads do appear on your web pages. At first, you may see public service ads appearing and you do not get paid for these.
If your website is accepted, Google requires you to comply with their program policies:
AdSense accounts cannot be transferred, reassigned or sold in connection with your website.
You can place multiple ads on each page, but these cannot be in common with each other. The content of the page must not obscure the ad and both the ad text and the URL must be visible.
If you are using Alternate Ads, you cannot specify Google as your alternate ads.
AdSense ads cannot be pasted into any software application.
You cannot modify the AdSense ads or serch boxes before pasting them into your web pages.
Affiliate or limited text links are not permitted in areas such as MP3, Video , Newsgroups and Image Results cannot be shown because of copyright laws.
Visitors cannot be required to download a dialler in order to view the content of your website.
You cannot use any incentives to get users to click on any ads.
Ads cannot be used in any unsupported language.
Fraudulent clicks or clicking on your own ads are prohibited.
Your website cannot contain any profanity, prejudicial language, information about hacking, illicit drugs, pornography, gambling or any other material that infringes on the rights of others.
Your website must not contain any broken links and must be easily navigable.
You must respond adequately to requests for support and enquiries made through your website.
has been added to your cart!
have been added to your cart!
Package Details:
Total File Download Size:
1.18 Megabytes (MB)
Private Label Rights License:
[Yes] Products may be sold separately
[Yes] Products may be bundled
[Yes] Products can be a bonus for another product
[Yes] Can be added to paid membership sites
[Yes] Can add bonuses to the Product(s) for sale
[Yes] Can be sold as a physical product
[Yes] Can be sold as a digital product
[Yes] You may put your own name on the sales letter
[Yes] You may rename the Products
[Yes] You may edit the sales material
[Yes] You may edit the content of the product
[Yes] You may use the source code to create new products
[Yes] Can be added to free membership sites
[Yes] Can be given away for free
[Yes] Can sell Resale Rights
[Yes] Can sell Master Resale Rights
[Yes] Can sell Private Label Rights
Share this and get 20% off!
Related Products That May Interest You