Lets Go Camping PLR eBook Mega Pack Resell PLR
Learn All The Top Secrets To Camping In The Great Outdoors And Make Your first Adventure A Complete Success
Are you wary about spending a ton of money on another massively expensive family holiday? Are you longing for something different which is not only cheaper but also just as much fun as any holiday vacation could ever be? Would you like to get away from city-life and just see what is really out there in the world of nature and the wilderness?
has been added to your cart!
have been added to your cart!
Well, It's no surprise that camping is one of the most popular recreational activities in the world! Every year, millions of people book their camping spots to enjoy an opportunity to experience nature and wildlife. People generally love the outdoors since it's a chance to get away from civilization and also a chance to bond as a family or just have a great time overall.
We live on a shrinking planet! World populations continue to grow and put ever-increasing demands on natural resources. Every day cities are expanding their borders and infringing on surrounding farm lands and forests. Every day plants and animals are becoming extinct as a result of the expansion of our modern society. The conservation efforts of governments may be able to preserve many forests and public lands for future generations to enjoy but they can't stop the lines waiting to get into these places from getting unbearably long. Camping requires uncrowded open spaces in order to be appreciated. Consequently, the opportunities for memorable camping experiences are getting fewer and farther between. What better reason to go camping than to enjoy the outdoors and the scenic wonders of nature while we still can?
With popular outdoor destinations requiring reservations as much as a year in advance, the feeling of the outdoors is getting lost in the crowds. More and more it's becoming necessary to camp in the off-season or to travel great distances in order to find any peace or solitude. There are many valid reasons for escaping the routines of ordinary life, and camping facilitates that escape for many of us. We all need a return to nature now and then, and we all can benefit with a break from our routines. The thought of sitting around a campfire under a clear sky, gazing up at the stars and listening to the sounds of the night can strengthen our bodies, pacify our minds and restore our spirits. Camping is rejuvenating! Search for your youth and go camping! And, wherever you find peace, stop for a moment and reflect on how blessed you are to be able to live on this marvelous planet that we call campground Earth. Remember to share your love for the outdoors with family and friends and to help pass on some respect for nature to future generations.
Well Guarded Secrets To Camping Are Finally Revealed
If you're looking for a truly thrilling family vacation which is easy on your wallet and will provide you with lasting memories while giving you a chance to enjoy a whole lot of fun activities, then Lets Go Camping will be the best purchase you've ever made! You will see just how much fun you can have in the outdoors without killing your wallet. If you've never been on a camping trip and don't have a clue on how to plan one, then Lets Go Camping is exactly what you need. Here are some of the things we touch on to get you fully prepared for your first camping journey
Here's What inside The Guide
  Secrets to camping year round
  Choosing the ideal tent
  Finding the proper backpacks for your needs
  Picking the right  sleeping bag
  How to build a fire
  Enjoying numerous camping activities
  Having fun while being responsible and safe
  Camping with children
Introducing…
Lets Go Camping Ebook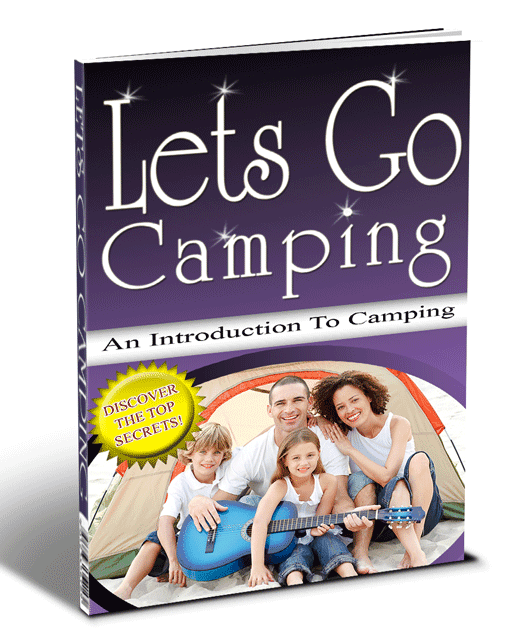 A Complete Introduction To Having The Best Camping Adventure
This is the most simple and thorough guide you'll ever need. Forget the hassle of hotels and the long boring stopovers in the airport. You dont need to spend a  fortune visiting another country to get a few lasting memories with the family.
All you need for the most enjoyable vacation that your family will love is out there in the beautiful natural world, just waiting for you to discover it!
So if you're ready to have some real fun and take your family on the journey of a lifetime, then Lets Go Camping will help you get started! 
For a very limited time, you can grab my fantastic and super-simple guide Lets Go Camping – An Introduction To Camping for the amazingly low price of just…
has been added to your cart!
have been added to your cart!
Package Details:
Module 1 -Ebook
Module 2 – Website
Module 3 – Banners
Module 4 – Graphics
Module 5 – License
Module 7 – Bonuses
Module 8 – Camping Checklist
Total File Download Size:
109 Megabytes (MB)
Private Label Rights License:
[YES] Can be used for personal use
[YES] Can be given to list subscribers
[YES] Can be packaged with other products
[YES] Can be offered as a bonus
[YES] Can be edited and your name put on it
[YES] Can be used as web content
[YES] Can be broken down into smaller articles
[YES] Can be added to an e-Course or autoresponder as content
[YES] Can be submitted to article directories
[YES] Can be added to paid membership sites
[YES] Can be added to an ebook/PDF as content
[YES] Edit the sales letter any way you want
[YES] Can sell Resale Rights
[YES] Can sell Master Resale Rights
[YES] Can sell PLR Rights
[NO] Cannot give away PLR Rights
has been added to your cart!
have been added to your cart!
Share this and get 20% off!
---
TAG : camping, camping plr, camping plr ebook, camping private label rights, camping tips plr, resell plr
CATEGORY : Ebooks, Holiday, Holiday PLR, Master Resell Rights Products, MRR eBooks, PLR eBooks, Private Label Rights Products, Resell PLR Products, Resell Rights Ebooks, Resell Rights Products