#JVZoo #JVZooPromotions #ConversionSecrets #JointVenture #DimeSales
JVZoo Conversion Secrets PLR Videos
Finally, Discover How to Easily Boost Your Product Sales With These Proven 15-Minute Methods That Are Built Into The JVZoo Platform"
This video course will take you behind the scenes to help you understand how to increase your digital product sales using proven methods that are not based on theory.

You have a digital product set up and ready to sell on the JVZoo shopping cart platform – but what now?
As you begin to navigate your account, you might find a lot of features.
But which ones should you use?
Whether you use JVZoo or another platform, you need to know how to boost your sales and how to implement realistic methods fast.
Fortunately for you however, we have gone through the trials and tribulations required to figure things out, and we can now teach you how to do it all.
So, what if you were given methods that work – and that you could implement within less than 15 minutes each?
Would you take it?
Or what if you, like everyone else, try and test it out?
By then, you will have invested thousands of dollars only to find yourself back at square one.
has been added to your cart!
have been added to your cart!
Who is this PLR Video Course Perfect For?
Internet Marketing Coaches
Book Marketers
Affiliate Marketers
Digital Product Resellers
Email Marketers
Membership Site Owners
Marketers looking for Editable Video Guides and Tutorials with Private Label Rights
Newbie marketers looking to learn from it
Online businesses looking to grow
Serious Marketers
And many other ways!
The fact is that people love learning from videos and video training in highly in-demand because people prefer learning from videos.
Introducing…
JVZoo Conversion Secrets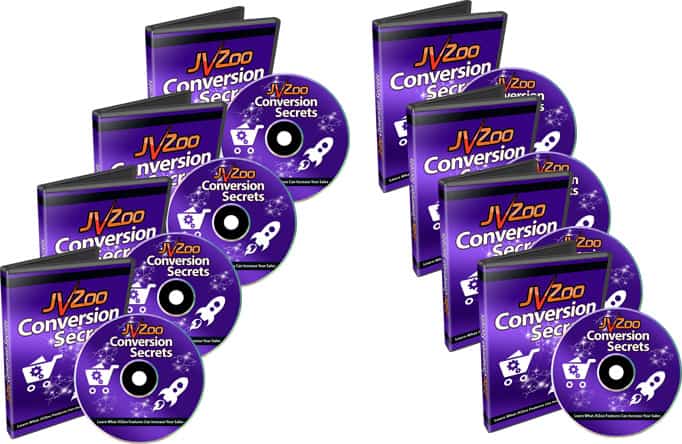 Here's a breakdown of this 8 part video series in more detail.
Video #1 – Introduction
You're going to get a quick introduction to the video course itself so you know exactly what to expect. Plus, we will talk about the things that you will need before you get started. While some of these methods may seem "simple" or perhaps "too basic", they are often overlooked. In fact, while everyone is searching for the latest and greatest "strategy" – your competitors are making money.
Video #2 – Why Scarcity?
Before we jump in and discuss what JVZoo features are helpful in boosting your sales, you need to understand the methods and reasoning behind it. Features are just simply… features. Unless you understand WHY you need to use them, HOW is just meaningless – as you're not going to be as effective.
Video #3 –  Time-Limited Discount Specials
Just as the title states, you're going to offer a time-limited offer at a discounted rate. There are a couple ways you could do this, and in this video, we will cover two different avenues that you can take to achieve this. You'll be given two different scenarios that have worked well. Plus, we'll show you the maximum time you should offer, so you don't lose your momentum.
Video #4 – Customer-Only Coupon Discounts
In this video, I am going to show you how to create generic coupons for your customers. While this may seem easy, I'll walk you through the different types of coupons you can create and which ones will work best for your needs so that you can make them perfect.
Video #5 – Joint Venture Private Promotions
In this video, I am going to show you how to implement JV private promotions. As noted in Video #3, these work well, but it does require that you spend a little more time setting these up.
Video #6 – Price Increases
Now that we have covered the first two methods, this video will dive into the next two that focus on a different scarcity method. This works well for pre-launches and public launches and can increase your overall sales.
Video #7 – Automatic Price Bumps
In this video, I am going to show you how to apply the first method of what you learned in Video #6. This method works extremely well.
Video #8 – Automatic Dime Sales
Finally, in this video, I will show you how to implement Dime Sales and the strategies mentioned within Video #6.

Grab this video course today and discover how to quickly and easily boost your overall product sales by using different scarcity methods that are proven to work!
has been added to your cart!
have been added to your cart!
Follow this simple step-by-step system and start setting up your very own digital membership site!
This Private Label Rights Video Course comes with an entire business in a box reseller package that you can use, rebrand and resell at your wish.
has been added to your cart!
have been added to your cart!
Here's The Sales Video You'll Be Getting With This PLR Video Course:
Here's a Sample Video So That You Know What To Expect From These PLR Videos:
has been added to your cart!
have been added to your cart!
Download Package Details:
8 640X360 MP4 Flash Videos
8 1280X720 MP4 Videos
8 MP3 Voiceovers
8 Transcripts
Sales Video in MP4 Format
Sales-letter in DOC, HTML and PDF Format
Editable Graphics: Covers, Flat Cover, Header, Footer, Button (Images and PSD)
Total File Download Size:
782 Megabytes (MB)
Private Label Rights License:
Legal Disclaimer: This license is Non – Transferrable, meaning you cannot give these same rights away. If you want to sell rights to your customers, pay close attention to the license below. We closely monitor vendors that sell the product and take legal violations seriously.
DO NOT Change this license…violations will be obvious will be prosecuted under the DMCA federal law.
You cannot give the product away for free, even to your list…
What You Can do:
[YES] Can Sell This Product
[YES] Can Be Packaged with Paid Products. 5 PRODUCTS MAXIMUM CAN BE BUNDLED
[YES] Can Be Offered as a bonus to Paid Product
[YES] Can Be Added to monthly Paid MEMBERSHIP or Training SITES If you have a membership site where people pay a onetime fee to get into download 100's of products, then you cannot include resell rights this product in that bundle.
[YES] Can Put Your Name on the Sales Page
[YES] Can Sell Resale Rights (Does not relate to PLR, meaning your customers can resell the video as is…)
[YES] You can stamp your name on the videos, but you cannot sell PLR.
What You Can't Do:
You CANNOT Give your customers the AVI files or 1280 x 720 HD MP4 files
You CANNOT Give Transcripts
You CANNOT Offer In Firesales
You CANNOT Offer in Dimesales
You CANNOT Offer These Videos in Firesales if there are more than 5 products.
You CANNOT Sell Master Resale Rights to videos as is.
You CANNOT Give away resell rights for free
You CANNOT Give away videos for free
You CANNOT Claim Original Copyright
Repeat: You CANNOT Sell Private Label Rights
has been added to your cart!
have been added to your cart!
Share this and get 20% off!
---
TAG : high quality plr videos, jvzoo conversion secrets, jvzoo conversion secrets plr, jvzoo conversion secrets plr video, jvzoo conversion secrets plr videos, jvzoo conversion secrets videos with plr
CATEGORY : Affiliate Marketing, Affiliate Marketing PLR, Internet Marketing, Internet Marketing PLR, PLR Videos, Private Label Rights Products, Video Courses