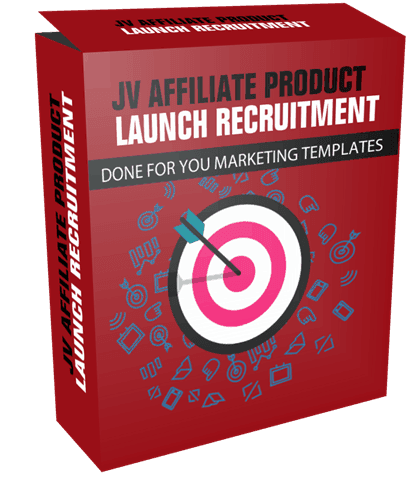 Choose Your Desired Option(s)
has been added to your cart!
have been added to your cart!
#JVAffiliate #ProductLaunchRecruitment #ProductLaunch #JVPartnerships #Affiliates
JV Affiliate Product Launch Recruitment Done For You Marketing Templates
JV Affiliate Product Launch Recruitment Done For You Marketing Templates – Launching a product is an exciting time. There's a lot that goes into a successful launch and the expectations and financial rewards can be not only lucrative but also a lot of fun. It's always rewarding to see your hard work pay off.
Here's what you can expect with these JV/Affiliate Product Launch Recruitment templates
Of course, for that pay off, there are many working parts. The product itself needs to be quality and aimed at the right audience and your marketing efforts should stress the benefits of the product and how it solves your audience's problems. Keeping those two key points in mind will help you have a successful launch.
However, if you want to super-charge your launch, consider adding affiliates and JV partnerships to your launch marketing strategy.
Introducing The…
JV Affiliate Product Launch Recruitment Done For You Marketing Templates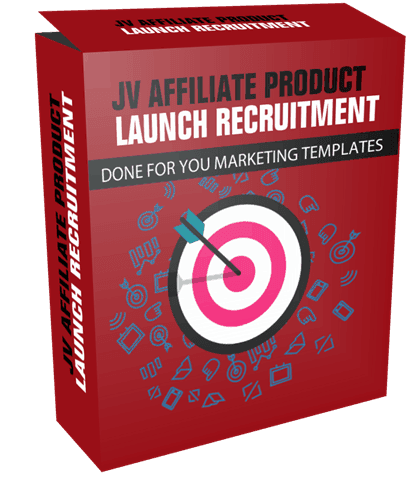 Why Affiliates? How Will They Help Your Product Launch?
The answer is fairly straight forward. Affiliates and partnerships help you reach a wider audience. You already have a following on your blog and through social media. You probably have a solid customer base as well. And that's great for a foundation. However, you can reach ten times that with 10 affiliates or partners.
It's cost effective marketing as well. Consider what you pay for your core marketing tactics. You may pay for social media advertising, copywriting, graphics and much more. Affiliate marketing provides you an opportunity to leverage those expenses into more sales. You can reuse and repurpose your copy and graphics as marketing materials for your affiliates.
True, affiliates earn a commission, and you have to pay that but it's a small percentage of your sales and the profit return is worth the expense. Couple that with the fact that as your affiliates are marketing your new and soon to be released product, you are also building your list. The traffic referrals that come to your website sign up for your list. So, you're increasing sales, your boosting traffic, and you're growing your list all from solid affiliate and JV partnerships.
What's A Solid Affiliate or JV Partnership?
There are differences between affiliates, right? Some work hard to promote your products and others don't. This is where your affiliate recruitment and relationship building practices can really benefit you. To be clear, there's a minor difference between a JV partnership and an affiliate and that is simply how you arrange the relationship.
Generally speaking, and this is just a generalization, Joint Venture partners are often bigger players in your niche. They have a large audience. Following and partnering with them can really boost your business. An affiliate is anyone who wants to promote your products and earn commissions. They may have a small following or a large one. JV partnerships may require different and often personalized partnership agreements. They may request a higher commission amount and custom promotional material. An affiliate on the other hand, will simply be a straight up exchange in commissions for sales.
Regardless, your business and product launch can benefit from both and the key to success is recruiting quality people and building your relationship with them. These tips will help you with that process.
Make a list of the affiliates and partners you'd love to have.
Research the heck out of them. Follow them on social media, subscribe to their email list and their blog, learn all you can.
Engage. Start getting involved with them on a professional level. Comment on social media, comment on their blog. You might even message them on social media when you see information that you think they'd be interested in. Engage in conversations, take it beyond the standard share, like, and retweet type of interaction.
Pitch. When it's time, introduce yourself and give your pitch. They should, by then, at least be familiar with your name. Send them an email or pick up the phone and start talking. Have a pitch prepared for them and make sure you stress the benefits
For example, how much can they earn in commissions? What's your conversion rate? What is the product and how will it benefit their audience? Remember, everyone wants to know what is in it for them, make sure to include that in your pitch.
Respond appropriately. If they say no thank you, that's fine. You haven't burned any bridges and maybe next time they'll say yes. If they agree, terrific, have your materials and links ready to go so they can get started right away. Seize the momentum.
Your Offer Needs to Be Strong
What's a "Strong" offer to an affiliate or JV partner? Put yourself in their shoes for a moment and think about what you'd like to have offered to you. What information would you need to know to make a decision about promoting a product?
Past successes – how have your past launches gone? What was the conversion rate, earnings per click, and sales/commissions paid? Your past does in part predict your future. It tells potential affiliates what they may gain if they represent your product.
What you'll provide – are you going to give them a promo link and leave them to do the rest of the work or will you provide marketing content, graphics, and other materials to help them market? Keep in mind that you can repurpose and reuse your own marketing content and copy here.
Sales page – It's often useful to share the sales page for your product with potential affiliates or partners. They can see for themselves what their list will see and they can decide if it matches their target audience.
A strong product offer – it should go without saying that quality affiliates want to represent quality products. Make sure your offer is a top level one and that it is appropriate and relevant to their audience.
Commissions and payments – last, but not least, let them know what they will earn in terms of commissions, bonuses, and other incentives. Money talks and your affiliates may be financially motivated.
Pull all of these features and components together before you pitch to a potential affiliate and before you create your affiliate program page or JV partnership directory account. Then it's time to go out and start the recruitment process.
How do You Find New Affiliates and Partners?
To build a strong affiliate program that helps you really generate the product launch results you're looking for, you want to find quality partners and affiliates. SO, where are they and how do you find them?
Research your niche. You have a niche that you market to and there are, presumably, other players in that niche. Start researching who they are and who their affiliates are. Simple keyword searches can help you find out who is promoting relevant products in your niche.
Also, explore relevant but non-competing niches. For example, you might be selling an information product on how to improve your website sales copy and your audience are entrepreneurs, however you might also find an audience amongst beginner copywriters looking to improve their skills. Look slightly outside your niche to explore the potential with relevant niches.
Affiliate Forums. There are forums where affiliates discuss all things related to being an affiliate. Join one or two and look for affiliates who have good results in your niche.
Advertise on social media. Promote your affiliate program on social media. You can attract good people to your program this way. Post your offer on your page and talk about what potential partners have to gain.
Finally, consider reaching out to your list. You have a list of customers and a list of email subscribers and prospects, you might send your affiliate offer to your entire list or you can hand pick who you want to send to. For example, you might segment your email list and send an affiliate offer only to people who open 50% of your email messages.
Now, couple this information with this month's tools and you'll be able to recruit affiliates in no time.
Let's Talk About the Templates and Tools Included in this Month's Package:
Our goal every month is to make things simpler for you…to make quicker work of getting better RESULTS from your marketing. With that in mind, let's look at this month's tools.
Affiliate Recruitment Checklist
So now that you've got your affiliate program set up, it's time to start promoting your program and recruiting affiliates! This detailed checklist will help you every step of the way. It's going to give you ideas for promotions and recruitment tips so that you can reach all possible affiliates.
Keep this checklist handy for all your upcoming launches.
JV & Affiliate Directories
Submitting your product to launch directories is a great way to recruit affiliates that are currently looking for products to promote.
This spreadsheet makes it easy for you to track which directory sites you have already submitted to and when along with the results for even better tracking.
JV Recruitment Email Templates and Examples
These 6 recruitment email templates and examples are going to save you a ton of time. The templates include emails for following up with affiliates that have not responded and those that have already responded. After all, following up is key!
We have also included an initial recruitment template to ensure you are hitting all the right points when contacting affiliates for the first time.
JV Sign Up Page Template and Example
Use this template and example to quickly and effectively create your affiliate sign-up page.
We've thought of everything you need to include on this page to make it easy for you.
JV Tools Page Template and Example
Giving your affiliates as much information as possible will make it easy for them to promote your products. You'll want to include all the information they need on the Promotional Tools page.
We've included a template for you to use as well as an example to ensure you provide all the information they need for promotion.
JV Tracking Spreadsheet
Keeping track of your affiliates can be a challenge, which is why we created this spreadsheet to keep you organized. The JV Tracking spreadsheet is used to track the affiliates you plan on contacting. Then you can keep it updated with the date you contacted them, their response, any follow up emails that were sent and any other notes you want to keep track of.
Use it to keep the communication with your affiliates organized and in one place.
KPI Stats Worksheet
The goal of this worksheet is to gather details about your product performance so that you can share the information with your affiliates. We've included all the stats you need along with instructions on how to calculate them.
Affiliate Contest and Recruitment Graphics
Creating buzz around your product launch is a great way to grab your affiliates attention. With these graphics you can create an affiliate contest to really get your affiliates engaged. We've also included affiliate recruitment graphics for you as well!
We included sample covers you can use and edit as your own. Get some inspiration and a place to start!
As you can see these templates and tools will help you with every step of your JV/Affiliate Recruitment process. Use them on every product launch to plan, execute and follow up with your affiliates.
The price will be going up soon, so grab these JV Affiliate Product Launch Recruitment Marketing Templates while it's still low and claim your launch discount! Simply click the Buy Now button below…
has been added to your cart!
have been added to your cart!
Package Details:
Affiliate Graphics
Affiliate Marketing Checklist
Insiders Guide
JV and Affiliate Directories
JV Recruitment Emails and Examples
JV Sign Up Page Template and Example
JV Recruitment Emails and Examples
JV Sign Up Page Template and Example
JV Tools Page Template and Example
JV Tracking Sheet
KPI Stats Worksheet
License Details:
[YES] Can be used for Personal Use
[NO] Can convey and sell Giveaway Rights
[NO] Can convey and sell Resale Rights
[NO] Can convey and sell Master Resale Rights
[NO] Can convey and sell Private Label Rights to the original document
Share this and get 20% off!
Related Products That May Interest You