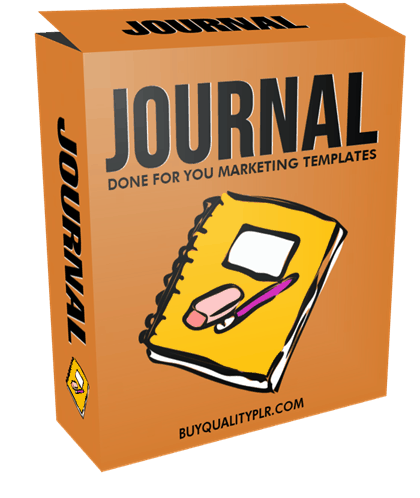 Choose Your Desired Option(s)
has been added to your cart!
have been added to your cart!
#Journal #Journaling #JournalingTips #JournalTemplates #JournalCreation
Journal Done For You Marketing Templates
Journaling Done For You Marketing Templates – Insider's Guide: Journaling
Journaling can help your community improve their businesses and their lives. One reason journals are so helpful is because they provide space to review what happened.
For example, you run a health and fitness website. You sell fitness journals to your readers. A customer is trying to lose weight but she ate a whole pizza by herself. While journaling, she realizes this isn't an isolated incident. It's part of a pattern—she tends to overeat on day when she gets a phone from her verbally abusive spouse.
Journaling can go beyond reviewing what happened and create space for your customers to look for solutions to their problems. Going with the example above, your customer could brainstorm other activities besides eating to do after those draining phones calls.
She might come up with solutions that help her handle her trigger like calling a supportive friend, going to the gym for an intense workout, or curling up on the couch with her favorite movie.
Another way that journaling can be useful is to help your customers examine their mindset and how it's affecting them. For example, your customer is journaling about trying to learn new software so he can launch his online business. He's discouraged and the entry is filled with negativity.
Once he realizes this, he can flip the script. He might choose to list all of the obstacles he's already overcome to get where he is. This could encourage him to stay the course and adapt a positive outlook.
He may go on to write down positive affirmations or mantras that inspire him like:
I can master any obstacle in my path.
Today, I am one step closer to success.
I will master this new technology.
has been added to your cart!
have been added to your cart!
Introducing The…
Journal Done For You Marketing Templates

Let's Talk About the Templates and Tools Included in this Month's Package:
Our goal every month is to make things simpler for you…to make it easier for you to reach more people in your business and generate more sales. With that in mind, let's look at this month's tools.
Journal Templates
10 Journal Templates
These templates can be used as a jump start for your journal creation. Each is a unique design you can use as is or update to fit your style.
Journal Creation Checklist
This checklist will help to ensure you don't miss a thing as you create and prepare your journal to sell. It includes tips for what to include in your journal as well as writing prompts.
100 Inspirational Success Quotes
This list of inspirational quotes will come in handy as you create your journal. Just copy and paste them onto your journal pages making it super easy.
10 Example Journal Cover Templates (JPG Format)
These examples show you what can be done with the templates to get your creative juices flowing.
10 Editable Journal Cover Templates with Prompts (PSD Format)
Customize these covers however you like with your own title and other text using Photoshop.
10 Blank Journal Cover Templates (JPG Format)
These covers can be customized with a title, inspirational words or whatever you can imagine for your journal cover (Photoshop not needed).
As you can see, everything included in this month's Journaling Templates will make it easy for you to start creating your own journals while sharing the many benefits of journaling with your audience.
Grab these awesome done-for-you Journaling Templates while the price is still low and learn to properly brand and monetize your content correctly.
You'll also get an insider guide to explain everything to you and give you the extra edge.
This information along with this month's tools will help you grow your business using Journaling.
Grab your Journaling templates pack today!
has been added to your cart!
have been added to your cart!
Package Details
100 Success Quotes
Journal Creation Checklist
Journal Templates
Insiders Guide
License Details:
[YES] Can be used for Personal Use
[NO] Can convey and sell Giveaway Rights
[NO] Can convey and sell Resale Rights
[NO] Can convey and sell Master Resale Rights
[NO] Can convey and sell Private Label Rights to the original document
Share this and get 20% off!
Related Products That May Interest You