Joint Venture Success Secrets eBook With Master Resell Rights
"Discover How To Tap Into The Single Most Powerful Method You Can Use To Increase Your Leads, Sales And Reputation Manifold… For FREE!"
If You Have Been Struggling Really Hard To Explode Your Sales And Leads Or You're On A Shoe-String Budget To Invest In Paid Marketing Tactics, Then This Is The Most Important Letter You Will Ever Read.
Introducing The Essential Guide To Increasing Every Aspect Of Your Business Manifold With Joint Ventures:
Joint Venture Success Secrets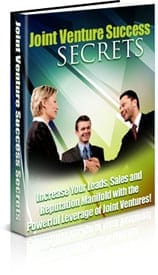 has been added to your cart!
have been added to your cart!
Imagine Learning Things Like:
The six (6) secret ingredients to a Joint Venture success! This is stuff great Joint Venture successes are made of – and when you discover exactly what they are, it's likened to holding six different keys to one powerful breakthrough in your next product launch!
The single most important thing you must know about your potential partners before approaching them with your Joint Venture proposal tucked neatly under your arm pits – easily more than 90% of the novice marketers today are ignorant of this fact and that's the reason why they get ignored, too!
The one and only rule of thumb that can be responsible for your next explosive sales!
What your potential partner really, really means when he or she says "I'm too busy" – and how you can tackle that problem as if it's an easy feat!
The three (3) important things your potential Joint Venture partners often look in you and your offer, whether they're aware of it or not – and how you can best prepare yourself to fulfill all these three criteria because the moment you submit a Joint Venture proposal, your potential partners immediately become the Judge Dredd of your Internet Marketing success!
What to look for in a potential Joint Venture partner before approaching him or her! (Hint: this is more important than you think if you want to improve your chances of getting a "yes" from a powerful partner-in-success!)
All of what you need to prepare before even getting started! (Hint: Mess this up and so will the rest of your Joint Venture Partner recruitment drive!)
Some of the Internet's re-known powerful resources you can use to organize your Joint Ventures for maximum profits!
How to recruit powerful Joint Venture partners massively!
How to architect your Joint Venture partner compensation plan and benefits for a pure win-win situation!
How to get the most and take advantage of this powerful cost-free leverage in launching your next best-selling product and building your list! (Oh, and don't forget the instant credibility you can create with their subscribers and customers, too!)
has been added to your cart!
have been added to your cart!
License Details:
You can put your name or pen name on the product as the author.
You can edit the contents of the product e.g. putting in your affiliate links, adding and removing text, inserting pictures and advertisements, etc.
You can change the title and sub-title of the product.
You can sell the product (E-Book) in PDF format. The suggested selling price is $27.00 – $37.00.
You can break the contents of the product into articles for article submission purposes or add content to your website, blog or e-zine, and include your resource box.
You can spawn a series of short reports (free or paid) by breaking down the contents of the product.
You can add the product into a membership site (paid only).
You can add the product into your product bundle or package and sell for a higher price.
You can offer the Basic Resell Rights or Master Resell Rights to the PDF E-Book. The suggested selling price is $67.00 – $97.00.
You can produce audio/video content from the materials in this product.
You CANNOT give the product away for FREE, under any circumstances at all.
You CANNOT offer the product as a bonus to another product you are selling. However, you can offer other bonuses to this product when selling.
You CANNOT sell the product on auction sites such as eBay.com.
You CANNOT use this product in a dime sale event, under any circumstances at all.
Selling the Private Label Rights (Word Format)
You CANNOT, under any circumstances at all, resell, give away or trade the Private Label Rights to this product, whether in full or partial.
Offline Publishing
You CANNOT use the Private Label materials of this product to publish your work offline. This includes, but not limited to, hard copy books, tapes, CDs, DVDs, and MP3s.
Sales Letter & Graphics Pack
You can edit the sales letter anyhow you like i.e. put your name in the sales letter, insert your order link, enter your own bonuses, make changes to the sales page content, etc.
You can edit the graphics pack to this product anyhow you like i.e. put your name on the E-Cover, alter the design, using your own titles, branding your trade name into the titles and sub-titles, etc.
You can edit the Thank You page anyhow you like i.e. put in your bonuses, enter your name, include the download link, etc.
has been added to your cart!
have been added to your cart!
Share this and get 20% off!
---
TAG : buy the joint venture ebook, ebooks with resale rights, ebooks with resell rights, joint venture ebook, joint venture mrr, joint venture resale rights, joint venture with master resale rights, resale ebooks, resale rights ebooks
CATEGORY : Master Resell Rights Products, MRR eBooks, Resell Rights Ebooks, Resell Rights Products