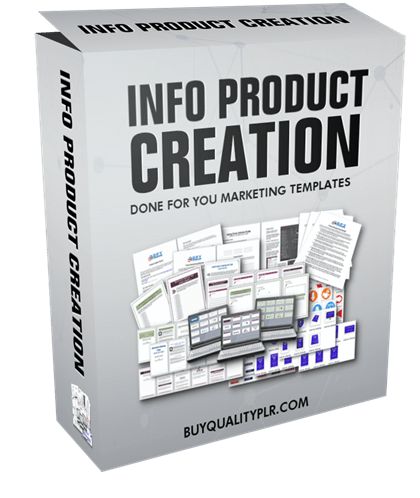 Choose Your Desired Option(s)
has been added to your cart!
have been added to your cart!
#InfoProduct #InfoProductCreation #ProductCreationTips #ProductBrainstorming #InfoProductPlanning
Info Product Creation Done For You Marketing Templates
Info Product Creation Done For You Templates – Information Product Creation Templates
An information product is a product that gives customers information they want on a particular subject. For example, a cookbook on the topic of easy breakfast ideas is an information product. It provides information about breakfast recipes to readers so they can implement what the writer has shared. That's just one example. You can create information products on any topic.
The benefit of being an information product creator is that you can create one product and then sell it again and again. This gives you total freedom over your schedule and your life. You can work when you want to and where you want.
Publishing your own information products can even give you financial freedom. Imagine wanting to go on vacation but a big car repair wiped out your vacation fund. Instead of sitting home and just dreaming of white sand, you can take action.
Make a coupon code for your products and email it to your list. Or create a new information product. Then you just have to wait for the sales to come in as you pack your suitcase.
Having products also means you don't have to hustle or scramble as much. Your income is smoother and more predictable. This leads to less stress in all areas of your life since you can more accurately guess how much money you'll bring in each month.
has been added to your cart!
have been added to your cart!
Introducing The…
Info Product Creation Done For You Marketing Templates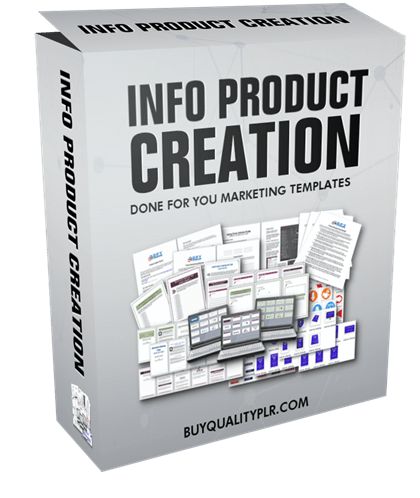 Let's Talk About the Templates and Tools Included in this Month's Package:
Our goal every month is to make things simpler for you… to make it easier for you to start creating your own information products to start earning an income. With that in mind, let's look at this month's tools.
Info Product Planning Templates
Product Brainstorming Checklist
Use this checklist as a roadmap to keep you on track and motivate you to release your next information product.
Product Brainstorming Worksheet
This worksheet is designed to help you feel inspired as you brainstorm ideas for creating your information product.
Product Creation Planner
This planner will turn the creation process into smaller steps for you so you can focus on one task at a time and not feel overwhelmed.
3 Ebook Templates
Use these ebook templates to get a jump on the creation of your own ebook.
3 Brainstorming Worksheet Templates
Use these templates to create a brainstorming worksheet to include with your info product.
3 Checklist Templates
Use these checklist templates to create a detailed checklist for your customers to bundle in your info product.
3 Slide Show Templates
Use the slide show templates to get a jump start on creating informative trainings to include with your information products.
Product Graphics Collection
Arrows & Bullets
20 different styles of arrows
20 different styles of bullets
Add to Cart Buttons
5 different sets of purchase buttons including:
Add to Cart
Instant Access
Buy Now
Join Now
Download Now
5 Guarantee Seals
5 Guarantee Seal styles:
No-Questions Asked Money Back Guarantee
30-Day Money-Back Guarantee
No Risk 30-Day Money-Back Guarantee
Your Satisfaction Guaranteed
100% Money-Back Guarantee
5 Download Icon Sets
5 different sets of download icons each including:
Audio icon
Video icon
Download icon
Document icon
Editable Product Graphics
8 product graphics you can edit and use as your own with .psd included:
2 Book covers
CD
iPad
iphone
Software box
Kindle
Laptop
Graphic Examples, Templates& Instructions
7 example templates in 2D, 3D and PSD that you can use and modify as your own. You will also receive instructions on how to use cover actions to create your own graphics.
As you can see, all of these templatesand tools included in the Information Product Creation Templates will give you the kickstart you need to get started creating your own info products.
Grab these awesome done-for-you Product Creation Templates while the price is still low and learn to properly brand and monetize your content correctly.
You'll also get an insider guide to explain everything to you and give you the extra edge.
This information along with this month's tools will help you grow your business by learning how to create products your customers will love with easy to use templates.
Grab your Product Creation templates pack today!
has been added to your cart!
have been added to your cart!
Package Details:
Insiders Guide
Checklist
Crisp Maroon Templates
Graphics
Planner
Slate Blue Templates
Soft Green Templates
Worksheet
License Details:
[YES] Can be used for Personal Use
[NO] Can convey and sell Giveaway Rights
[NO] Can convey and sell Resale Rights
[NO] Can convey and sell Master Resale Rights
[NO] Can convey and sell Private Label Rights to the original document
Share this and get 20% off!
Related Products That May Interest You