#GetResponse #GetResponseTips  #Autoresponder #GetResponseAutoresponder #EmailAutoresponders‎
High Quality GetResponse Video Training Course
Discover How To Harness The Marketing Power Of Your GetResponse Autoresponder Account – Even With All The Recent Changes…
Tired of reading manuals and not getting the same results the writers end up with?  With these over-the-shoulder style training videos, you watch me do it step-by-step.
Wondering why your conversions are not as good as they should be? I take the mystery out of split testing your GetResponse Messages. Video 24 shows you how.
Are you getting more un-subscribes & spam complaints than you are getting NEW Subscribers? Videos 10 & 16 will plug that problem with time-saving copy & paste templates as well as monetizing tips you need to know!
If you currently use GetResponse as your email service provider (& you should be), then there is a better than average chance you are NOT taking advantage of all the profit potential that GetResponse offers.
The following 24 bite-sized chunks of video training goodness will show you step-by-step how to unlock the profit power that GetResponse has to offer. Read on and take a look (and listen) at the sample video and the detailed description of each video shown below.
Finally, A Step-By-Step Course That Covers Everything You Need To Know About GetResponse
These videos provide you with detailed 'Over-The-Shoulder' style step-by-step tutorials that leave no technical stone un-turned.
How To Use An Autoresponder- GetResponse Edition – Training videos are your GEEK-SPEAK-FREE Video Guides That You Can Brand & Call Them Your Own Creation.
Here Is A Sampling Of The GetResponse Training Videos
Are you always on the go and have limited time to watch the training videos? Every video comes with an MP3 audio file for you to listen & learn.
Can't handle another 30 minute lecture or hour long webinar? Not a problem anymore – Ez to consume bite-sized nuggets of knowledge. Most of these videos are around 6 minutes or less. (see the video descriptions below for titles & times).
A combined 2+ hours of video training delivered in bite sized pieces.
Introducing… How To Use An Autoresponder
-GetResponse Edition- Training Videos…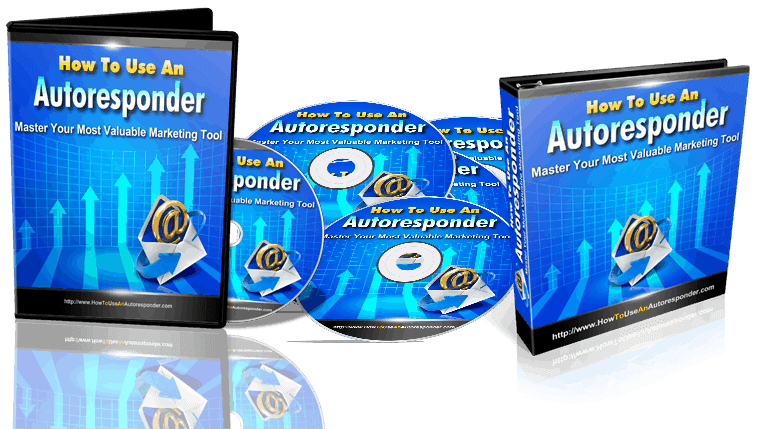 As Mark Twain once probably wrote…
"If you want to make money in your business, you need to know how to use the tools."
One of the most important tools for a long term profitable business in this day & age is an email autoresponder service like GetResponse.
While the internet is chock full of free information on how to use this email service provider or that email service provider, they were lacking the organization, detail & style of teaching that enables you to best learn from and most importantly, take action with.
Most of the training I found was out of date!
My series of How To Use Autoresponders – GetResponse Edition, is fresh off the press and details all the recent changes like segmenting your subscribers. Plus these videos lay it out for you in easy to follow 'over the shoulder' style training.
This way you see it being done right in front of you, so you just do as you see – easy peezy!
HERE IS A LIST OF THE TITLES & VIDEO LENGTHS
1. An Introduction To GetResponse– In the first video in this series you will see many of the awesome tools & features as well as the pricing structure.
2. Signup – As the title hints at, this video is a walk through of the signup process. You will see me signup for a brand new GetResponse account that I use, along with my 'demo' car care business & website, in all the videos in this series.
3. Multimedia Studio – Tips you will not see elsewhere on how to benefit from the Bonus GetResponse Multimedia Studio.
Add images, videos & even audio files to your messages using the FREE media hosting that GetResponse provides.
GR has a minor bug in the Multimedia Studio but I show you the workaround at 1:15 in the video.
4. Campaign Setup – Never again worry if you are properly setting up your GR campaigns. I spend almost 8 minutes detailing this 2 minute process just so every base is covered for you. I cover the 'How' & the 'What' but most importantly the 'WHY'
5. Custom Confirmation – If you choose to use the double opt-in feature then you need to watch this video! I show you how to choose the best confirmation template for your sequence and how to personalize it.
6.Create Web Form – You will discover the basics of creating a converting web form as well as the 'Best Practices' for even higher conversion rates with your web forms. Plus you will watch as I add the code to my web site & why I did it this way.
7. Customizing Web Forms – I show you how to instantly edit your web forms on every site they are on with the cilck of one button. No More hum-drum web forms from you! Add free images & fully customize your web forms after watching me to mine.
8. Custom Fields – The power of GR's Custom Fields are now at your fingertips. Video 08 details how to create these marketing marvels as well as why you need them.
9. Create Horizontal Web Forms – All the cool kids are doing it! Now you will too. Without the cost of additional plugins or software, I show you how to create the side-by-side email + submit button web form. I am also including the copy & paste code that I use in the video. Simple Simon!
10.Create Thank You Pages – Video 10 can easily sell as a stand-alone product! In the video I show you the best practices when creating several types of thank you pages PLUS I am including 5 html templates that I used in the video for you to use.
11. Adding Subscribers – Believe it or not, there are some subscribers you DO NOT want on your lists. I detail the 3 ways to add the right subscribers to your campaigns.
12. Automation Rules – In video 12 I talk about what a sales funnel is and how Automation Rules will save you a ton of time and help keep your list properly organized.
13. Message Editor – The Message Editor in GetResponse has many options but after you watch video 13 you will use it like a Master. Videos 14 & 15 will help you master the message editor at a whole new level.
14. Create Snippets – In this video you will discover what a GetResponse snippet is and how to take advantage of this super time saver.
15. Adding PayPal Buttons – The more PayPal buttons you have on the interweb, the greater the chances are that someone will click on one and send you money! There are 2 ways to add PayPal buttons to your GR messages – the hard way & the easy way I show you in this video.
16. Email Templates – Video 16 details another super time saver by creating message templates that you can repurpose and reuse over & over. In the spirit of saving you even more time – I'm including more copy & paste files for you to use on your templates.
17. Time Based Autoresponders – The next several videos cover the 'Meat & Potatoes' of GetResponse, the autoresponders. Video 17 covers the Time Based autoresponder & how to set yours up properly.
18. Action Based Autoresponders – GetResponse's Action Based autoresponders are quite possibly the most under-used Power Feature offered by GR. I walk you through setting up your action based autoresponder as well as a few prime examples of when you should.
Another 'How & Why'
19. Date Based Autoresponders – Like in video 18, the Date Based autoresponder is another under-used Power Feature from GR. In this video I show you exactly how to create your Date Based autoresponders and most importantly WHAT NOT TO DO.
How to build & maintain relationships with your subscribers as well as monetizing your Data Based autoresponders – all covered in Video 19! This is a much more detailed version of the 'Sample' video from the top of this page. The sample video is 3 minutes – this one is 6 minutes
20. Newsletters – This video covers a brief explanation of what a Newsletter is but a more detailed demonstration of how to craft one properly and put it to use.
21. Message Manager – Like many managers, the GR Message Manager can perform many duties. This video will detail each of them so you can easily Master The Message manager
22. Segmentation – Video 22 was created to remove any guess work on the power of segmenting your subscribers and of course How To Segment your subscribers. Yes, video 22 covers the recent changes to segmenting your subscribers so you are in good hands!
23. Surveys – Another power feature from GetResponse. Creating engaging surveys within GetResponse is easy when you know how. In this video I show you how to create one and read the generated statistics. Plus the pros and cons to using the GR survey feature.
24. Split Testing – In this video you will discover the importance of Split-Testing, the importance of what to Split-Test and of course How To Split-Test your messages.
Have You Ever Asked Yourself..?
How can I avoid sending my subscribers multiple emails in a day?
I wish there was a way for me to minimize my spam complaints.
How can I keep from typing the same intro & exit content in every email I create?
I wish I could send an email to just the people that did NOT open the last email I sent them.
How can I split test the emails I send out?
has been added to your cart!
have been added to your cart!
Here's a Sample Video So That You Know What To Expect From These Videos
has been added to your cart!
have been added to your cart!
Package Details:
Total File Download Size:
464 Megabytes (MB)
License Details:
[YES] Can be used for Personal Use
[NO] Can convey and sell Giveaway Rights
[NO] Can convey and sell Resale Rights
[NO] Can convey and sell Master Resale Rights
[NO] Can convey and sell Private Label Rights to the original document
has been added to your cart!
have been added to your cart!
Share this and get 20% off!
---
TAG : getresponse, getresponse puo, getresponse puo videos, getresponse video course, getresponse with personal use rights
CATEGORY : Email Marketing, Personal Use Only Products, PUO Video Courses