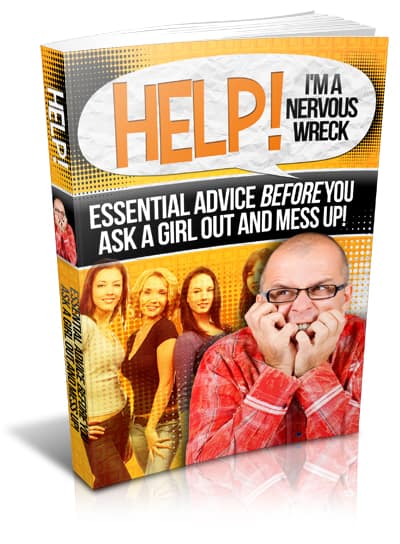 Choose Your Desired Option(s)
has been added to your cart!
have been added to your cart!
Help Im A Nervous Wreck eBook With Master Resale Rights
Amazing New Dating Book Reveals Tried and Tested Strategies To Get a 'YES' When Asking A Girl Out"
I'll give you the exact steps and specific directions to help you be more successful with women and dating — and you don't have to be rich, handsome, young or without kids to do it
Guys, do you fear you will never find that special someone?
Are you are nervous wreck around women but desperate to get a date but don't want to feel humiliated by screwing it up— despite your previous dating history, communication problems and the intense amount of jitters you get when around beautiful women?
Would you like to prevent those horrendous first date train wrecks that leave you embarrassed, frustrated and even less inclined to jump back in the saddle again?
And would you like to know how to effortlessly attract women, approach them and score a home run on each and every date without resorting to psychological mind games, manipulation, grovelling or feigning interest?
If so, keep reading…
It's Not Your Fault Let's face it…
Dating can be challenging.
There is no one that is IMMUNE to experiencing sweaty palms, butterflies in their stomach and being at a loss for words, no matter what age they are or how good looking people say you are. Even the most experienced guys make mistakes with women.
So don't be too hard on yourself.
Like anything in life, there is a method to it all and if you don't know how to approach women and if you don't have the skills to know how to avoid the common mistakes made, then of course you will keep repeating the same errors and experiencing humiliation, rejection and embarrassment with women.
It's painful
But you can change that… And I'm going to prove it to you.
After experiencing a breakthrough with women, I have gone on to help countless men through what they thought was seemingly hopeless situations through the strategies compiled within this book.
Strategies and advice that aren't some 'pie in the sky' theories that only work in certain situations, with specific types of women
No! These were developed from hours of interviews with women and men from different cities and countries around the globe.
I can tell you, it was no small task to do
Just imagine…
No longer being fearful
No longer being at a loss for words
No longer second guessing if she likes you
No longer baffled by what to say when you approach her
No longer feeling sick to your stomach when you go on a date
Since releasing the book, the feedback and results that men are getting have been astonishing.
It really is a breakthrough that proves that there is a method to the madness.
has been added to your cart!
have been added to your cart!
That's why we are proud to introduce…
"Help I'm A Nervous Wreck!"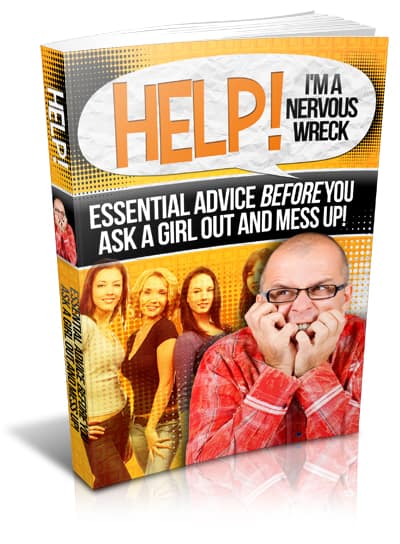 Essential Advice Before You Ask a Girl out And Mess Up!
In this highly effective book for mature men it reveals the truth behind the dating game and how to effortlessly attract women, approach them and score a home run on each and every date without resorting to psychological mind games, manipulation, grovelling or feigning interest even if you have failed at every single attempt to ask a girl out.
This revolutionary bookprovides step by step techniques that are simple and easy for anyone to follow. It was created for those struggling with the fear of rejection and wondering if they will ever find that special someone.
Developed specifically for men who are divorced, single or seniorand may even have children — it delivers practical, down-to-earth breakthrough techniques that have been proven to work with any women, in any situation and in any culture.
When you correctly use the steps, and ignore the voice of doubt in your head, you can get back in the saddle fast, avoid the struggles that plague 89% of men and get the girl.
I know it seems impossible to believe, but it's true.
Let me show you…
A shortlist of what the book covers:
Introduction
Talking about all generations
Definition
History
Basic concepts: etiquette and self knowledge
You're an adult now:  or since when did dating get so complicated?
Considering the target
Where to go for the first date
Prior preparation to popping the question
The physical
The approach
Other factors
I have a question, do you have an answer?
The date
A few pointers on conversation gambits 16
Single dad on the prowl: avoiding looking for love  in all the wrong places
First things first
Overall preparation
Selecting your date
Where to go
What do we talk about?
Final thoughts
Dating single moms
Dating with children
Where to go
Conversation
Final thoughts
First date dating tips  for seniors
Preparing for asking the question
The conversation
Online dating
Setting up the date
Where to go
What to avoid
Summing it all up
Imaginethe swell of confidence you will feel and how quickly you will benefit from this book as it shows you:
How to get past the fear of rejection and meet that women, even if you have failed at every attempt to approach a single women before
The secrets of going from 'hello' to a date with the women you desire whether it be through work, in a café or online
A focused and proven plan of action that's easy and fast to implement for single dads, seniors and approaching single moms
Conversational strategies tested to work with women of all cultures and backgrounds to land the date and keep the conversation flowing on date night
Highly effective dating advice on what to say and do; before, during and after a date to avoid rejection, embarrassment and eliminate those awkward moments
has been added to your cart!
have been added to your cart!
But get this:
Here are 20 Essential Reasons Why You Should Take Action Today
In this proven book, you're going to discover:
The truth behind dating and navigating its tricky minefield
Why Self Knowledge and the Art of Dating is essential for success
19 ways to determine if she's interested and available
How to avoid 1st date disasters ahead of time
Single critical thing never to do on a 1st date or you won't be able to recover from it.
8 Killer ideas for places to go on your 1st date that will wow her silly but not burn a hole in your pocket
3 Essential factors in preparation for dating
11 proven ways to ask a woman out
When you should and when you shouldn't ask a woman out
10 guaranteed ways to get a "Yes" when everything is telling you she will say "No"
Amazing talking points for single dads and seniors that create instant magnetism and help you avoid the dreaded and awkward 'silence'
Detailed strategies for single dads juggling dating and kids
The most effective methods for finding a date and assuring you're a match without going on multiple dates
The single most overlooked mistake that single dads make on their first date
5 fool-proof ways to determine if she's into you before you waste your time
5 simple and easy ways to land a first date with single moms with kids
7 questions seniors must ask before they go on their first date
How to overcome rejection without batting an eye
Everything you need to know about online dating and why you should be doing it even if you have no money to join a site
How to master online dating like a pro, get what you want while avoiding the flaky, non-serious, time wasters!
has been added to your cart!
have been added to your cart!
Make Full Use Of This Knowledge And Get A Real Look At Help I'm A Nervous Wreck!
A fresh and radically different set of rules have taken their place. And the time for you to study them and stake your claim is today!
That is why is it very important for you to realize the value of what I'm offering.
The price I'm charging for this book is minimal when you consider the fact that you can use just one of these strategies to make your money back 10-15 times over.
Remember that if you fail to take action today, things will not get better… at least not immediately.
So make sure you take action and get a copy of this book right away!
And The Best Part Is…
That You Can Be Reading This Book In Less Than 90 Seconds From Now!
That's right! No more waiting for the mailman to come to your door 7-10 days later.. You can start reading this book instantly!
This new breakthrough book is a guide, really. A guide as a result of years of searching, studying, and scouring hundreds of websites, stores, and magazines.
And this isn't one of those "Latin" books where you don't understand what's being said. Everything is in plain English, so you can put the Latin book away 🙂
has been added to your cart!
have been added to your cart!
Package Details:
Download File Size – 20.9 MB
eBook Format – PDF
Reading Requirements – Any PDF reader
Number of Pages – 32
License Details:
[YES] Can sell to end users
[YES] Can sell with resell rights
[YES] Can sell with master resell rights
[YES] Can be added to membership sites
[YES] May be added as a bonus to other paid packages
[YES] May add bonuses to the product
[YES] May bundle up to 3 products together from the original package
[YES] May be used a bonus for affiliate promotions
[YES] Can be flipped on sites like Flippa
[YES] Can be sold on auction sites like eBay
[YES] Can be sold as a physical product
[NO] Cannot sell with private label rights
[NO] Cannot giveaway with private label rights
Share this and get 20% off!