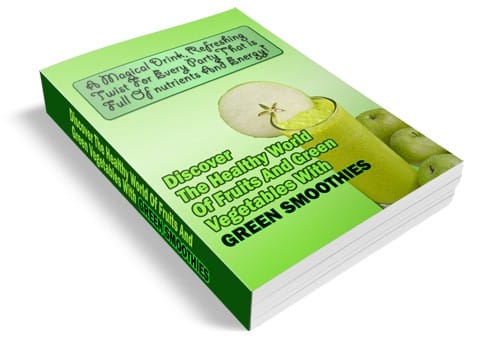 Choose Your Desired Option(s)
has been added to your cart!
have been added to your cart!
Green Smoothies Niche Package with Master Resell Rights
Do You Want To Know About A Magical Drink? A Drink That Is A Refreshing Twist For Every Party! A Drink That Is Full of Nutrients And Energy!
Green Smoothies A Perfect Blend of Fruits And Green Vegetables!
Are you a health conscious person? Do you want to get rid of the excessive body weight? Are you fed up of taking the dietary supplements and medicines?? If yes then here comes the best solution to all your health problems…GREEN SMOOTHIES…confused? Heard the name for the first time? No issues!
Introduction to Green Smoothies
A green smoothie is a blend of various fruits and green vegetables like water melon, lemon, spinach, cucumbers, and celery. The fundamental idea behind this is to provide all the health benefits at one go. The green smoothies are very helpful for those individuals who don't take the recommended amounts of nutrients in their daily diet. It is a good choice to add vegetables to the fruit based smoothie. This is considered to be a very healthy choice these days. There is so much that we can get from these vegetables and fruits. They are rich source of minerals, vitamin A and C, fiber, proteins etc. You can very easily Discover the Healthy World of Fruits and Vegetables with GREEN SMOOTHIES!
Green smoothies are also a very good source of providing fiber to our body. Lack of fiber content in the body often leads to toxins. So it's better to include a glass of green smoothie in your daily diet. Green smoothie is also a very good nutrient diet for the kids now-a-days. The kids are often prone to health diseases as their immune system is not fully developed. So it is advised to give them a diet which is rich in all the nutrients and vitamins.
It is also considered the best way for the people who are not able to eat raw vegetables. By mixing the green vegetables with fruits they can easily drink it. Moreover it is very easy to digest. According to a survey it is shown that chewing leads to forty percent of the absorption of food while blending leads to ninety percent of the digestion. So it is very clear that drinking a glass of smoothie is far better than having a bowl of salad daily.
Advantages of including Green Smoothies in our Daily Diet
Green smoothies are the easiest and cheapest ways of reducing body weight. It is not possible for everyone to go for dietary supplements and medicines. They are very expensive. Moreover at times they also cause allergies. So it's better to stick to the natural way of losing your weight. Including green vegetables and fruits in your diet will help in acquiring all the nutrients naturally.
So what are you thinking? If you really want to have a balanced diet full of all the nutrients and vitamins in a natural way then you should surely get this eBook on Green Smoothies now- Discover the Healthy World of Fruits and Vegetables with GREEN SMOOTHIES! The content in this book is framed in a very simple language which the readers will easily understand and will make their reading more pleasurable and interesting. Want to know what all you can get by reading through this eBook? Let's have a sneak peek over this eBooks' highlights which can help readers to know about the topics they will get to read in it.
Highlights of – Discover the Healthy World of Fruits and Vegetables with GREEN SMOOTHIES!'-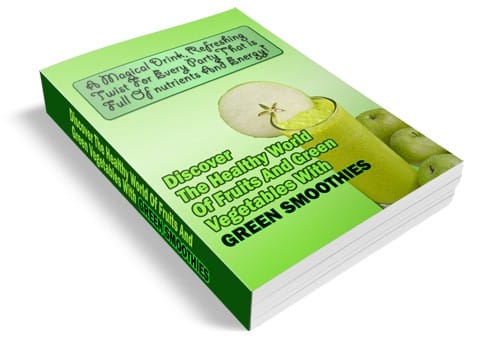 Green Smoothie – Knowing About it!
Why it is Better than Other Tempting Smoothies
Great Taste with High Nutrition – Its Nutritional Contents
Green Smoothie Health Benefits
Loosing Excessive Weight with This Amazing Dish
Raw Food Green Smoothie Dish – What it is and How to Make It
Two Interesting Recipes for Preparing Delicious Green Smoothie Dish at Home
Learning Different Green Smoothie Types – Low Fat, Creamy and Seasonal
Tips to Make Green Smoothie Dish Taste God
Learn Different Ways of Incorporating Green Smoothie in Your Diet
Included 2 Superb Bonuses
Bonus#1 MP3 Audio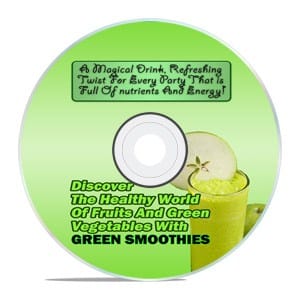 Bonus#2 10 PLR Articles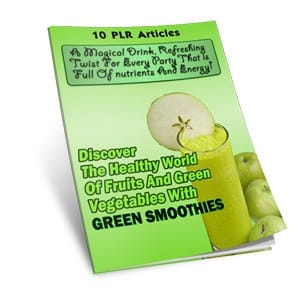 Grab 10 articles for absolutely FREE by making prior bookings POST HASTE!
Make a booking NOW and get benefited with additional and free of cost articles written by well known Green Smoothie experts. These articles can be availed by readers only with the eBook – Discover the Healthy World of Fruits and Vegetables with GREEN SMOOTHIES!
So, HURRY and grab the newly introduced eBook to make a balanced life.
has been added to your cart!
have been added to your cart!
Package Details:
Ebook
Articles
Audio MP3
Website
Total File Download Size:
8.41 Megabytes (MB)
Master Resell Rights License:
[YES] Can be packaged with other paid products
[YES] Can be added to paid membership site
[YES] Can edit the sales letter
[YES] Can sell Resale Rights
[YES] Can sell Master Resale Rights
[YES] Suggested price $17.
(Please note: Do not de-value this product by selling it for just $3.)
[NO] Can be given away for free
[NO] Can be added to free membership sites
[NO] Can be offered through auction sites
[NO] Can sell Private Label Rights
[NO] May change the content by editing, addition or subtraction
Share this and get 20% off!
Related Products That May Interest You