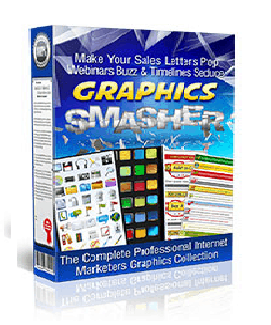 Choose Your Desired Option(s)
has been added to your cart!
have been added to your cart!
Graphics Smasher With Developer Rights
Make Your Sales Letters Pop, Webinars Buzz And Timelines Seduce
Peoples attention spans are lower than ever, and if your websites, FaceBook pages, mobile apps, blogs, sales letters, and webinars look like cr*p, then you're never going to grab peoples attention or build their trust enough to make the sale.
I know the secret sauce is having eye catching designs to grab peoples dwindling attention spans and show them I'm a professional that can be trusted.
So how can you stand out, look pro, and make more sales without breaking the bank?
Forget hiring and firing designers, because here is your complete Professional Internet Marketers Graphics Collection.
has been added to your cart!
have been added to your cart!
Introducing…
Graphics Smasher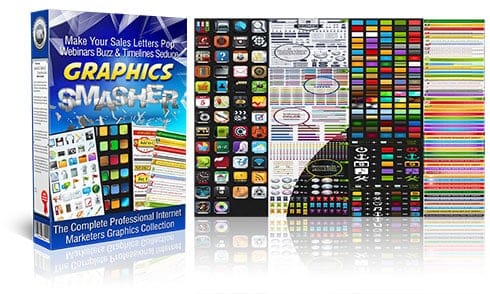 What's Included:
Module #01 – Web Icons – Draw readers in to your words like magic with these
100 PSDs and 200 PNG web icon graphics.
Module #02 – Web Elements For Marketing – Over 350 PSDs and 900 PNG web element graphics such as arrows, bullets, highlights, guarantee certificates, underlines, attention signs…
Module #03 – Icon Pack For Mobile Apps – If you're planning to create an app, or are in to mobile marketing then these gorgeous icons and graphics are just the ticket. Contains 2150 PSDs and 2750 PNGs.
Module #04 – FaceBook Timeline Cover Pack – These FaceBook Timeline graphics will bring your account to life and help you brand your business like a real pro. Contains 70 PSDs, comes with full instructions and Video Tutorial.
Module #05 – Seamless Patterns  – USe these sweet textures to add awesome backgrounds, eCovers, headers, logos and more without having to create textures from scratch. These textures add a real professional depth to your designs. Contains 48 Adobe Photoshop .PAT files, and 2,400 PNG files.
Module #06 – 3D Arrows – Contains 300 3D Arrows in different shapes, styles and colors and come in 3 different sizes. Sizes are 64×64, 128×128, 256×256 pixels.
Module #07 – Buy And Order Buttons #1 –Comes in 3 different colors red, blue, and green. Contains 24 PSDs and 48 PNGs
Module #08 – Buy And Order Buttons #2 – Comes in 3 different colors red, blue, and green, plus some mixed colors. Contains 70 PSDs and 140 PNGs
Module #09 – Headers – Awesome headers that you can mix and match to create totally unique headers. Comes with 17 Layered PSDs.
Module #10 – Signs –3D character man holding 3 different money signs (dollar, Pound, and Euro). Comes in 2 different sizes, 128×128, and 256×256 pixels. 24 PNGs.
Module #11 – Marketing Banners – 9 complete marketing banner sets, each with a different color combination. Banners are in 8 sizes as follows: 480×60, 234×60, 728×90, 300×250, 88×31, 180×150, 120×600, and 125×125 pixels. 72 PSDs.
Module #12 – Price Tags – 100 different styled and multi-colored price tags with string. Size is 262×60 pixels.
Module #13 – User Interface Elements
Rollover menus, search boxes, sliders, audio and video buttons, konbs, download buttons, progress bars, ribbons there are hundreds of detailed elements.
Module #14 – Vintage Badges – Contains 10 PSDs and 75 PNGs. Contains round, hexagonal, ribboned, and rosettes, all in different coulor combinations.
Module #15 – Web Boxes – Make the benefits and features of your product stand out, available in multiple styles and colors. Fully editable. Contains 10 PSDs and 60 PNGs.
Module #16 – Round Buttons – 16 PSDs and 132 PSDs, these buttons come in different colors and styles and are easily editable.
Here is just a SMALL SAMPLE of what's in this package…
Mobile App Backgrounds
Mobile APP Vector Icons
Mobile APP Vector Icon Styles
Mobile APP Icons
User Interface Elements
Web Icons
Product Templates
Remember, this is just a very small sample of what's contained in this huge package!
These are the same pro graphics that have made sales letters pop, mobile apps get sold, webinars buzz, FaceBook timelines seduce, and blogs read. Make no mistake, these custom made graphics cost thousands of dollars to create
What You Get
The supplied PSD And PNG images are ready to use right away.
2900+ Layered Graphics PSD Files
7150+ PNGs – All on transparent backgrounds
16 Modules – Jam Packed with essential graphics.
Developer Rights – You can use this for as many projects as you want, then sell the project to your clients.
has been added to your cart!
have been added to your cart!
Package Details:
Download File Size – 647 MB
License Details:
What You Can Do:
[YES] You Can Use This Product For Personal Projects
[YES] You Can Use This Product On Client Projects
What You Can Not Do:
[NO] Sell the PSD Files
[NO] Sell the Package
[NO] Sell resell rights
[NO] Sell Master Resell Rights
[NO] Private Label Rights
[NO] Offer it as a bonus
[NO] Use it as a lead magnet
[NO] Give it away for free
You can only use this product for personal and commercial purposes.
It is intended to help you with your own marketing purposes.
It is also a way you can start your own graphic design business and push out high-converting graphics, sales page, landing pages and other marketing graphics without being a PRO designer.
Share this and get 20% off!