#FoolproofPlugin #Plugins #PluginDesign #WordPressPlugin #PaidPlugins #PluginCreation
Fullproof Plugin Outsourcing PLR Videos
How to Quickly and Easily Find The Right Programmer Who Can Create Your Hot-Selling WordPress Plugin… Starting Today!"
This isn't just another video product with theory… it's taken from true results from working in successful WordPress plugin launches
FACT: Software has the highest perceived value, and it often sells like hot cakes, but the problem is that most people hire the wrong programmer and lose money.
They end up with no working WP Plugin and are right back to square one.
Does that sound familiar?
OK, so if you have your idea in hand, you've written out your project specifications and you're ready to find the right programmer, then listen carefully.
Most people at this point will go and create a job post on a freelancing site to find the first programmer that comes along.
Oftentimes the situation is wonderful in the beginning, but then just gets worse over time.
Knowing how to predict whether or not you will acquire a successful programmer is crucial to your success, especially in the long term.
Fortunately for you, we have wasted tens of thousands of dollars over the years trying to find the best programmer, often running into bad situations that have lost us a lot of money.
Best of all we've figured out the secret blueprint for tackling this problem and succeeding.
So if you would like to learn how to develop WordPress plug-ins for a fraction of the cost and how to find the right programmer, the following is for you…
has been added to your cart!
have been added to your cart!
Who is this PLR Video Course Perfect For?
Internet Marketing Coaches
Book Marketers
Affiliate Marketers
Digital Product Resellers
Email Marketers
Membership Site Owners
Marketers looking for Editable Video Guides and Tutorials with Private Label Rights
Newbie marketers looking to learn from it
Online businesses looking to grow
Serious Marketers
And many other ways!
The fact is that people love learning from videos and video training in highly in-demand because people prefer learning from videos.
Introducing…
Foolproof Plugin Outsourcing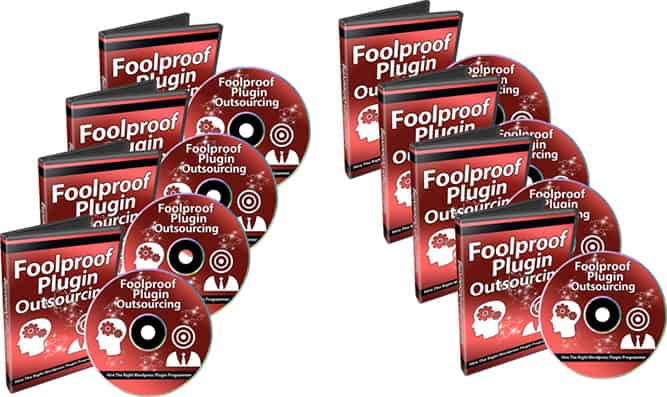 Here's a list of this 8-part video series in more detail.
Video #1 – Introduction
One of the biggest complaints when it comes to hiring a programmer to develop your WordPress plug-in that I have heard over and over again is: "There are no good programmers."  Wrong. Attracting the right person takes skill and you'll learn how.
Video #2 – Skill Set
When it comes to hiring a programmer based on skill set, we will discuss exactly what you need to be looking for.
Video #3 –  Personality
While skill set is very important, hiring based only on skill set is the wrong idea. This is where most people miss out because they think everyone thinks like them or they just want the job done right away. Take a step back, because you also need to look for the right person with the right personality. This is a great way to predict whether or not your project will succeed and how well you will be able to interact and communicate with your programmer.
Video #4 – Best Freelance Sites
There are many sites out there that you can use to find programmers and other freelancers. We will discuss the ones that we have used and have had great success with. We will also teach you how to protect yourself.
Video #5 – Research
At this point in time people normally want to go ahead and create a job post and start looking for programmers. This is a bad idea; instead, what you should be doing is researching and doing your due diligence beforehand. In this video, you'll be shown exactly what you need to do to research different types of people in different types of job roles that have attracted the correct programmer.
Video #6 – How Much Should You Expect to Pay?
When it comes to setting your budget, most people have unrealistic budget expectations that are too low or too high. So, the question is how in the world are you supposed to know how much a WordPress plug-in is going to cost? That is something that we will tackle in this video.
Video #7 – Crafting The Job Post
Once you have done the proper research, it's time to craft your job post. We will go through the most important things that you need to have inside your job post to ensure that you find somebody who is detail oriented. Someone who can pay attention to detail is key, no matter what the freelancing job is. You'll learn secret tests that we use all the time to ensure that we get that type of person.
Video #8 – Search Parameters
When it comes to being proactive about your job post, you want to search for programmers that fit your needs. You're going to learn the exact search parameters that we use to find the best programmers available.
So, with that said, grab this video series today and learn how to find the right WordPress programmer.
has been added to your cart!
have been added to your cart!
Follow this simple step-by-step system and start setting up your very own digital membership site!
This Private Label Rights Video Course comes with an entire business in a box reseller package that you can use, rebrand and resell at your wish.
has been added to your cart!
have been added to your cart!
Here's The Sales Video You'll Be Getting With This PLR Video Course:
Here's a Sample Video So That You Know What To Expect From These PLR Videos:
has been added to your cart!
have been added to your cart!
Download Package Details:
8 640X360 MP4 Flash Videos
8 1280X720 MP4 Videos
8 MP3 Voiceovers
8 Transcripts
Sales Video in MP4 Format
Sales-letter in DOC, HTML and PDF Format
Editable Graphics: Covers, Flat Cover, Header, Footer, Button (Images and PSD)
Total File Download Size:
885 Megabytes (MB)
Private Label Rights License:
Legal Disclaimer: This license is Non – Transferrable, meaning you cannot give these same rights away. If you want to sell rights to your customers, pay close attention to the license below. We closely monitor vendors that sell the product and take legal violations seriously.
DO NOT Change this license…violations will be obvious will be prosecuted under the DMCA federal law.
You cannot give the product away for free, even to your list…
What You Can do:
[YES] Can Sell This Product
[YES] Can Be Packaged with Paid Products. 5 PRODUCTS MAXIMUM CAN BE BUNDLED
[YES] Can Be Offered as a bonus to Paid Product
[YES] Can Be Added to monthly Paid MEMBERSHIP or Training SITES If you have a membership site where people pay a onetime fee to get into download 100's of products, then you cannot include resell rights this product in that bundle.
[YES] Can Put Your Name on the Sales Page
[YES] Can Sell Resale Rights (Does not relate to PLR, meaning your customers can resell the video as is…)
[YES] You can stamp your name on the videos, but you cannot sell PLR.
What You Can't Do:
You CANNOT Give your customers the AVI files or 1280 x 720 HD MP4 files
You CANNOT Give Transcripts
You CANNOT Offer In Firesales
You CANNOT Offer in Dimesales
You CANNOT Offer These Videos in Firesales if there are more than 5 products.
You CANNOT Sell Master Resale Rights to videos as is.
You CANNOT Give away resell rights for free
You CANNOT Give away videos for free
You CANNOT Claim Original Copyright
Repeat: You CANNOT Sell Private Label Rights
has been added to your cart!
have been added to your cart!
Share this and get 20% off!
---
TAG : foolproof plugin, foolproof plugin plr, foolproof plugin plr video, foolproof plugin plr videos, foolproof plugin videos, foolproof plugin videos with plr, high quality plr videos, outsourcing plr, plr Outsourcing, plr wordpress, plr wp, wordpress plr, wp plr
CATEGORY : Outsourcing PLR, PLR Videos, Private Label Rights Products, Video Courses, WordPress PLR