Forming New Habits Premium PLR Package - High quality forming new habits PLR product including ebook, report, emails and lots more. Over 26 000 words of done-for-you forming new habits PLR content that is well written and ready to be used in your business to educate your audience. This forming new habits PLR content includes fast-action bonuses for the first 50 buyers only.
#badhabit #habitforming #uglyhabit #changinghabit #creatingnewhabits #badhabitplr #badhabit #badhabits #habits #newhabits #habit #habits #routines #routine #breakbadhabit #breakbadhabits #plr #plrcontent #plrreport #plrebook #digitalcontent #negativebehavior #behavior
Forming New Habits Premium PLR Package – Featuring Over 26 000 Words of Done-For-You Evergreen Self Help Content.
Attention: Self Help Marketers, Personal Development & Self Improvement Coaches

Done for You Premium Self Help PLR Product on a
EVERGREEN Topic:
Forming New Habits !
Dear Self Improvement online business owner, When it comes to self help and personal development searches, the Forming New Habits is one of the most searched-for topics online.
It's safe to say that Forming New Habits has spawned an entire industry of blogs, courses, books and products.
This is where my premium done-for-you Forming New Habits PLR content package comes in. It's all about teaching your customers how to Preventing & Coping With Burnout.
Everything is completely done-for-you and ready-to-go – from the main info product to your social media updates – it's simply up to you to add your branding and firmly establish yourself in this lucrative self improvement niche.
Introducing The…
Forming New Habits PLR Package
Featuring Over 26 000 Words of High Quality Forming New Habits Content Ready To Be Used In Your Business!
This high quality Forming New Habits PLR package covers the hugely popular self help niche. Self Help is evergreen and will always be. This Forming New Habits PLR package is well-written by an experienced copywriter and comes with full private label rights so you can edit it, put your name on it, put your brand on it and sell it or use it to build your list of raving fans.
has been added to your cart!
have been added to your cart!
Here's everything you'll get in the Forming New Habits MEGA PLR Package…
Main eBook: "How to Build a New Habit"

(4,044 words, 18 pages, 8 images)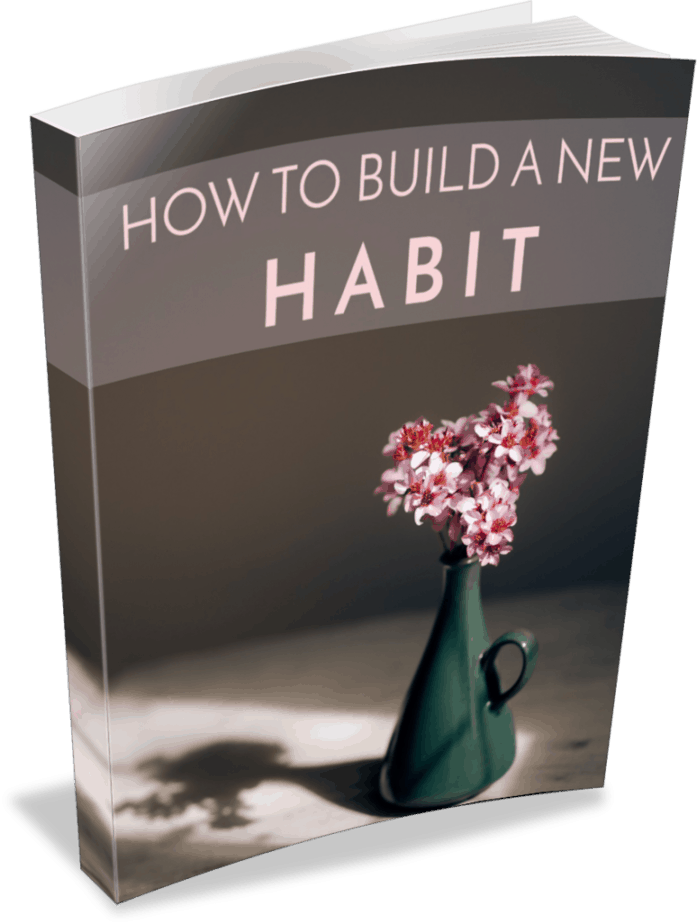 A look inside the Forming New Habits PLR eBook: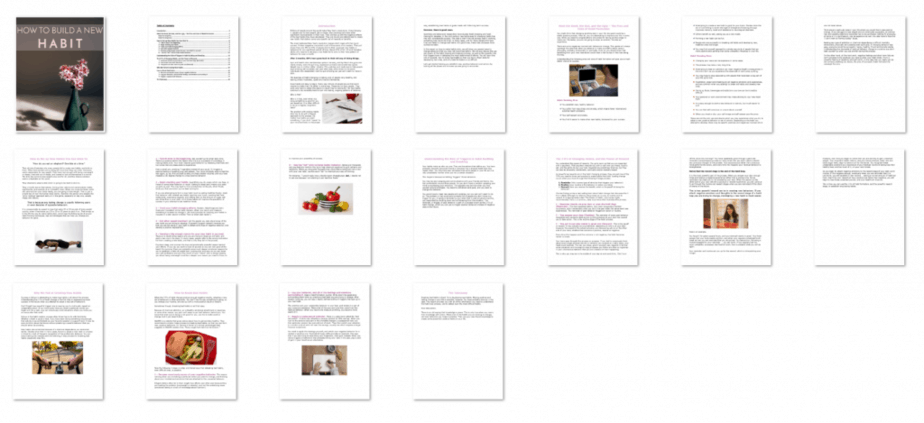 Table of Contents for the Forming New Habits PLR Ebook:
Introduction………………………………………………………………………………….. 3
Meet the Good, the Bad, and the Ugly – The Pros and Cons of Habit Formation…………………………………………………………………………………….. 5
Habit Forming Pros………………………………………………………………………. 5
Habit Forming Cons……………………………………………………………………… 6
How to Set up New Habits You Can Stick To……………………………………… 8
1 – Take it slow in the beginning……………………………………………………… 9
2 – Begin stacking your habits………………………………………………………… 9
3 – Track your habit-changing efforts……………………………………………….. 9
4 – Get other people involved………………………………………………………… 9
5 – Develop a big enough reason for your new habit to succeed……………. 9
6 –  Use the "but" trick to foster better behavior………………………………. 10
Understanding the Role of Triggers in Habit Building and Breaking….. 11
The 3 R's of Changing Habits, and the Power of Reward………………….. 12
1 – Someone knocks on your door or your doorbell rings (Reminder)…… 12
2 – You answer your door (Routine)………………………………………………. 12
3 – You get to see who wants to greet you (Reward)…………………………. 12
Why We Fail at Creating New Habits……………………………………………… 15
How to Break Bad Habits……………………………………………………………… 16
1 – Become consciously aware of your negative behavior…………………… 16
2 – Log your behavior, and all of the feelings and emotions surrounding it…………………………………………………………………………………………….. 17
3 – Supply a replacement behavior………………………………………………… 17
The Takeaway……………………………………………………………………………… 18
Sample Content for the Forming New Habits Premium PLR Ebook:
Millions of people around the world make New Year's resolutions. Come January 1, people vow to lose weight, get in shape, stop smoking and make other significant improvements in their lives. They are fed up with the negative effects of the bad habits they have developed. They are bound and determined to create new habits that deliver some very specific set of rewards or benefits.
The most dedicated New Year's resolution makers don't meet with that much success. Forbes magazine conducted a poll of thousands of its readers. That poll shows that only 8% to 10% of people stick to their proposed new habits or behaviors for any significant period of time. About 63% of UK, US and Canadian adults who resolve to develop a new habit fail to stick to their new pattern of behavior for even a month.
After 3 months, 80% have gone back to their old way of doing things.
Gym and health club memberships spike in January, and by March the gyms are nearly empty, even though long, expensive contracts are sometimes signed. Weight loss is a billion-dollar industry. Pills, patches and medicines to help people stop smoking sell incredibly well year after year, often times to the same individuals who desperately want to quit smoking but just can't seem to make it stick.
The business of habit-changing is making a lot of people very wealthy, and leaving others frustrated, upset and mad at themselves.
Good habits are easy to begin. Every day millions of people around the world resolve to make their life better in some way. These are not lazy people. They work very hard to obtain the desire or result they're looking for. Yet new habits continue to be incredibly hard to turn into lasting, ongoing patterns of behavior.
Why is that?
Why is it that, even when you know something is good for you and beneficial, it is often difficult to do on a regular, long-term basis?
The problem with making habits stick has to do with a flawed approach to the process. No matter how badly you want something, if you don't "speak" to your mind and body in the proper way, establishing new habits or goals meets with little long-term success.
However, there is good news.
Scientists and behavioral researchers have studied habit breaking and habit making for decades. In the 21st century new techniques for changing habits has met with considerable success. The idea is that if the old process wasn't working, something new had to be tried. In many cases, and for many people who have tried and failed to change bad habits into good ones, these new processes have worked wonders.
In this report on how to make habits stick, we will show you several ways to change behaviors that you may not have tried before. We will also discuss the ups and downs of the habit making and breaking process, as well as the powerful role that triggers have in defeating the most determined of efforts. You will learn the role of rewards, how to break bad habits so that you have a fresh slate for developing new ones, and why habit formation is so difficult.
Let's get started helping you establish new, positive behaviors and actions by looking at the pluses and minuses you are going to encounter.
Note: The above content is just a snippet of the ebook.
has been added to your cart!
have been added to your cart!
Forming New Habits Checklist :
(465 words, 4 pages)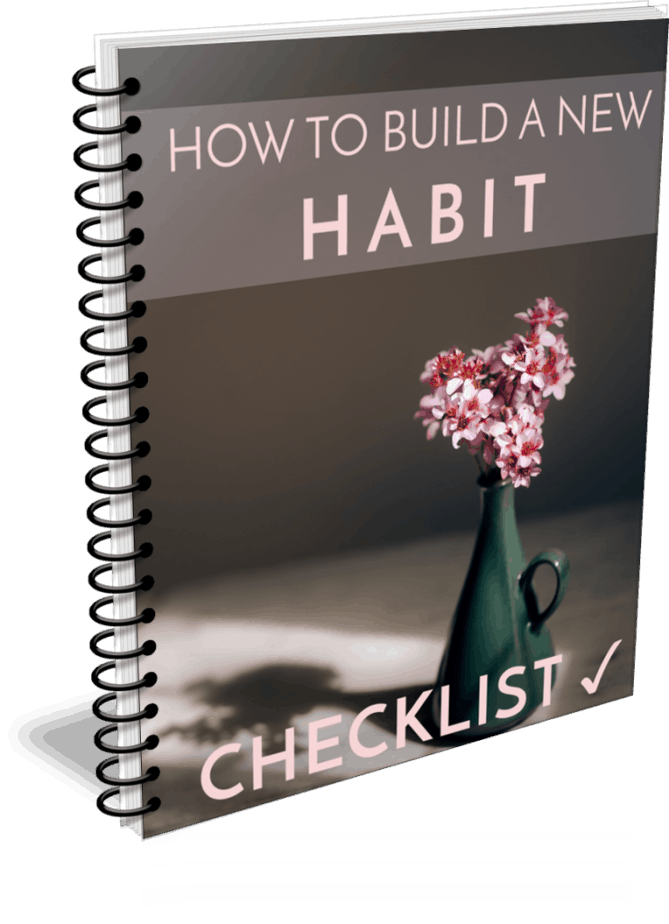 A look inside the Forming New Habits Premium PLR Checklist

Forming New Habits PLR Editable Ecovers:

5 Emails/ Blog Posts:
Topic: 10 Top Habits for a Healthy/Happy/Successful Life
Email 1 – 10 Simple but Powerful LifeChanging Habits
Email 2 – How Routines and Exercise Create a Happier Healthier You
Email 3 – Accept Failure and Prioritize You Time for Major Life Benefits
Email 4 – Can You Really Journal and Walk Your Way to Mental and Physical Health and WellBeing
Email 5 – Change Your Social and Personal Environments for More Productivity
Forming New Habits PLR Emails Total Word Count: 1724 Words
Forming New Habits Email Content Sample:
10 Simple but Powerful Life-Changing Habits
Hi,
Over the course of this and the following 4 emails, you will discover 10 habits that can help you live a healthy, happy and successful life. Develop just a couple of these proven lifestyle boosters and you will see some positive change take place. Make all 10 of these habits a way of life, and you benefit from major change that can positively impact all areas of your life.
Life Improvement Habit #1 – Quit The Caffeine
Caffeine give you an instant boost. When you add refined sugar, you feel like you can conquer the world. Unfortunately, with or without sugar, caffeine in any form causes an unhealthy energy boost/energy crash effect. Too much caffeine can elevate your heart rate to dangerous levels as well.
Whether you get your caffeine in coffee, energy drinks or pills that help you stay awake, developing a dependency is a real possibility. Consuming too much caffeine on a regular basis leads to tense muscles, problems sleeping, nausea, headaches, and can even establish an irregular heartbeat. Quit the caffeine, or at least cut back considerably, and both your mind and body benefit.
Life Improvement Habit #2 – Read a Book Every Week
How does reading help improve your life? Author George R.R. Martin said it best when he stated that, "A reader lives a thousand lives before he dies. The man who never reads lives only one." Reading expands your horizons, boosts a strong vocabulary, improves your communication skills, keeps your mind sharp no matter what your age, and over time can make you knowledgeable on a wide range of subjects. Even if you just read a short e-book every week, this 1-book-a-week habit can improve your life in a number of ways.
To your success,
YOUR NAME
Forming New Habits PLR Articles:
5 Reasons Why We Struggle to Break Bad Habits – 403 words
Are Small Goals Better Than Larger Ones? – 478 words
Could Waking Up Earlier Help You Achieve Your Goals? – 496 words
How Long Does It REALLY Take to Build a New Habit? – 483 words
Should You Only Focus on One Goal or Habit at a Time? – 406 words
Forming New Habits PLR Article Sample:
5 Reasons Why We Struggle to Break Bad Habits
Breaking bad habits is hard, even though we know we should. It seems that even though we understand we must change negative behaviors, sometimes this is very difficult to do. Why is that? Wouldn't it make sense that we would be inclined to do what is healthy for us? There are many reasons why breaking bad habits is difficult, and 5 of the most common are listed here.
1 – We Don't Give the Process Enough Time
Maxwell Maltz found in the 1950s that habits took approximately 21 days to establish. This means changing previous behaviors, and breaking old habits. Research in 2009 found that modern men and women require approximately 66 days to establish a routine or behavior. Part of the failure in breaking bad habits is not allowing enough consistent, day-to-day effort for a long enough period of time.
2 – We Don't Treat the Underlying Cause of the Behavior
An alcoholic or drug addict may understand their behavior is hurting them. Even so, dependencies can be incredibly difficult, in some cases seemingly impossible, to overcome. This is because sometimes underlying emotional causes lead to bad habits. Identifying and treating our responses to emotional scars can help lead to more success in defeating bad habits.
3 – We Don't Avoid Harmful Triggers
Some bad behaviors are triggered by outside stimuli. When we are in a certain environment, physical, mental or spiritual, these negative behaviors come out to play. If a cigarette smoker spends a lot of time around others who smoke, it's going to be difficult to stick to a non-smoking routine.
4 – Your "Why" Isn't Big Enough
Sometimes failure comes from a lack of motivation. You may say you want to break a bad habit, but your reasons for doing so simply aren't big enough. Establish a "big why" for you are doing, a reason that is so important and significant that your motivation for new change can't be overcome.
5 – Fulfill Your Negative Need
You may have heard that people attempting to give up smoking often put on weight. That is because the physical action of smoking is replaced by the action of eating. Instead of sticking cigarettes into the mouth, food is the substitute. Every bad habit needs to be replaced with a positive one. If you spend hours each day on social media, that need for socialization has to be replaced by a healthy alternative.
Social Media Posts and Images:
5 Shareable Social Media Graphics (PLR)

16 Social Media Posts with hashtags (for sharing on Twitter or Facebook)

8 Royalty Free Images

Forming New Habits Keyword Research Pack