#Facebook #FacebookStories #FacebookVideos #FacebookImages #FacebookApp
Facebook Stories Done For You Marketing Templates
Facebook Stories Done For You Marketing Templates – Insider's Guide: Facebook Story Templates
Facebook Stories are short images and videos that can be created by users. Like Instagram, these videos will disappear after 24-hours. They can only be viewed twice in that time-period.
The advantage of creating Facebook Stories for your community is that they create a sense of urgency. Your viewers know they only have a limited window of time in which they can watch your videos.
3 Ways to Post Your Stories
Facebook allows you to post stories from your personal profile, your group, or even your business page. Unfortunately, this can be a confusing for some people. How do you know which option to use when you're ready to create video content?
A good rule to follow is to opt for your own profile if you'll be sharing content that's personal in nature like a funny event that happened to you when you were running errands this week.
You may also want to use your profile if you have privacy concerns about the content of your video. For example, if you're posting a video about your baby's first words, you may want to make sure only friends can view it.
To share a video from to your personal profile, open the Facebook app on your smartphone or device. Swipe right to load your camera. To record a video, all you need to do is hold down the button in the center. If you just want to snap a picture, tap the button once.
When you're done, tap the arrow at the bottom of your screen. Now you can choose to post it to your personal profile or send your content to a friend in a private message.
But if your content has something to do with your business or new information that impacts your niche, then you'll want to broadcast your videos from your Facebook business page.
You can do this by opening the Facebook app on your phone and visiting the page you want to post to. Once you're on the page, just click the 'Create Story' button. Then you can take a picture or record your video just like you would for your personal profile.
To post in a group, you'll want to navigate to the group first. Inside the Facebook app, you can use the search bar to type in the name of the group where you want to post your story. Or if you've added your group to your shortcuts, you can use that link to enter it.
In the posting section, you should see a "Create Story" option. It's usually round with a blue + symbol. If you don't see this button, then you don't have permission to post your story into the group.
Keep in mind that when posting to a group, you have less control over the privacy than you do with your personal profile. If the group owner adjusts the privacy settings later and makes the group open to the world, others may be able to view your story.
Remember, choosing the right audience to share with is important. You don't want to share a business update on your personal profile or post a video about your family reunion on your business page.
has been added to your cart!
have been added to your cart!
Introducing The…
Facebook Stories Done For You Marketing Templates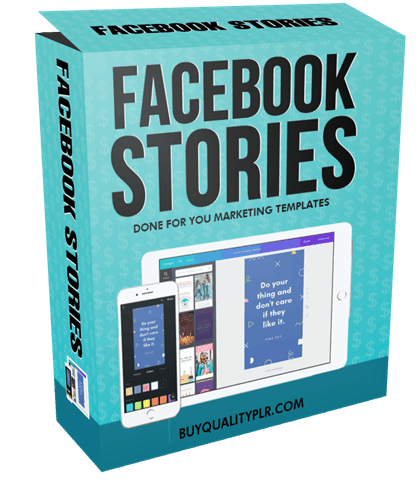 Let's Talk About the Templates and Tools Included in this Month's Package:
Our goal every month is to make things simpler for you… to make it easier for you to reach more people in your business and generate more sales. With that in mind, let's look at this month's tools.
Facebook Story Templates
Call to Action Graphics
These templatescan be used to give your visitors an action to take such as downloading your free offer, joining your Facebook Live or signing up for your free class.
6 Examples – JPG Format – The examples show you what can be done with the templates.
6 Blank – JPG Format – Add your own text to these templates (Photoshop not needed).
6 With Prompts – PSD Format – With Photoshop you can take these templates and edit them to create your own customized call to actions.
Blank Facebook Story Templates
These attractive templates can be customized with your calls to action, inspirational words, notice of a sale or whatever you would like to share with your audience in your Facebook Story.
24 Blank – JPG Format – Add your own text to these templates (Photoshop not needed).
24 Blank – PSD Format –If you prefer creating and editing graphics in Photoshop, use these templates.
As you can see, everything included in the Facebook Story Templates will make it easy for you to start connecting with and growing your audience with Facebook Stories.
Grab these awesome done-for-you Facebook Story Templates while the price ie still and learn to properly brand and monetize your content correctly.
You'll also get an insider guide to explain everything to you and give you the extra edge.
This information along with this month's tools will help you grow your business using Facebook Stories
Grab your Facebook Story templates pack today!
has been added to your cart!
have been added to your cart!
Package Details
License Details:
[YES] Can be used for Personal Use
[NO] Can convey and sell Giveaway Rights
[NO] Can convey and sell Resale Rights
[NO] Can convey and sell Master Resale Rights
[NO] Can convey and sell Private Label Rights to the original document
has been added to your cart!
have been added to your cart!
Share this and get 20% off!
Related Products That May Interest You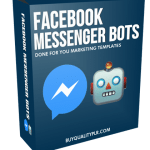 #Facebook #FacebookMessenger #FacebookMessengerBots #Facebook MessengerApp #FacebookMessengerBotTemplates Facebook Messenger Bots Done For You Marketing Templates Facebook Messenger Bots Done For You Marketing Templates - Insider's Guide: Facebook Messenger Bots Savvy business…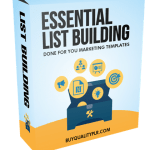 #EssentialListBuilding #ListBuilding #ListBuildingTips #BuildYourkList #CreatingLeadMagnet Essential List Building Done For You Marketing Templates Essential List Building Done For You Marketing Templates - Essential List Building Insider's Guide Building a prospective…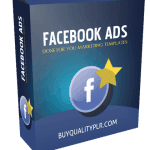 Facebook Ads Done For You Marketing Templates Facebook Ads Done For You Marketing Templates is designed to help you with all aspects of getting your Facebook Ad campaigns up and…
---
TAG : facebook stories, facebook stories content, facebook stories done for you marketing templates, facebook stories personal use rights, facebook stories puo, facebook stories templates
CATEGORY : Done For You Marketing Templates, Personal Use Only Products, Social Media, Social Media Marketing