Choose Your Desired Option(s)
has been added to your cart!
have been added to your cart!
Act Now And Get Instant Access To This Ultimate Collection Of Facebook Marketing Training Videos…
This step-by-step Facebook Video Training is going to take you by the hand and show you how to safely skyrocket your business success over the web in the shortest time ever and enjoy as much high quality traffic as you want from Facebook.
It's a fact that Video is the greatest way to learn and master anything, especially about online tasks. There is not an easier way to learn our latest Facebook marketing techniques than with our high quality & high definition set of 10 videos that we have just prepared for you. business social activities.
The only thing you have to worry about now is watching every single minute of this video training and applying it.
Eight (8) very-easy-to-follow steps are more than enough to get you where you really want to be using the incredibly social power of Facebook.  Our latest creation will give you exactly what you need in order to reach all of your online business expectations of success.
Introducing:
Facebook Marketing Made Easy! Video Training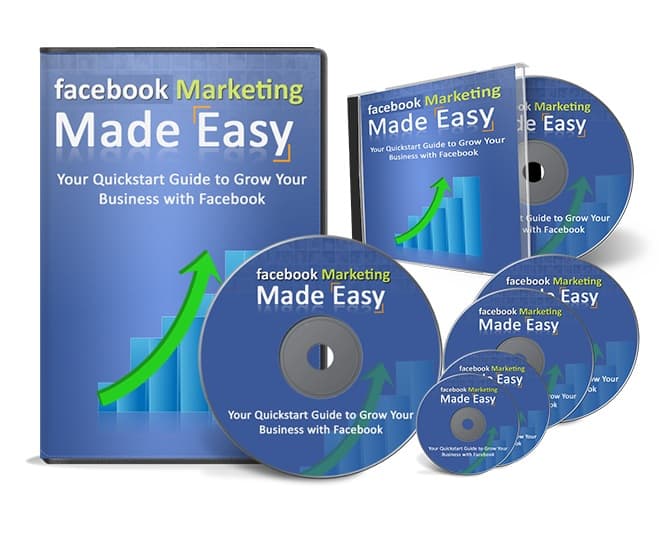 This extraordinary Facebook Video Training will reveal the exact 8 steps that you really need to care about the most in order to strongly and safely position your business on Facebook in the shortest time ever.
Here you see some of the tips that you will discover after downloading "Facebook Marketing Made Easy" Video Training…
A detailed explanation about Facebook Pages.
Some really great examples of successful Facebook Pages.
The most important step right before you start building a Facebook Page for your business.
The exact question you should be able to answer to choose the right approach for your business.
Some serious important advices on the exact moment of registering your Facebook Page Account.
How to avoid committing some terrible mistakes on creating your Cover Image.
Some tips on how to create a highly effective profile image.
Important tips that will get the most out of your about section that even big companies forget.
How to effectively use one of the most powerful functions that Facebook has invested millions of $ on.
How to effectively use the top 5 posting activities that will virally spread the word out quickly
Highly effective techniques that will make your posting activities a lot more productive.
The safest way to get as many likes as you want to your brand new Facebook Page.
Here's a sample of this awesome Facebook Marketing video series so that you can see the quality and know what to expect:
This is a great chance for you to discover the best and most effective techniques you can use on Facebook on behalf of your business.
How much would it cost you to get your business to be known by thousands of people in your home town? How much do you think you will spend doing so in Facebook? Let me tell you it will cost you nothing. Yeap, its 100% free.
The only thing you need to do is buy this training system and save yourself a lot of time and frustration. Save yourself the countless hours we have invested into this to create a high-quality, step-by-step training system especially for you and for a lot less than the cost of a domain name. It's just as simple as that.
This high-quality training system comes with a lot of great and proven techniques. The Facebook Marketing Made Easy core training guide alone costs more than $600 to create it. I can easily sell this for $67 or maybe $47, but this is just the launch of my new product; so I really want to lower the price and then I can increase it to a higher price at any time.
Package Contents:
Training Guide
Video Training
Free Report
License
Bonuses:
Cheat Sheet
Mind Map
Top Resources Report
License:
Personal Use Only – The Facebook Marketing Made Easy Videos Videos is for learning purposes only.
Share this and get 20% off!