The Effect of High Fructose Corn Sugar PLR Report
If you read the paper, watch the news, or pick up the occasional magazine then chances are, you've heard a bit of the controversy about High Fructose Corn Syrup.
High Fructose Corn Syrup is a sweetener. It's used in a surprising number of foods ranging from crackers and lunchmeat to sauces, cereals, and sodas. It's a processed food made from a couple of different ingredients, which we will describe in a bit more detail in the first chapter.
A Sugar of Many Names
High Fructose Corn Syrup is the common name for the sweetener in the United States. However, in other countries it has a different name. It's important to be able to identify its various names so you can make educated decisions about your food choices wherever you are.
High-fructose corn syrup is called glucose/fructose in Canada.
It's called glucose–fructose syrup (GFS) in Europe.
It's also referred to as high-fructose maize syrup in other countries
You may also be surprised to know that there are different types of HFCS, High Fructose Corn Syrup.
has been added to your cart!
have been added to your cart!
Introducing The…
The Effect of High Fructose Corn Sugar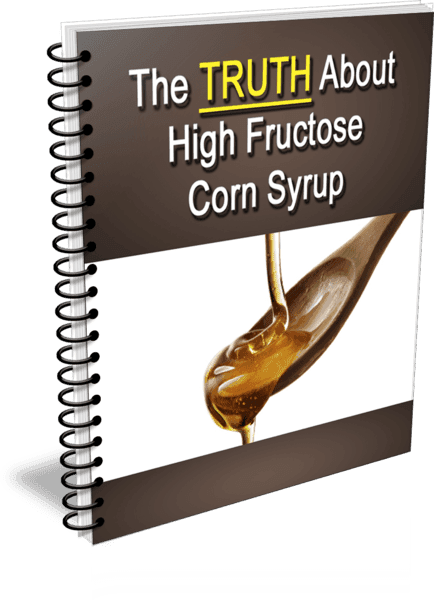 In general, High Fructose Corn Syrup is consists of 24% water and 76% sugars. The most widely used varieties of HFCS are:
HFCS 55 (mostly used in soft drinks) which is approximately 55% fructose and 42% glucose
HFCS 42 (used in beverages, processed foods, cereals and baked goods), approximately 42% fructose and 53% glucose
HFCS-90, approximately 90% fructose and 10% glucose, is used in small quantities for specialty applications, but primarily is used to blend with HFCS 42 to make HFCS 55.
What's It All Mean? A Quick Look at the Production Process
All this fructose and glucose can get confusing. It's all sugar, after all. So what's the big deal?
Let's break it down into the two primary components of High Fructose Corn Syrup and start with Fructose. Fructose, as you may know, is a natural simple sugar. You'll find it in plants including fruits and vegetables. The sweeter the plant, the more fructose it has in it.
The other simple sugar that's readily available in plants and necessary for energy in the human body is glucose. Fructose and glucose have the same type of atoms, which include Carbon, Hydrogen, and Oxygen, but they're combined differently and in different amounts. And when you combine fructose with glucose, the results is sucrose, which is your basic table sugar.
So Fructose is a naturally occurring sugar that your body can easily break down and convert into energy. It prefers glucose but with a little extra effort it can manage fructose just fine. Now let's look at Corn Syrup.
Corn Syrup produced by milling corn to produce corn starch, then processing that starch to yield corn syrup, which is almost entirely glucose.
Corn syrup is made from corn starch. There's no fructose in corn syrup, only glucose. To make High Fructose Corn Syrup, the manufacturer adds several different enzymes into the corn syrup.
The enzyme turns glucose into fructose. The entire process requires several different steps. The eventual result is a syrup that is about 90 percent fructose.
So we went from corn to corn starch to corn syrup or glucose to almost exclusive fructose. This fructose is then blended with glucose syrup to create the different types of High Fructose Corn Syrup
The resulting syrup generally contains approximately 42% fructose and is called HFCS 42. More glucose is added and you have HFCS 55 which has 55% fructose.
However, you may be hard pressed to get an actual fructose percentage when you look at any given product and manufacturers seem to be reluctant to make the fructose percentage in their foods public.
For example, does soda have 55% fructose in their HFCS or 42% or something entirely different? Many tests have been run to determine the fructose amount in various products and they tend to find a wide variety of percentages.
So Why is High Fructose Corn Syrup So Controversial?
If it's just sugar and different blends of sugar, what's all the fuss about High Fructose Corn Syrup?
The truth is that there are many shocking effects of High Fructose Corn Syrup that we're only just beginning to understand. The processing of sugar creates something that is not seen in nature. Our bodies, as studies are showing, just don't know how to deal with HFCS. The result is an obesity epidemic like the world just hasn't seen.
While there are many people who say that the problem is the mass consumption of sugar in general and not merely the consumption of HFCS, studies are showing that isn't the case. In Chapter Five we'll dig deep into these studies and further explore the potential dangers of HFCS.
Additionally, high fructose corn syrup is made from a genetically modified substance – corn. Genetically modified organisms, GMO's, are banned in Europe and many other countries for a number of reasons including the potential risks that these unstudied organisms may have on health and the environment.
Genetically modified organisms are treated with DNA from other plants, fungus, and even animals to create plants that taste sweeter, are herbicide resistant, temperature resistant, and drought resistant and produce their own insecticides.
Like all GMOs, genetically modified sweet corn has not been thoroughly tested to ensure that it is safe for consumption. A study published in the International Journal of Biological Sciences shows that GMO corn and other GM food is contributing to the obesity epidemic and causing organ disruption.
This study, http://www.ijbs.com/v05p0706.htm, found that GMO corn fed to mice led to an increase in overall body weight of about 3.7 percent, while also increasing the weight of the liver by up to 11 percent.
And if this isn't bad enough news, there have been multiple studies that demonstrate a high level of mercury can be found in foods with High Fructose Corn Syrup. Mercury is a toxin that doesn't leave your body. Your body cannot process it and mercury toxicity leads to neurological damage.
So if High Fructose Corn Syrup is making people obese, sick, and killing them slowly then why are we using it? That's what we'll take a look at in the first chapter. Then we'll explore:
How Does High Fructose Corn Sugar Compare To Sugar And Other Sweeteners?
High Fructose Corn Syrup Bans Around The World
The Risks of Consuming High Fructose Corn Syrup
Tips To Decrease Your High Fructose Corn Syrup Intake
How You Can Help Get The Word Out
has been added to your cart!
have been added to your cart!
Package Details:
Download File Size – 1.47 MB
Total Word Count: 7166+ Words
Word Doc Format – Source File
eCover Graphic – Jpeg Format
License Details:
You can add the articles or content to an ebook or product that you plan to sell or give away for individual use.
You can use the content to build your email list.
You can modify the content by removing, adding or otherwise editing to suit your needs.
You can use the content on your websites, blogs, newsletters or anywhere you publish content.
You can add your affiliate links, product links, Adsense and other ad code.
You can bundle the content into a viral report, free ebook, product or bonus for your customers.
You can charge for access to read this content. For example, a paid ebook, membership site or other paid access content.
You can translate it into another language and resell with personal use rights.
You can add the content as a autoresponder email series.
What you CANNOT do:
1 – You cannot give any type of resell rights to others. In other words, you can sell this stuff, but your customers can't.  Why?  This protects all our members and helps ensure there is a consistent limit on the number of sellers of this PLR. We allow 100 members/sellers maximum. Period.
2 – You cannot submit any of the content provided by Buy Quality PLR to reprint article directories or other websites which accept reprint content even if you have edited or reworded the content.
Why? Because many article directories won't take PLR articles. If everyone started submitting similarly written articles to these directories it wouldn't be fair for the directory owners, their users or our members. Be fair to everyone involved and don't do it, even if you feel you've edited or reworded the article.
has been added to your cart!
have been added to your cart!
Share this and get 20% off!
---
TAG : high fructose corn sugar, high fructose corn sugar plr, high fructose corn sugar plr content, high fructose corn sugar plr report, high fructose corn sugar report
CATEGORY : Food PLR, Lead Magnets, PLR Lead Magnets, PLR List Building Reports, PLR List Building Reports, Private Label Rights Products