#EbookCreationForIlliterate #EbookCreation #EbookCreationTips #EbookWriting #BookWritten
Ebook Creation For Illiterate PLR eBook
Did you know that having an ebook written doesn't cost near what it costs to have a hard cover book written!
I would not have believed it if I hadn't done it for myself. You can actually write an ebook without actually doing the writing. Because of an interesting legal twist, you can hire a writer, and then when the writer is finished, you own the complete copyright to the work. If it sounds too good to be true, it almost is!
But there's something else that's almost too good to be true: having an ebook written doesn't cost near what it costs to have a hardcover book written. It's actually pretty affordable for someone who plans to recoup their money with ebook .
Introducing…
Ebook Creation For Illiterate PLR eBook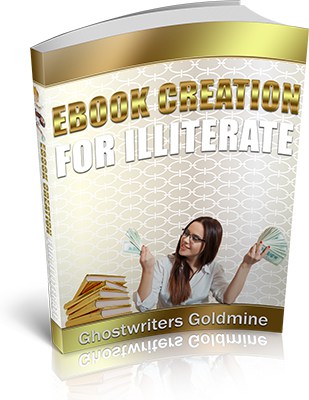 Let me tell you a little about my story. As the Internet began taking over the world, dollar signs flashed almost constantly in the back of my mind. I did some research to see who was making money from this evolution. I ran across import companies, search engines, web-site-development/hosting companies, and auction sites. That was a year ago. Now, more than ever, the Internet is starting to define business. People are actually paying for and downloading songs for their listening pleasure. People are researching, planning, and booking entire vacations online. People who love information are inhaling the Internet. Information is everywhere.
Of course that presents a bit of a dilemma. Information overload. Part of the problem with researching the Internet is the information you glean during your surfing is highly if not completely unorganized. You do a Google search. You notice there are thousands of pages relevant to your search terms. So, you narrow your search by adding a word or two. Now you're down to several hundred pages. And you start clicking on them, one after the other.
On to the next problem of up-popping popups.  Darn those things. By the time you close all the windows, you may have very well forgotten why you sat down at the computer in the first place.
Even on sites without pop ups, you really don't know what exactly you're going to get or whether or not the source is reliable. So, the Internet is like a feast with some of the options being spoiled. Yuck! But the buffet is intriguing, so most of us tend to return to try our luck again and again.
Anyway, all this got me to thinking, what about ebooks? Yeah, sure, you can read Charles Dickens on a computer, but I'm talking about ebooks that teach, in a nonfiction sort of way. If I could put a few good ebooks on the web, then maybe people who wanted to learn about a topic could read an entire book from a reputable source online.
So I tried it. And guess what? At first I didn't have much success. But I dusted myself off, studied, tried again, tried again, and tried again. Eventually, through trial and error mostly, I stumbled on a formula that worked!
This book was born well after all of that, but I think it's high time I share my experience. There's plenty of room on the Internet for everyone. Climb aboard!
has been added to your cart!
have been added to your cart!
Package Details:
Ebook
eCovers
Source DOC
Source PSDs
Squeeze Pages + TPLR Upsell
Total File Download Size:
101 Megabytes (MB)
Private Label Rights License Terms:
[YES] Can be edited.
[YES] Can put your name as the author.
[YES] Can be broken down into articles.
[YES] Can be used as web or e-zine content.
[YES] Can be added into membership sites.
[YES] Can be sold in any format.
[YES] Can be packaged.
[YES] Can be offered as a bonus.
[YES] Can be given away (in any format).
[YES] Can be sold on auction sites.
[YES] Can offer (Master) Resell Rights.
[YES] Can resell Private Label Rights.
[YES] Can be published offline.
has been added to your cart!
have been added to your cart!
Share this and get 20% off!
Related Products That May Interest You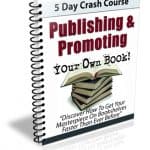 Publishing Your Book PLR Newsletter eCourse Inside This Easy To Follow eCourse You Will Discover How You Can Successfully Publish & Promote Your Own Book! You will learn the basic…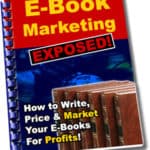 E-Book Marketing Exposed PLR eBook #EBook #EBookMarketing #Marketing #MarketingPLREbook #PLREbook E-Books are part of the new frontier of cyberspace. They are an entirely new medium for sharing marketing information, ideas,…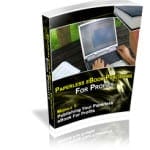 Paperless E-Book Publishing eBook Series with Master Resell Rights! "How To Create, Set Up and Market Your Own Successful Information Product Empire That Sells By Cashing In Onto Your Best…
---
TAG : ebook creation, ebook creation ebook, ebook creation For Illiterate, ebook creation plr, ebook creation plr ebook
CATEGORY : Content Marketing, Content Marketing PLR, PLR eBooks, Private Label Rights Products