#DigitalProductPower #DigitalProduct #DIYProductCreation #ProductCreationTips #CreatingStellarProduct
Digital Product Power Video Training Course Personal Use
Discover The Truth About Building Your Own Digital Empire With In Demand Products That Sell Like Crazy!
As a marketer, you've no doubt discovered that you need a lot of great content to keep your business thriving…
You need content for blog posts, guest blogging, newsletters, forum posts, social media sites – and that's just the tip of the 'content iceberg'.
But the real key to online success is great content when it comes to your paid products!
But there are two problems:
1. You can't do it all yourself. There are only 24 hours in a day. You could churn out buckets of content nearly every day and still not have enough. Certainly you wouldn't have time to do anything else if all you did was create content!
2. Hiring a writer is expensive. Have you shopped around lately? Good content is expensive. It may be worth every penny, but maybe you just don't have that kind of a budget right now, or maybe you don't want to waste months and months of your time hunting for good writers amidst the sea of mediocre talent the outsourcing sites are awash with?
It's discouraging. And it can make you feel like maybe you'll just have to settle for less content, which means growing your business slower and perhaps pushing your goals further back into the future.
Introducing…

DIGITAL PRODUCT POWER Videos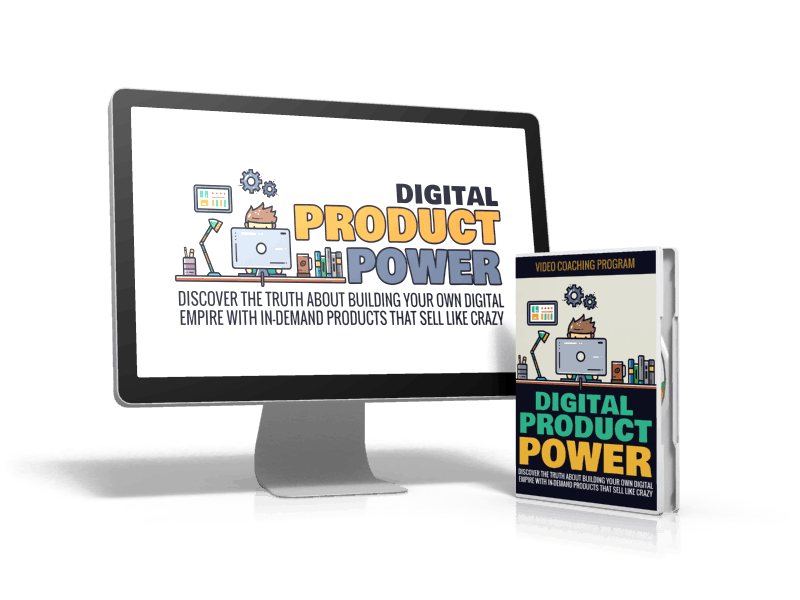 Here's A Full Breakdown Of The Course…
Video 1: The Best Business In The World
You can spend a month studying business models, but one model is going to keep grabbing your attention again and again: selling digital products online. Inside this video you'll find out why this profitable model is so popular, and how you can start building your own digital empire with an astonishing variety of easy-to-create products!
Video 2: Finding Your Hungry Market
Here's the key to making a whole lot of money with your business: you need to find a hungry niche, and then you need to figure out what they're already buying. Then all you have to do is give them more of same to virtually guarantee positive cash flow.
So simple, yet so many aspiring business owners get this totally wrong.This video will show you what steps you need to take to do it right.  This is the strategy that gives your business a profitable start!
Video 3: DIY Product Creation: Yay! … Or No Way?
Some people are all over product creation like white on rice. Others freak out because the whole thing sounds so daunting. So the question is, should you create your product yourself or outsource it to a competent professional?  By the time you finish watching this video, you'll know the answer to that question!
Video 4: Putting Product Creation in the Hands of a Professional
Finding an amazing freelancer can be almost as hard as spotting a unicorn in the forest… unless you know these secrets! This video gives you a simple three step process for finding, vetting and hiring a reliable person to create your products. If you like saving a whole lot of money and time, don't miss this training video!
Video 5: The Quick and Dirty Way to Get Your Hands on Quality Products
You don't need to create or outsource every product in your sales funnel. One quick and easy way to get your hands on quality products is to purchase the resell rights or private label rights to them.
But heads up: There are a lot of really bad resell rights products out there. Buggy apps. Fantastically bad videos. Ebooks that look like they were created by a toddler. The good news is you can avoid all of these problems, and this video will show you how to locate the best products at the best prices!
Video 6: How to Create "Blow Their Socks Off" Ebooks and Reports
If you want to turn visitors into buyers, and buyers into repeat customers, your content needs to impress them. This requires two things: 1) Providing good content and 2) keeping people entertained so they'll keep reading. This video reveals the five secrets of creating edutaining content that gets visitors and buyers coming back for more!
Video 7: The Secrets of Creating Stellar Videos (Without a Production Studio)
You don't need to be Steven Spielberg to create great videos. I'm sure it helps, but people will still buy your videos even if you don't have a professional video production studio and a multi-million dollar budget. Just watch this video to discover the best video formats, how to present your content, and what kind of equipment you need. It's easier than you think!
Video 8: You, The Next Bill Gates?
You don't need to be a code geek in order to create software and apps that sell well. After all, entrepreneurs like Bill Gates don't spend their days writing code… they spend it running the business. So if you have a good idea for an app, then you're going to want to watch this video.
First you'll find out how to create an app that people really want to buy. Then you'll discover how to put your team to work creating something pretty amazing. Check it out!
Video 9: The Secrets of Creating Amazing Live Events
The best part of creating a live event is that you're creating two products. First, you can charge admission to the event itself. Then later you can sell the recordings! Pretty sweet, right?
Of course the key to success is to be sure your event totally rocks. That's what this video shows you how to do. You'll discover the simple five-step process for choosing a platform, setting up your webinar and delivering content that keeps your viewers glued to the edge of their seats!
Video 10: The Art of Creating Online Courses That Sell Like Crazy
If you're looking to add another awesome product to your sales funnel, check out a multi-part course. This format is an awesome way to deliver content, because you get your customers faithfully reading every email you send, seeing your calls to action and clicking on your links. Check out this video to discover the simple three-step process for creating your own kick-ass online course!
has been added to your cart!
have been added to your cart!
Here's a Sample Video So That You Know What To Expect From These Videos
Package Details:
Total File Download Size:
284 Megabytes (MB)
Personal Use License:
[YES] Can be used for Personal Use
[YES] Can Learn from this product
[NO] Can convey and sell Giveaway Rights
[NO] Can convey and sell Resale Rights
[NO] Can convey and sell Master Resale Rights
[NO] Can convey and sell Private Label Rights to the original document
has been added to your cart!
have been added to your cart!
Share this and get 20% off!
---
TAG : digital product power, digital product power personal use only, digital product power personal use rights, digital product power pur, digital product power training course, digital product power videos, digital product power with personal use rights
CATEGORY : Personal Use Only Products, PUO Video Courses, Video Courses