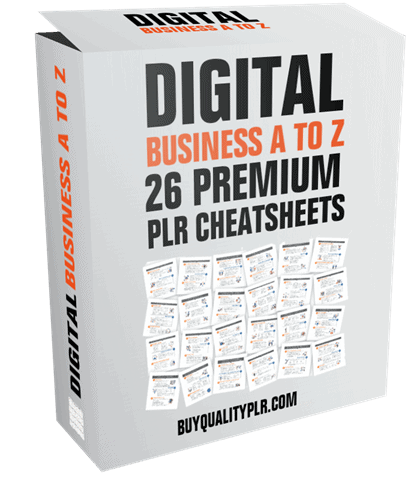 Digital Business A To Z Premium PLR Cheatsheets
in
Branding PLR , Business Coaching PLR , Business PLR , Content Marketing PLR , Copywriting PLR , Done For You Marketing Templates , eCommerce , Email Marketing PLR , Entrepreneur PLR , Featured PLR Products From Our Store , Home Business PLR , Internet Marketing Checklists , Internet Marketing PLR , List Building PLR , Make Money PLR , Marketing Graphics , Marketing PLR , Niche Mega Packs , Online Business PLR , PLR Cheat Sheets , PLR Checklists , PLR Graphics , PLR Lead Magnets , PLR List Building Reports , Premium PLR , Premium PLR Packages , Private Label Rights Products , Products with Sales Pages , Resell Rights Graphics , Resell Rights Lead Magnets , Resell Rights Products , Work At Home PLR
Choose Your Desired Option(s)
has been added to your cart!
have been added to your cart!
#digitalbusiness #branding #digitalbusinessideas #brandingcontent #productcreation #digitalbusinessplr
Digital Business A To Z Premium PLR Cheatsheets
You Wouldn't Stuff Yourself Sick With a Four-Course Meal if All You Really Needed is a Snack…
So Why Waste Your Time and Money on Another Gargantuan Ebook When All You Really Need Are the Best and Most Profitable Tips and Tricks for Growing Your Business?
In-depth ebooks, videos, courses and other online marketing products are wonderful things. They definitely have a place in your library.
But sometimes you just don't need them. You don't want them. And they flat-out waste your time.
I mean think about it…
Who wants to scroll through a tedious 400-page ebook when a succinct, profitable, hard-hitting cheat sheet will do?
And that's exactly why you're going to want to get your hands on this offer!
has been added to your cart!
have been added to your cart!
Introducing  Our "Digital Business A to Z" – 26 professionally designed and extremely powerful PLR cheat sheets that include only the BEST tips and tricks you need to grow your business!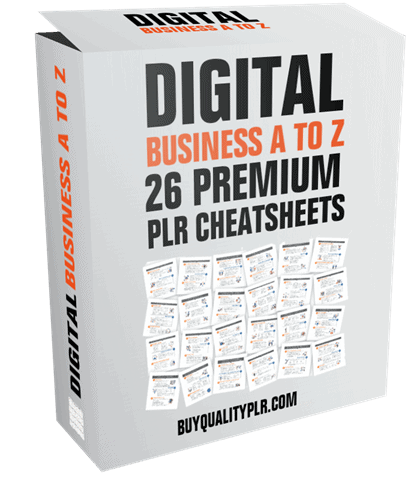 These cheat sheets are like marketing snacks – you can get the information you need in minutes rather than spending hours thumbing through content.
Need a strategy for creating an effective USP? Boom, you got it.
Want to make the most of your social media strategy? Bam, it's yours.
Looking for tips and tricks for creating a profitable list? You'll get that too – and so much more!
I'm not kidding when I say you're getting high-quality information. Take a look at this sample cheat sheet: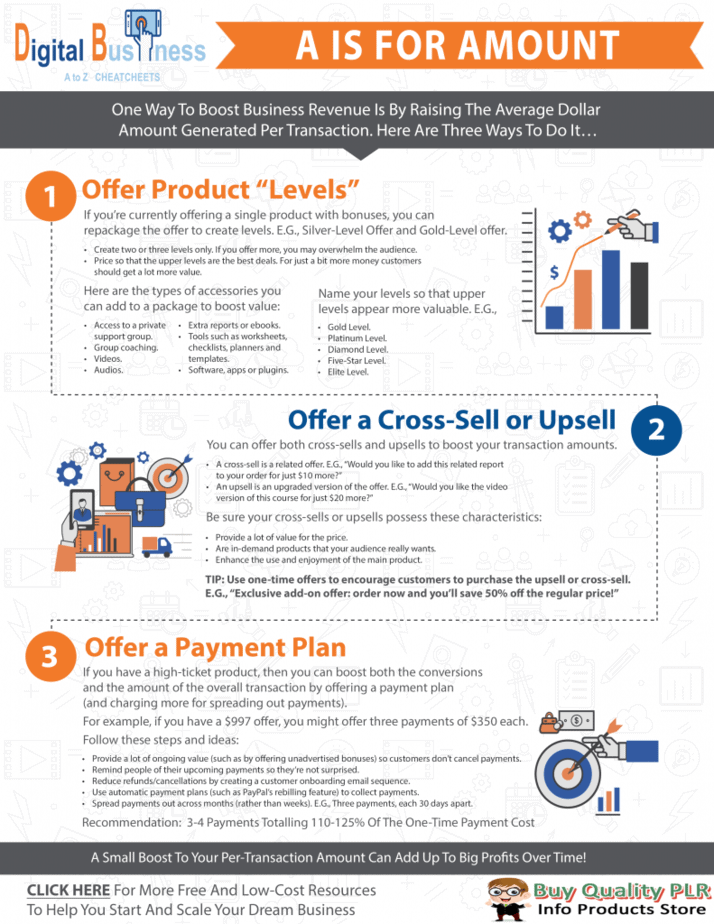 See?
Not only are the marketing tips, tricks and strategies extremely valuable, the cheat sheet looks professional and creates a great first impression. You can read it in a minute or two and put it to work immediately!
I'm pointing this out because you're going to get the option to buy a PLR license to this collection – you can see how these cheat sheets would make great lead magnets, tripwire offers, blog posts, social media posts and more! Your customers will love THEM (and so will you)!
has been added to your cart!
have been added to your cart!
A look inside the Digital Business A To Z Premium PLR Cheatsheets


So, what all do you get? Here's a quick overview of what you get inside each of these 26 cheat sheets for growing your list, generating traffic, building your brand and creating more sales:
A is for Amount, which shows you how to raise the average dollar amount per transaction with your customers!
B is for Branding, where you'll discover the three quick steps to developing and building a profitable brand!
C is for Content, and you'll find out how to use content to boost your traffic, build relationships, and bolster conversions!
D is for Design, because presentation is just as important as information – and that's why you'll want to check out these three keys for making a great first impression!
E is for Email, where you'll discover how to Capture, Captivate and Convert subscribers to create a profitable list!
F is for Freelancer, where you'll discover how to boost your profits by outsourcing common business tasks!
G is for Growth, and you'll discover how to boost your profits using consistent steps for getting more traffic, growing your list and generating more sales!
H is for Habits, where you'll find out the three-step "Plan-Prepare-Produce" system for getting more done in less time!
I is for Ideas, where you'll find out how to generate, validate and implement profitable business ideas!
J is for Jump Start, which is all about jump starting your sales with coupons, contests, and case studies!
K is for Keys, where you'll find out how Platform, Position and Perception will help you build a loyal tribe!
L is for Lead Magnet, where you'll get a simple 3-step process for creating highly profitable lead magnets!
M is for Monetization, because there's no point in building platforms if you're not monetizing them. This cheat sheet shows you how!
N is for Naming Products, because your title can make or break a product's success. And this cheat sheet gives you the three keys to creating effective names!
O is for Offer, where you'll discover how to create a perfect, profitable offer!
P is for Product Creation, where you'll get the three steps for creating high-quality, profitable products that your customers will love!
Q is for Quality, which is why this cheat sheet shows you how to proof, polish and package your way to a good reputation for creating high-quality content and offers!
R is for Research, because the first step to creating a new product is to make sure it's something your audience really wants. This cheat sheet shows you how to do it!
S is for Social Media, where you'll find out a three-step method for creating a more effective social media strategy!
T is for Targeting, because trying to appeal to everyone is a recipe for disaster. This cheat sheet shows you how to put the right offer in front of the right audience!
U is for USP, and this cheat sheet reveals the three questions you need to ask in order to create a USP that tells your prospects why they should do business with you!
V is for Video, and inside this cheat sheet you'll find out the three keys (Function, Format, and Forward) for developing highly effective videos!
W is for Word-of-Mouth Advertising, and here you'll discover the secrets of generating warm, responsive leads with viral marketing!
X is for X-Ray, which is all about getting inside your prospect's head so you can create content and offers that really speak to them!
Y is for You, and here you'll discover the What, Where and When of telling your story to build credibility, grow relationships and generate sales!
Z is for Zero, which will show you how to start from zero and build a new stream of income!
As you can see, there is a whole lot of information just waiting for you to discover inside these 26 cheat sheets. And yet it's all succinct, powerful and easy to consume… so you can grab the tips you need and start putting them to work for your immediately!
So now you're wondering: how much is this set of 26 Digital Business A-Z Cheat Sheets?
Here's where things start getting really good…
Get This Set Of Cheat Sheets For Just $47.00.
That's right … you get all 26 of these in-depth cheat sheets for less than fifty bucks.  You won't find a better deal around! That's just 77 cents each!
Click The Order Button Below To Get Your Copy Right Now
has been added to your cart!
have been added to your cart!
Package Details:
Digital Business A To Z – 26 printable PLR cheatsheets in PNG format
Digital Business A To Z – 26 PSD Files for the 26 Cheatsheets
Digital Business A To Z – Salesletter Word Doc
Digital Business A To Z – PLR License
Download File Size – 192 MB
License Details:
PERMISSIONS: What Can You Do With These Materials?
Sell the content basically as it is (with some minor tweaks to make it "yours").
If you are going to claim copyright to anything created with this content, then you must substantially change at 75% of the content to distinguish yourself from other licensees.
Break up the content into small portions to sell as individual reports for $10-$20 each.
Bundle the content with other existing content to create larger products for $47-$97 each.
Setup your own membership site with the content and generate monthly residual payments!
Take the content and convert it into a multiple-week "eclass" that you charge $297-$497 to access!
Use the content to create a "physical" product that you sell for premium prices!
Convert it to audios, videos, membership site content and more.
Excerpt and / or edit portions of the content to give away for free as blog posts, reports, etc. to use as lead magnets, incentives and more!
Create your own original product from it, set it up at a site and "flip" the site for megabucks!
RESTRICTIONS: What Can't You Do With These Materials?
To protect the value of these products, you may not pass on the rights to your customers. This means that your customers may not have PLR rights or reprint / resell rights passed on to them.
You may not pass on any kind of licensing (PLR, reprint / resell, etc.) to ANY offer created from ANY PORTION OF this content that would allow additional people to sell or give away any portion of the content contained in this package.
You may not offer 100% commission to affiliates selling your version / copy of this product. The maximum affiliate commission you may pay out for offers created that include parts of this content is 75%.
You are not permitted to give the complete materials away in their current state for free – they must be sold. They must be excerpted and / or edited to be given away, unless otherwise noted. Example: You ARE permitted to excerpt portions of content for blog posts, lead magnets, etc.
You may not add this content to any part of an existing customer order that would not require them to make an additional purchase. (IE You cannot add it to a package, membership site, etc. that customers have ALREADY paid for.)
Share this and get 20% off!
Related Products That May Interest You