Diabetes PLR Newsletter eCourse
Isn't It about Time YOU Get the Information You Need to Successfully Identify and Manage The Signs and Symptoms of Diabetes?
The Diabetes and You Newsletter will show you proven and effective methods that you can use to identify and manage the symptoms of diabetes.
This is a complete ecourse consisting of 12 diabetes emails messages with private label rights to help train your customers on how to manage the symptoms of diabetes.
has been added to your cart!
have been added to your cart!
Introducing The…
Diabetes PLR Newsletter eCourse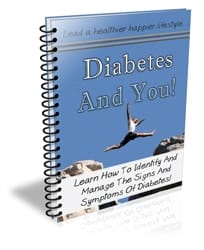 Once You Join, You'll Learn Exactly What You Need To Know About Diabetes!
Inside each issue, you will receive easy to understand information that you can use to help you identify and manage the signs and symptoms of diabetes. You will have access to simple facts, tips and information that can help you learned how to effectively manage your diabetes. So you can finally take control of your symptoms and lead a healthier, happier lifestyle!
Inside every issue of the "Diabetes and You" Newsletter you'll learn valuable information that will help you learn how to effectively identify and manage the signs and symptoms of diabetes!
You learn things like:
What exactly is diabetes and how can it affect your body? You may be surprised to find out.
What is the difference between the three types of diabetes and why it's so important that you know?
What are the subtle warning signs of diabetes and what should you do if you think you are at risk?
What is Pre-diabetes and its symptoms? Learn why if you're diagnosed with it time may be of the essence.
The common myths about diabetes. When you know the truth, it may help you keep diabetes away for years.
Why exercising is so important to controlling your diabetes and helping you reduce many potential health problems.
And that's just the beginning. Once you join the "Diabetes and You" newsletter you will have access to great information in every issue that will help you learn how to effectively identify and manage the signs and symptoms of diabetes!
has been added to your cart!
have been added to your cart!
Sample Diabetes PLR Newsletter Message:
Hello "autoresponder code here",
Welcome to your first Diabetes and You issue.
Each informative issue of Diabetes and You will provide you with valuable information that will help you learn how to identify and manage the signs and symptoms of diabetes.
In its first issue were going to talk about what diabetes is and what it can do to your body.
Just about everywhere you turn you will hear the word diabetes. Whether it is from a commercial on the TV or radio, at school or at work, it  is quickly becoming something that you hear about all the time. In recent times, it is being discovered in people of all ages and in all races, including children.
You may have also heard that it is being described as an epidemic, too. It has become widespread and seems to be on the rise. Chances are you probably already know someone who has one of the three different types of diabetes.
One reason that diabetes is affecting more people and becoming more widespread is because it is a disease that it partly caused by consuming high levels of sugar. When you  consider the fact that sugar is now in much of what we eat, this shouldn't be hard to understand.
Diabetes is basically a quiet disease. There is no pain associated with it, and the symptoms may not be all that  serious at the start. This leads people to often conclude that it is not so bad. The and result from this assumption is that more often than not, nothing is done to prevent it even when people have been warned in advance by their doctor.
Don't make that mistake. Diabetes is very serious because it creates long term problems that are very detrimental if left unmanaged and the same bad habits are continued. This makes it a serious threat from the outset if you want  to avoid the trouble that will come along with having diabetes.
So, what is it that makes diabetes such a health risk?  Basically diabetes is the result of insulin problems and is caused by the body's inability to either develop enough insulin, or to be able to use the insulin that it does produce. Insulin is a natural hormone produced by your body and it
is given the task of taking the sugars you consume and turning  it into energy that the body can use.
Diabetes results in too much sugar in the bloodstream. When the insulin is not able or if there is not enough, for one reason or another, to be able to handle the sugar  that you eat, then that results in too much sugar being  left in your bloodstream.
Normally, insulin enables the sugars to go from your bloodstream into the various tissues surrounding your  blood vessels. This gives those tissues energy to be  able to adequately carry out their normal functions when needed. When insulin is not properly handling the sugar in the blood, two things occur:
– The sugar remains in the bloodstream.
– The energy does not get to the needed cells.
A lack of energy being transferred to those tissues results in general tiredness.
Left unmanaged diabetes results in damage to your organs. The excess amounts of sugar will cause other problems inyour body. Since higher levels of sugar in the bloodstream  are not normal (or desirable), it results in some of your organs being damaged over time. The organs that are  most susceptible to damage are:
– The eyes
– The kidneys
– The nerves
– The blood vessels.
Although this damage may not be fast, or even noticeable,  it still is slowly occurring. Then, when it is suddenly noticed, the damage is already underway.
There are several other symptoms that your body will  experience when you have diabetes, including excessive urination, poor wound healing, infections, ulcers and other damaging in effects that can even lead to loss of limbs. We will talk more about symptoms of diabetes yet another  issue. Until then if you feel, you may be at risk for diabetes schedule appointment with doctor to be tested.
Make sure you look for your next issue soon. We will be talking about the differences between the three types of  diabetes.
Thank you again for joining,
"your name here"
"your email address"
"your URL here"
Package Details:
12 Diabetes Email Messages (Word Doc & Text Format)
Clickbank Affiliate Recommendations (Word Doc & Text Format)
Bonus Content Containing Extra Paragraphs, Extra Titles & Opening and Closing Paragraphs (Word Doc & Text Format)
HTML Squeeze Page
HTML Thank You Page
Web Ready eCover Graphics
Editable PSD Graphics Files
Download File Size – 16.2 MB
License Details:
What You CAN Do:
[YES] Customized issues can be given away
[YES] Squeeze pages can be customized
[YES] Can be Re-titled, Re-written or Re-edited.
[YES] You can add your name as the Author.
[YES] Your links can be added to the messages
[YES] They can be used as Web Site/Blog Content.
[YES] They can be broken down into Articles.
[YES] They can be added to Autoresponder Courses.
[YES] Customized content can be compiled into an e-book
[YES] Subscriptions can be be offered as a bonus
What You CANNOT Do:
[NO] You can claim copyright to any of this content unless substantial changes are made that legally separate the original content with your own reedited/rewritten content, articles or products. (basically "substantial changes" means that your reedited/rewritten versions bear NO resemblance to the original content).
[NO] Can sell the PLR Newsletter sets
[NO] Can be offered through auction sites
[NO] Can sell Resale Rights
[NO] Can sell Master Resale Rights
[NO] Can sell Private Label Rights
Why Purchase This Diabetes PLR Newsletter eCourse From BuyQualityPLR.com?
Our Prices are among the cheapest out there and very affordable
We use the 2checkout secure payment gateway and accept PayPal and all major credit cards.
Our products are instantly available for download after purchase and are nicely packaged in ZIP files, so you'll need a zip program like Winzip, 7Zip or any other program that supports unzipping files.
We Provide priority email support to our customers via email.
How to Purchase This Diabetes PLR Newsletter eCourse
Simply add it to cart, and checkout using with our secure 2Checkout Payment Gateway which supports PayPal and all major Credit Cards.
We will only be selling 50 copies of this diabetes niche newsletter ecourse, so don't waste any time and grab your PLR license while it's still available for sale.
Remember: All downloads are available instantly after purchase. Your purchase receipt will be sent to your email address you use to sign-up and will contain your download links.
To download the files… Just right click on the links above and select "Save As". Then unpack the zip files using WinZip or 7Zip.
has been added to your cart!
have been added to your cart!
Share this and get 20% off!
---
TAG : diabetes, diabetes newsletter, diabetes newsletter ecourse, diabetes newsletter ecourse plr, diabetes newsletter ecourse private label rights, diabetes plr, diabetes plr newsletter ecourse, diabetic plr content, health plr, health plr content, plr health
CATEGORY : Diabetes PLR, Health, Health PLR, Lead Magnets, List Building, PLR Autoresponder Series, PLR eCourses, PLR Newsletters, Private Label Rights Products, Products with Squeeze Pages