Conquering Fear PLR Newsletter eCourse
Did You Know That the First Step to Living Free From Fear Is Understanding It's Underlying Cause?
The Conquering Fear Newsletter will provide you with proven, effective information, tips and advice that will help you identify the different types of fear, understand their underlying causes, and help you determine which treatment options will work best for you!
This is a complete ecourse consisting of 12 conquering fear emails messages with private label rights to help train your customers on which treatment options will work best for them.
has been added to your cart!
have been added to your cart!
Introducing
Conquering Fear PLR Newsletter eCourse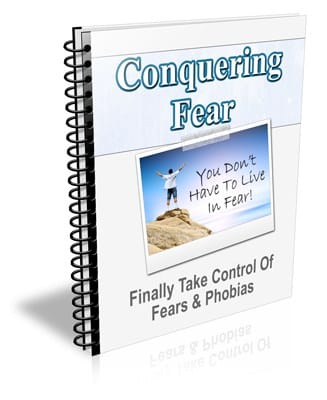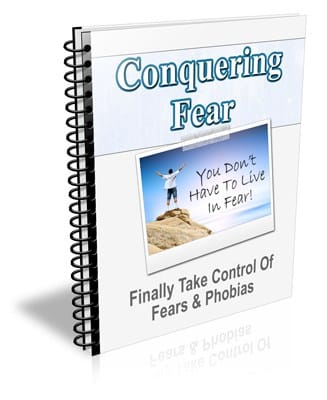 Are You Ready To Learn Valuable Information That Will Help You Take Control of Your Fear Once And For All?
Inside each issue of the Conquering Fear Newsletter you will receive easy to understand information on how you can alleviate and even eliminate fear from your life for good.
You will also learn some great tips and techniques that you can use to improve your life, prevent panic attacks and live the fear free life you deserve!
Inside every issue of the "Conquering Fear" newsletter, you'll learn valuable information on how you can finally live your life free from fear!
You learn things like:
The different types of Fear. How they affect your life and how you can help prevent them from affecting yours.
Some common myths and actual fact that will help you learn how to manage your and control fear effectively.
The real truth about the side effects of fear and how they rob you of your freedom!
Some simple, yet effective ways that you can conquer your fears and phobias for good.
Some simple, yet effective tips for dealing with the impact that fear has on your life!
That's just the beginning. Once you join the "Conquering Fear" newsletter you will have access to great information in every issue that will help you learn how to finally take control of your fear and live the life you deserve!
has been added to your cart!
have been added to your cart!
Sample Conquering Fear PLR Newsletter Message:
Hello "autoresponder code here",
Welcome to your first of issue of Conquering Fear. In each issue of this newsletter, you will have access to valuable information that will help you learn how to manage your fears and help get you on the path to overcoming of them for good.
In this issue, we are going to discuss some of the different types of fears and some effective ways to cope with them.
Some say that fear is a great motivator and for some people it is. The fear of failing, loss or facing consequences can give us the will to thrive under pressure and help us complete tasks that would otherwise go unfinished.
For others it can literally cause life to come to a screeching halt. It's like being held hostage, unable to move forward or make a decision without being afraid of the consequences.
Being held captive by your fear, (even a small fear) is one of the worst feelings in the world. It can immobilize you, rob you of your freedom and keep you from living the life you deserve.
Understanding your fear is one of the first steps to managing it and eventually conquering it. Most forms of fear can be broken down into three basic categories external, internal, or subconscious.
Among the three, subconscious and internal fears are most difficult to live with and find treatment for because the person suffering from this the debilitating condition must first realize they have a problem and need help. They must also recognize source of their fear so that they can take necessary steps to overcome it. By identifying the type of fear that is holding you back, you will be able to learn effective methods of controlling it.
– First let's discuss external fears.
An external fear is one is the easiest to diagnose and manage. It is similar to phobias where an outside source causes stress or anxiety that automatically triggers your brain to react.
For example, fear of, spiders, heights and flying are among the most common phobias that millions of people suffer with every day. They experience (sometimes-severe) anxiety or discomfort whenever they are in a situation where they're confronted with particular triggers.
Sometimes even the thought of a spider will send someone with arachnophobia screaming out of the room. Since the source of this type of fear is easier to identify, the person suffering can seek help finding alternative ways to manage, confront and even overcome the fear.
Most external fears are related to negative life experiences. For instance, someone who fell from a tree as a child may be afraid of heights as an adult. Since they know the root cause of their fear, they will have better understanding of the problem and be able to seek out specific treatments and techniques to help manage their anxiety in stressful situations.
Often time's hypnosis is a viable option for people with external fears. A hypnotherapist can employ psychological methods in order to erase any previous negative associations you have with the root cause of your fear.
– Internal Fears
This type of fear is closely associated with low levels of confidence or lack of self-esteem. Yet, just like external fear, the triggers come from an outside source, which produces negative feelings and emotions.
This trigger then produces internal reactions such as self-doubt, questioning capabilities and in severe cases, causes self-loathing. Most often, when people begin to question their own abilities, failure is unavoidable. This type of fear often affects a person's ability to interact in social situations as well.
To learn how to effectively manage and eventually conquer internal types of fear, you often have to go back at your childhood years during the time when character development was at its peak, because this is when most internal fears develop. Dealing with this type of fear often requires the help of a healthcare professional who can show you how to gain a new perspective in life and modify certain behaviors that trigger your insecurities and fears.
– Subconscious Fears
This type of fear is produced when your mind accepts certain beliefs as reality, even if they are untrue or unfounded. This severe form of fear limits your potential, prevents you from doing things and often leads to self-sabotage. It is often associated with extreme cases of internal fear and causes the sufferer to question their abilities. Which reinforces their feelings of self-doubt and negative self-talk.
Learning to live with this type of fear often requires the help of a healthcare professional who can show you how to take active steps towards reversing negative beliefs and replacing them with positive reinforcements, so that you can regain control of your life.
– Overcoming Fears
When it comes to coping with and overcoming fears most people are reluctant to address the problem. Sometimes it's because they lack the proper motivation, but often it's because they are unable or simply afraid to face their fear head on, which is ultimately the only way you can gain control of it.
Identifying the type of fear you're suffering from is the first step towards abolishing it from your life. It will also help you decide whether or not you need to seek the help of a healthcare professional. After you have identified the source of your problem, you can develop a plan to conquer it.
Make sure you look for your next issue soon. We will be talking about more about fears and phobias, so that you can gain a better understanding of them.
Thank you again for joining,
"your name here"
"your email address"
"your URL here"
Package Details:
12 Conquering Fear Email Messages (Word Doc & Text Format)
Clickbank Affiliate Recommendations (Word Doc & Text Format)
Bonus Content Containing Extra Paragraphs, Extra Titles & Opening and Closing Paragraphs (Word Doc & Text Format)
HTML Squeeze Page
HTML Thank You Page
Web Ready eCover Graphics
Editable PSD Graphics Files
Download File Size – 18.2 MB
License Details:
What You CAN Do:
[YES] Customized issues can be given away
[YES] Squeeze pages can be customized
[YES] Can be Re-titled, Re-written or Re-edited.
[YES] You can add your name as the Author.
[YES] Your links can be added to the messages
[YES] They can be used as Web Site/Blog Content.
[YES] They can be broken down into Articles.
[YES] They can be added to Autoresponder Courses.
[YES] Customized content can be compiled into an e-book
[YES] Subscriptions can be be offered as a bonus
What You CANNOT Do:
[NO] You can claim copyright to any of this content unless substantial changes are made that legally separate the original content with your own reedited/rewritten content, articles or products. (basically "substantial changes" means that your reedited/rewritten versions bear NO resemblance to the original content).
[NO] Can sell the PLR Newsletter sets
[NO] Can be offered through auction sites
[NO] Can sell Resale Rights
[NO] Can sell Master Resale Rights
[NO] Can sell Private Label Rights
Why Purchase This Conquering Fear PLR Newsletter eCourse From BuyQualityPLR.com?
Our Prices are among the cheapest out there and very affordable
We use the 2checkout secure payment gateway and accept PayPal and all major credit cards.
Our products are instantly available for download after purchase and are nicely packaged in ZIP files, so you'll need a zip program like Winzip, 7Zip or any other program that supports unzipping files.
We Provide priority email support to our customers via email.
How to Purchase This Conquering Fear PLR Newsletter eCourse
Simply add it to cart, and checkout using with our secure 2Checkout Payment Gateway which supports PayPal and all major Credit Cards.
We will only be selling 50 copies of this conquering fear niche newsletter ecourse, so don't waste any time and grab your PLR license while it's still available for sale.
Remember: All downloads are available instantly after purchase. Your purchase receipt will be sent to your email address you use to sign-up and will contain your download links.
To download the files… Just right click on the links above and select "Save As". Then unpack the zip files using WinZip or 7Zip.
has been added to your cart!
have been added to your cart!
Share this and get 5% off!
You must log in and be a buyer of this download to submit a review.
---
TAG : building self confidence plr content, confidence plr, conquering fear, conquering fear newsletter, conquering fear newsletter ecourse, conquering fear newsletter ecourse plr, conquering fear newsletter ecourse private label rights, conquering fear plr newsletter ecourse, health plr, health plr content, motivation plr, motivation plr content, plr health, plr self help, self confidence plr, self development plr, self help plr, self improvement plr, self improvement plr content
CATEGORY : Confidence PLR, Health, Health PLR, Lead Magnets, List Building, Motivation PLR, PLR Autoresponder Series, PLR eCourses, PLR Lead Magnets, PLR Newsletters, Private Label Rights Products, Products with Squeeze Pages, Self Help PLR, Self Improvement, Self Improvement PLR