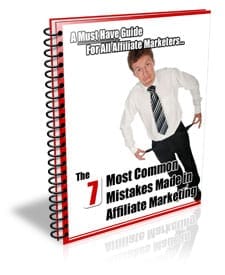 Choose Your Desired Option(s)
has been added to your cart!
have been added to your cart!
Common Mistakes Made in Affiliate Marketing eBook With Private Label Rights
A Must Have Guide For All Affiliate Marketers – Affiliate Marketing is one of the most popular methods chosen by many beginning work-at-home entrepreneurs and continues to be a constant favorite wealth-generator even among the top players in E-Commerce.
Serving as the tenderfoot guide to the world of Affiliate Marketing riches, this Special Report highlights 7 identified common, costly mistakes that most people often make as affiliates – and how you can avoid running into the same pitfalls.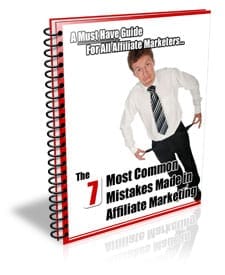 has been added to your cart!
have been added to your cart!
Sample Content Preview
Affiliate Marketing – The Best Place to Start
Everyone has to start somewhere. And, for neophyte Internet marketers, the best place to start may be with affiliate products. Rather than going through the laborious and expensive process of creating your own product (of dubious quality) and then trying to market it to the masses, why not start by finding a product that is well put-together and comes from someone who already has a high degree of credibility? You could save a lot of time, money, frustration, and will power; and you could make money in the process, too—in fact, really, really good money. Many top Internet marketers today still sell affiliate products, even though they make a killing off of their own. Why? Because it's still fantastic money and little effort is required.
Now, with that said, it's important to mention that affiliate marketing is no walk in the park, either. It's certainly easier than pulling off a Jeff Walker-style massive product launch, but, like anything else, there are plenty of pitfalls just waiting to consume you and your money. Do yourself a favor: heed what I say and avoid those pitfalls. In this section, I will go over the top 7:
Pitfall #1: Choosing a Bad Product to Promote
Not all products are created equal. In fact, that is probably the driving motivation behind your decision to sell affiliate products: for the most part, you have accepted that there are plenty of high-quality products already on the market; and, if you create your own, it might not compare favorably.
If you decide to pick your product off of a list on Clickbank, select very carefully. Rather than haphazardly selecting the product with the highest commission, look for ones that have the highest popularity and gravity ratings. If a lot of people are buying them often, they must be better than other products for sale within that niche.
In addition to picking good products within niches, you will also want to look for good niches. Here's a stupid tip that will illustrate my point nonetheless: don't sell garden hoses in the winter. No one will buy. Focus on products that a lot of people want; and if their popularity just surged, now is the best time to get in the market.
has been added to your cart!
have been added to your cart!
License Details:
[YES] Include Professional Sales Letter.
[YES] Can edit the sales letter and graphics.
[YES] Can sell Master Resale Rights.
[YES] Includes Professional Graphics.
[YES] Can Put Your Name As The Author.
[YES] Can Be Edited.
[YES] Can Be Used As Web or e-zine content
[YES] Can be added into a paid membership sites.
[YES] Can Be Broken Down Into Articles.
[YES] Can Sell Private Label Rights.
[NO] Can be offered as a bonus.
[NO] Can be given away for free.
[NO] Can be offered through on any auction sites.
[NO] Can be added to a free membership.
Share this and get 20% off!