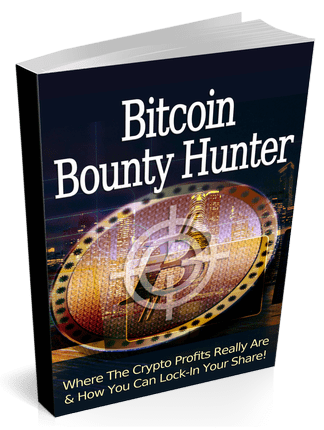 Choose Your Desired Option(s)
has been added to your cart!
have been added to your cart!
#Bitcoin #BitcoinBountyHunter #CryptoProfits #BitcoinInvesting #CryptoCurrencies
Bitcoin Bounty Hunter PLR eBook
Where The Crypto Profits Really Are & How You Can Lock-In You Share!
Bitcoin is big news right now. It seems everyone has an opinion on where the price is headed. And no one can agree on just how far the industry might go.
The general consensus is the price will keep on going up and that the industry itself is only just getting warmed up. Even the pundits who called it a passing fad have had to swallow their pride and admit this new currency is here to stay.
You've seen all the headlines & predictions I'm sure…
"You can't stop things like Bitcoin. It will be everywhere
and the world will have to readjust."
"Bitcoin is one the most important inventions since the internet."
"A population of bitcoin users comprising 5% of the world's population
in 2030 will drive the price to $500,000 in 2030"
"It has been proven the best performing currency in the last 5 years, and …
 has a potential to go up to a $10,000 and even a 1 million per coin."
So even if some of the predictions fall short, it's easy to see that a small investment now could be worth a whole lot of money somewhere down the track…
And a LOT of people are coming to the same conclusion about now.
In fact, I'm guessing that's why you're here reading this?
But where do you start?
Bitcoin, altcoin, crypto currencies, blockchain, digital wallets, soft forks, hard forks, bitcoin mining, hashrates…
How do you make sense of all the techno-jargon, cut through the hype, and actually start building your own crypto-currency portfolio?
Well this report will attempt to answer a few of these questions for you in the simplest terms possible.
I'll try and give you just enough information to understand where we're at right now and where it's all headed… and how you can get on board.
Because there's some great rewards out there waiting, once you know where to look.
Ready? Lets get to it…
Introducing…
Bitcoin Bounty Hunter PLR eBook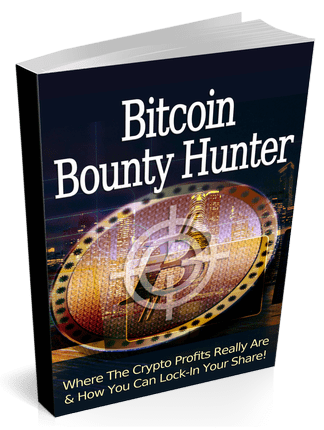 First A Bit Of Background
I don't want to overload you with a whole lot of techno-jargon, but if you're going to invest wisely in this industry, you do need to know a little bit of where this all started and how it all works. I will keep it as short and as simple as possible though.
A Super Brief History
Bitcoin came about from a whitepaper released in 2008: Bitcoin, A Peer-to-Peer Electronic Cash System. It was just 9 pages and outlined a process for passing digital funds from one user to another using blockchain encryption to protect the system from the creation of 'extra' money.
The first Bitcoin was mined in January 2009 and the first transaction was conducted soon after when the founders exchanged  some funds directly. Later that year the New Liberty Standard established the value of Bitcoin at 1309.03 bitcoins for 1 dollar.
The first real-world transaction followed in May 2010, when a Florida programmer sent 10,000BTC to a volunteer in England, who then spent about $25 to order him a pizza from Papa John's.
Today that pizza is valued at almost 2 million pounds and the
transaction is regarded as a major milestone in Bitcoin history.
For the next few years there was a rollercoaster ride of good and bad news.
One the bad side there was hacking, theft, illicit users, money laundering… which all brought notoriety and knocked the price down.
At the same time, growing mainstream acceptance in the business community and constantly improving security measures pushed it back up again.
Despite the troubles, in November 2013 Bitcoin topped US$1000 for the first time, before dropping back as low as $200 as more dramas emerged.
One of the 'biggest breaks' came when the Silk Road online drug marketplace was taken down… which clearly demonstrated that Bitcoin wasn't the anonymous haven for illegal activities that many critics had claimed.
By 2015 things had settled down and Bitcoin had finally achieved mainstream acceptance. That was confirmed when the New York Stock Exchange made a substantial investment in the Coinbase IPO.
By 2016 it was estimated that worldwide over 180,000 businesses were accepting Bitcoin payments and over Bitcoin 770 ATMs were available.
And in March 2017, the price of a Bitcoin crossed the price of an ounce of gold for the first time ever.
Bitcoin had most definitely arrived…
has been added to your cart!
have been added to your cart!
Package Details:
Covers
Ebook
Images
Email Swipes
Source
Total File Download Size:
13.0 Megabytes (MB)
Private Label Rights License:
[YES]Can be sold
[YES]Can be used for personal use
[YES]Can be packaged with other products
[YES]Can modify/change the sales letter
[YES]Can modify/change the main product
[YES]Can modify/change the graphics and ecover
[YES]Can be added into paid membership websites
[YES]Can put your name on the sales letter
[YES]Can be offered as a bonus
[YES]Can be used to build a list
[YES]Can print/publish offline
[YES]Can convey and sell Personal Use Rights
[YES]Can convey and sell Resale Rights
[YES]Can convey and sell Master Resale Rights
[YES]Can be given away for free
[YES]Can be added to free membership websites
[YES]Can convey and sell Private Label Rights
Share this and get 20% off!