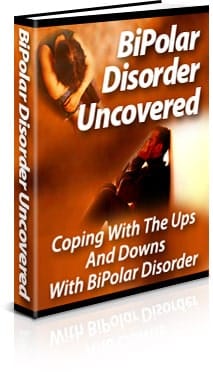 Choose Your Desired Option(s)
has been added to your cart!
have been added to your cart!
#BipolarDisorderUncovered #BipolarDisorder #Bipolar #BipolarDisorderHelp #DiagnosingBipolar
Bipolar Disorder Uncovered Unrestricted PLR eBook
You are about to take an in-depth look at bipolar  disorder. It's all you need to know about bipolar disorder to help you or a loved one lead a normal life.

It doesn't matter if you or a loved one have been recently diagnosed or been struggling with bipolar disorder for years – This guide will tell you everything you need to know, without spending too much brainpower!

Forget about deciphering medical terms – when you're sick you want understandable answers now!
Do you live with or know someone suffering with bipolar disorder?  If so, pay close attention!
There's finally an innovative new book created just for people like you!
And, if you really want to know the facts of bipolar disorder, this book is definitely for YOU!
This Isn't Like Any Other Medical Textbook  On Bipolar Disorder You Can Find In Any Store..
…On the internet, or even at your local library for that matter!
This book covers everything there is to know about bipolar disorder and it's comprehendible to the average person! In fact, some people have called it the "Bipolar Disorder Manual "!
It's like having your very own bipolar disorder expert that you can reference and ask questions anytime you need to!
You'll uncover a wide array of tips, including guidelines on how to deal with this disorder today!
I myself was diagnosed with bipolar disorder several years ago, but it wasn't easy when I first found out!  I mean, information on this isn't easy to come by…  Especially the kind of comprehensive  information I needed to understand my illness.  To be quite honest with you, I got tired of looking and searching all over the place, so I decided to create this definitive book on bipolar disorder!
has been added to your cart!
have been added to your cart!
Introducing…
Bipolar Disorder Uncovered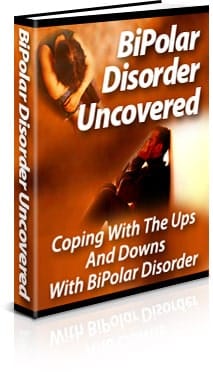 You're going to discover so many things on living and coping with bipolar disorder with little effort!  Not only will you discover the difficulty of diagnosing bipolar, but you'll also learn extra bonus tips to actually help people.
This Is Just "A Little Taste" At What You'll  Discover With  Bipolar Disorder Uncovered.
Discover how to determine your current costs.
Learn the cost of savings analysis.
Find out exactly how to get started on your biggest needs.
Discover how exactly to save big money with windows.
Learn how to start small for huge savings.
Discover the fireplace advantage.
Find out all the energy saving tips to develop.
Discover how to properly use your thermostat for your energy saving needs.
Learn exactly what energy star is and how to use it to your advantage.
Discover how to make the outside of your house energy efficient easily.
Learn all about alternative sources of fuel.
Discover how build your new home to meet your energy saving needs!
Learn all the little things you can do to save huge on your bottom line.
Plus much MUCH More!
 And The Biggest Bonus Of All Is That You Can Be  Reading This Book In Less Than 90 Seconds From Now!
That's right!  No more pacing the floor, waiting for the mailman to come to your door 7-10 days later..  You can start reading this book instantly!
It doesn't matter if it's 2 AM on a Sunday, you'll be downloading and reading "Bipolar Disorder Uncovered " within just a few minutes. There's absolutely no risk to you – so what are you waiting for? Order now!
This new breakthrough book is a guide, really.  A guide as a result of years of searching, studying, and scouring hundreds of websites, stores, and magazines.
And this isn't one of those "medical-term" books where you don't understand what's being said.  Everything is in plain English, so you can put the translation book away 🙂  This easy to read book on bipolar is completely comprehendible and won't take weeks to read through.
This truly is a one-of-a-kind book that can not be found offline or online other than right here.  I urge you to click the link below and place your secure order…
"Bipolar Disorder Uncovered "normally sells for $47.77, but as part of my "Finally getting this on the Internet" sale, I'm willing to give you an instant $20 rebate..
So, you can get your own copy of my "Bipolar Disorder Uncovered" for only $4.99!
has been added to your cart!
have been added to your cart!
Package Details:
Google Ads
HTML Minisite
Images
Keywords
Overtureads
Articles
eBook
eCourse
PSD Files
Content: 63 Pages – 11,611 Words
Total File Download Size:
1.00 Megabytes (MB)
Private Label Rights License:
[YES] Sell Each Product Individually.
[YES] Sell All The Products As A package.
[YES] Sell Resell Rights.
[YES] Sell Private Label Rights.
[YES] Sell At Online Auctions.
[YES] Give Away.
[YES] Give Away Resell Rights.
[YES] Give Away Private Label Rights.
[YES] Offer As A Bonus.
[YES] Offer As Subscriber Incentives.
[YES] Alter The Source Documents.
[YES] Alter The Graphics.
[YES] Alter The Sales Page.
[YES] Charge Any Price YOU Want.
[YES] Add Them To Membership Sites.
[YES] Create BRAND NEW Products
[YES] Change And Publish The Products Offline
[YES] Put Your Name On The Products As The Author
[YES] Can Do Anything With Them You Can Dream Up!
Share this and get 20% off!