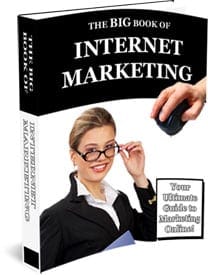 Choose Your Desired Option(s)
has been added to your cart!
have been added to your cart!
The Big Book of Internet Marketing eBook with Master Resell Rights!
"Now YOU Too Can Become The Next Internet Marketing Superstar And Discover How You Can Take Your Own Enormous Share Of The Ever-Growing E-Commerce Pie!"
Everything You Need To Know About The World Of Internet Marketing Now Packed Into ONE Ultimate Guide – NOTHING HELD BACK!
has been added to your cart!
have been added to your cart!
So Here's What You Will Discover: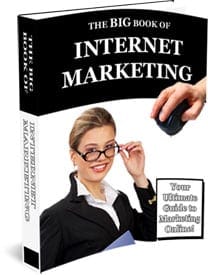 Discover what Internet Marketing really, really is (and what isn't) – the way I tell you!
The advantages of Internet Marketing you can use in your favor!
How to patch the cons of Internet Marketing and make the best of this new-found lucrative business.
How to win the Internet Marketing war!
How to plan your Internet Business and choose the "right" model – even if this is the first kind of business you'll be starting in your life.
Multiple ways of making money online as used by TOP Internet Marketers from around the world!
All the essential tools you need to get started online and how you can acquire them dirt cheap without degrading the quality!
How to identify an ENORMOUS demand so you can make ENORMOUS profits from!
The BEST kind of product you can sell online.
How to crank out your own best-selling master piece to work for you and make sales 24/7 even as you laze or do something else!
How to tap into major Search Engines like Google and Yahoo! and leverage on their Search Engine traffic for FREE!
The miracle of getting other people to promote your business for you willingly!
What it takes to get "big dogs" of the industry to work with you on building your business!
Why and how you can make more money by adding just one extra element to your digital product – that can make a parting difference in your profits like sky and sea!
How to create your own personal media and powerful influence over your prospects and customers!
Free and low cost advertising methods that work!And so much more!
has been added to your cart!
have been added to your cart!
License Type: Master Resell Rights
Your Product License Information:
1. You can put your name or pen name on the product as the author.
2. You can edit the contents of the product e.g. putting in your affiliate links, adding and removing text, inserting pictures and advertisements, etc.
3. You can change the title and sub-title of the product.
4. You can sell the product (E-Book) in PDF format. The suggested selling price is $27.00 – $37.00.
5. You can break the contents of the product into articles for article submission purposes or add content to your website, blog or e-zine, and include your resource box.
6. You can spawn a series of short reports (free or paid) by breaking down the contents of the product.
7. You can add the product into a membership site (paid only).
8. You can add the product into your product bundle or package and sell for a higher price.
9. You can offer the Basic Resell Rights or Master Resell Rights to the PDF E-Book. The suggested selling price is $67.00 – $97.00.
10. You can produce audio/video content from the materials in this product.
11. You CANNOT give the product away for FREE, under any circumstances at all.
12. You CANNOT offer the product as a bonus to another product you are selling. However, you can offer other bonuses to this product when selling.
13. You CANNOT sell the product on auction sites such as eBay.com.
14. You CANNOT use this product in a dime sale event, under any circumstances at all.
Selling the Private Label Rights (Word Format)
1. You CANNOT, under any circumstances at all, resell, give away or trade the Private Label Rights to this product, whether in full or partial.
Offline Publishing
1. You CANNOT use the Private Label materials of this product to publish your work offline. This includes, but not limited to, hard copy books, tapes, CDs, DVDs, and MP3s.
Sales Letter & Graphics Pack
1. You can edit the sales letter anyhow you like i.e. put your name in the sales letter, insert your order link, enter your own bonuses, make changes to the sales page content, etc.
2. You can edit the graphics pack to this product anyhow you like i.e. put your name on the E-Cover, alter the design, using your own titles, branding your trade name into the titles and sub-titles, etc.
3. You can edit the Thank You page anyhow you like i.e. put in your bonuses, enter your name, include the download link, etc.
IMPORTANT! If you are offering this product with Master Resell Rights then please pass this license on to your customers so they are fully informed on the terms and conditions to the usage and resale of this product.
Share this and get 20% off!