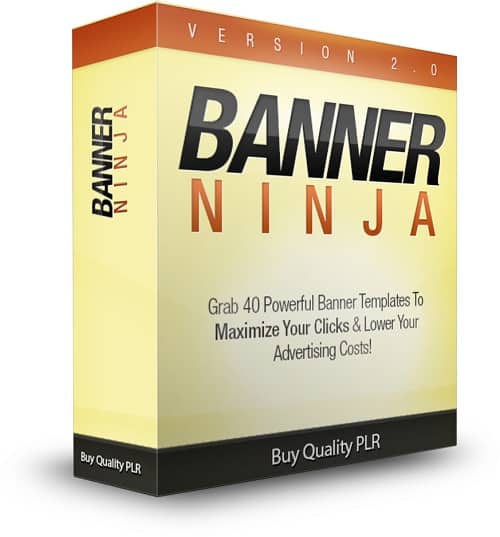 Choose Your Desired Option(s)
has been added to your cart!
have been added to your cart!
Ninja 2.0 With Developer Rights
Double Your Profits by Creating Click-Pulling Banner Ads in Few Clicks
No Technical or Design Skills Required!
Grab 40 "Done-For-You" Banner Templates & Start Churning Out Dangerously Hypnotic Banner Ads That Will Suck Your Viewers to Click On Them In an Almost Spine-Chilling Way!
Creating Your Own Banner Graphics Can Be a Ridiculously Gruelling Work…
If you don't consider yourself to be gifted in graphics & design, starting from ground zero can be very difficult.
If you want to do it all yourself, prepare to spend $699 for Photoshop first. Then spend at least few months in frustration to learn just the "basics" of this monstrous graphic program. Then even more time learning about the banner dimensions, color dynamics, contrasts and font selection.
If you want to hire a pro graphic designer, prepare to spend at least $60 for 1 unique banner ad in 10 sizes. Then wait for at least 3-4 revisions… and sometimes few weeks before you get "exactly what you wanted". How annoying could it be?
If you want to go the "cheap route" and get $5 banners on Fiverr… go ahead. But please answer this question. Is your business worth $5? Your banners represent you and how you position yourself. With cheaply put together "Fiverr quality" banners you can't really expect much.
Fortunately enough I have a MUCH better solution that will eliminate all these frustrations and headaches!
Forget About Trying to Learn Photoshop in Pure Agony… Or Spending A Small Fortune on Graphic Designer… or Wasting Your Precious Times on Unreliable Outsourcers…
has been added to your cart!
have been added to your cart!
Introducing…
Banner Ninja 2.0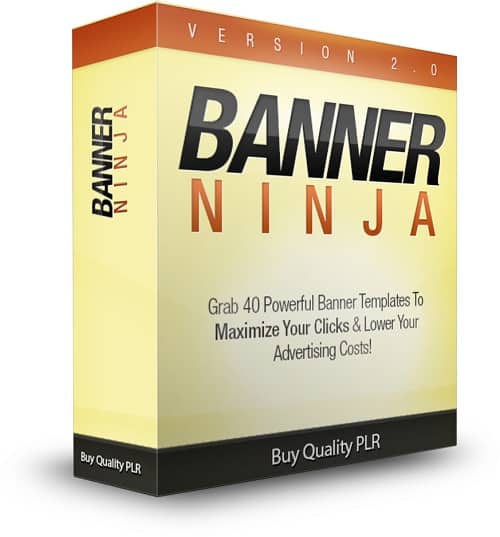 Grab 40 Money-Making Banner Templates That Will Get You More Clicks Than Anything Else on Planet Earth!
Here's What You'll Get



Who Is This Graphic Package For:
Internet marketers
Affiliate marketers
Media buyers
Graphic designers
Product vendors
Offline marketers
Where Can You Use  These Banner Templates:
Create stunning banner ads for your own products on Google Adwords and other networks
Promote affiliate products on your blog – finally fully monetize your traffic!
Do you have Amazon/Affiliate review sites? Put a powerful banner on your sidebar and send it to a bestselling affiliate offer
Send people to your capture page and build a highly lucrative list
Start offering banner design services on Fiverr
Offer banner design services for offline clients (extremely profitable!)
has been added to your cart!
have been added to your cart!
Here's Why You'll Absolutely Love Banner Ninja 2.0:
Get 40 Unique Banner Templates (9 Sizes Each – Total 380 Variations) – Enjoy these attention-grabbing banners that will get you more clicks than anything else. These banners were almost scientifically crafted to create an eye-ball smacking effect. Be cautious!
Lower Your Advertising Costs by Increasing Click-Trough-Rate (CTR) – In many ad networks (like Google & Bing) the higher percentage of people click on your ad, the lower your advertising costs. That means with these hypnotic banner ads, you'll be able to crush your competitors and save a ton of money!
Double Your Profits Instantly – Send your blog/website visitors to best-selling affiliate offers using attention-grabbing banners you just can't miss. Don't lose visitors anymore and fully monetize them each and every time.
Hassle-Free 1-Minute Customization (Photoshop Needed) – editing these premium 'done-for-you' banner graphics is extremely quick & easy. All you need is Photoshop (you can get Photoshop CC for just $9.99 a month)! A video training explains how to edit these templates in literally seconds! No technical skills are needed.
Eyeball-Smacking Design For Maximum Conversions – All the banner templates are really response-driven ads that WILL get you clicks. Yes they may look ugly, and yes they get more clicks because of that. I actually spent a lot of time on them and I implemented is a lot of ninja psychological stuff for maximum results.
Eliminate Outsourcer Delays – do it yourself quicker with no more headaches! Get exactly what you want. Take a full control over your business.
Save Money Smartly – forget about hiring expensive graphic designers.
Stay Safe with the Law – photography & graphics license violations are a big thing nowadays. Stay safe from risky lawsuits and expensive fines. All the graphics here were created by me and I have full rights to them.
Make Easier Money From Your Client's Work – all graphics come with developer's rights so now you can create impressive banner graphics in literally minutes!
Explore Your Imagination with an Unlimited Flexibility – you can literally change anything in these templates! Change the background color, font size, font style, photos, move things around. It's all showed in the video training and it's ultra simple! Your imagination is your limit! Have fun!
Make Easy Profits From Your Offline Clients – create stunning banner ads in minutes for your offline clients for quick & easy profits.
has been added to your cart!
have been added to your cart!
Package Details:
Download File Size – 48.7 MB
License Details:
What You Can Do:
[YES] You Can Use This Product For Personal Projects
[YES] You Can Use This Product On Client Projects
What You Can Not Do:
[NO] Sell the PSD Files
[NO] Sell the Package
[NO] Sell resell rights
[NO] Sell Master Resell Rights
[NO] Private Label Rights
[NO] Offer it as a bonus
[NO] Use it as a lead magnet
[NO] Give it away for free
You can only use this product for personal and commercial purposes.
It is intended to help you with your own marketing purposes.
It is also a way you can start your own graphic design business and push out high-converting graphics, sales page, landing pages and other marketing graphics without being a PRO designer.
Share this and get 20% off!