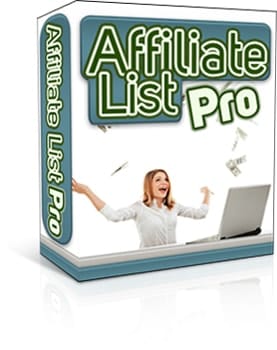 Choose Your Desired Option(s)
has been added to your cart!
have been added to your cart!
Affiliate List Pro Software
"Here's How You Can Easily Build Your Own List Through Your Affiliate Links – All On Autopilot"
You should have seen a popup newsletter form slide in over the top of the website you selected. If it didn't work, please try a different website – many popular websites (including search engines and social media sites) have code to block this technology – but most ordinary websites allow it.
If you're thinking that I hacked the site in some way or did something underhand to add my form to the site, I can assure you that I didn't.
This really is your chosen website exactly as normal, but with a special (unblock-able) popup newsletter signup form over the top.
Now consider the benefits of using this same solution to put YOUR signup form over the top of all the sites you promote through affiliate links.
Instead of the owner of the site collecting email addresses from your referrals, you can collect them yourself.
You can pop your subscription offer right over the top of anyone else's sales page.
With this superb solution, you can now promote affiliate programs and build your own list at the same time.
This has to be the ultimate profit solution for everyone who promotes affiliate programs.
has been added to your cart!
have been added to your cart!
Introducing…
Affiliate List Pro Software

Add All Sorts Of Popups To Other People's Sales Pages
The example you saw above was for what's called a "slide-in popup".
You can choose the speed and direction of the sliding as well as the final position.
This type of popup is commonly used because it's very hard to ignore.
However in some cases, you may prefer an alternative approach.
That's where our other two great popup styles come in…
Style 2 – The Lightbox Or Phoenix Popup
Our second popup style is the "lightbox" or "phoenix" popup.
This partially grays the underlying sales page then puts the popup over the top.
These popups can be very effective as they force the visitor to respond to your popup signup form before being able to view the sales page.
You can choose the opacity of the underlying page as well as the position of the popup.
Style 3 – The Fixed Popup
Our third popup style is the "fixed popup", which appears at a fixed position on the screen (usually the left or right hand side of the sales page) and stays there even when the visitor scrolls the underlying sales page.
This is a more subtle approach as the visitor can still view the sales page without closing the popup, but your subscription form remains constantly in view.
Note that for simplicity I've described these as three separate styles.
In practice however, you can use any combination of these styles together.
This allows you to create any sort of popup you want.
The Easy Way To Create Your Affiliate Link Popups
Our Affiliate List Builder tool makes it quick and easy to add all these different types of popups to your affiliate links.
Here's a screenshot of this powerful tool: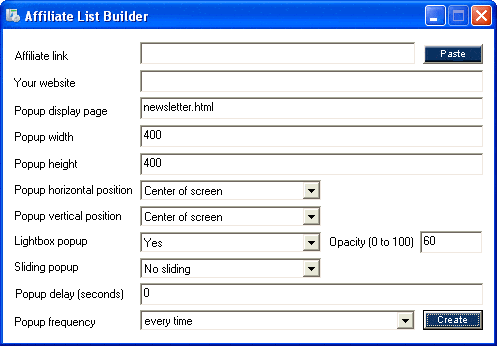 Just create a special web page with your signup form on it (there's a separate tool you can use to build this page automatically – see below).
Now type (or paste) your affiliate link into the software, choose a few simple settings – then click the Create button.
The software will instantly create a brand new "affiliate link page".
Simply upload this "affiliate link page" to your web host and then send your referrals to that page, instead of sending them directly to your affiliate link.
That's all there is to it!
Your affiliate link is even "cloaked" automatically, increasing the security of your link to protect your commissions.
All your referrals will be sent to your affiliate link just like normal, so you still get paid your commissions.
However your signup form will appear over the top of the sales page – allowing you to build your list on autopilot.
Control All Aspects Of Your Popups
For all the different types of popups, you have complete control of how the popup behaves.
When using the lightbox feature, there is an "opacity" setting, which allows you to determine how much the underlying web page is grayed out when the popup is shown. A typical value of 60% grays the underlying page by 60% so it is still visible but less noticeable than the popup. You can use any value between 0% and 100%.
When using the slide-in feature, you can choose whether the popup slides in from the left, right, top or bottom of the screen. You can also control the speed of sliding.
You can choose the final position of the popup. This is normally the center, left side or right side of the screen. However you can put the popup anywhere you want, even specifying the exact pixel position if you wish.
The popups also have an optional popup delay value, which allows you to set a delay (in seconds) between the web page being loaded and the popup signup form appearing  (this can be anything from zero seconds upwards).
The popups also have a "frequency" setting, allowing you to choose how often the signup form will appear. This can be set to every time the page is viewed, once for each browser session, once a day, once a week, once a month or just one time.
All your settings for Affiliate List Builder (and all the other tools in this package) are automatically remembered, making it easy to use the tool again and again.
All these features make it easy to get your popups working exactly the way you want.
Instantly Create Professional Signup Form Pages
Both Affiliate List Builder and Web Page List Builder display a popup signup form page which is actually just a normal HTML web page.
This means that you can create it yourself using any HTML editor.
However it's much easier to use our simple "Signup Form Page Creator" tool.
Below you can see a screenshot of the tool: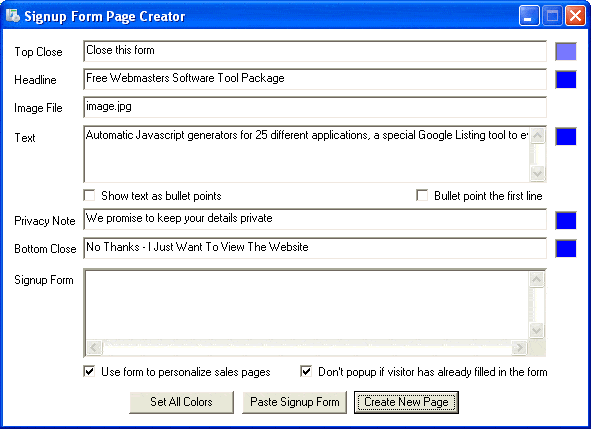 You'll see a set of boxes. Just type the text you want to appear into the various boxes (full instructions are included).
I've included an example page created using the software below so you can see what each box relates to: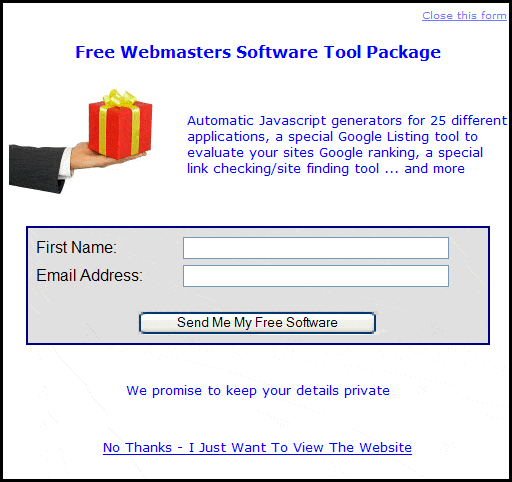 You can select the text and color for each item – the close message at the top right, the popup headline, the main popup text (which can optionally be in the form of a set of bullet points), the privacy guarantee and the close window message at the bottom.
After filling in the boxes, you simply paste a signup form from your autoresponder into the software, then click the Create button. Your signup form page will be instantly created.
Since the signup form page is a standard HTML web page, you can then make changes to it if you want using any HTML editor.
With this simple tool, you can create professional-looking signup forms that effectively promote your offer – all in a matter of minutes.
See How Easy It Is To Create These Superb Popups
If you'd like to see just how easy it is to create these popups, there's a short video set showing exactly how to use each of the tools described above…
BOOST Your Response By Personalizing Your Web Pages
Almost all marketers now personalize their emails when sending them to their list.
This simple technique has been proven to boost response to email offers.
Now with our special Web Page Personalizer tool, you can take this concept to the next level, by personalizing your web pages too.
Whenever your visitors or referrals enter their names into your signup forms, the names are remembered (stored on the visitor's own PCs in something referred to as a "cookie").
This happens both for visitors who sign up through a form on your own website and visitors who sign up through forms shown on your affiliate links. (There's also a feature to allow you to set this cookie automatically through emails sent from your autoresponder – for use with subscribers who subscribed through other methods.)
Using the Web Page Personalizer tool, you can then display this name on your web pages wherever you want.
For example, instead of starting your web page with the usual "Dear Friend", your web page could start with "Dear Jane" or "Dear John" (or whatever the person's name is).
As you can see from the screenshot below, Web Page Personalizer is very easy to use:

Before using the tool, simply insert the text REPLACENAME into your web page wherever you want the visitor's name to appear.
Then select the web page to be updated and enter the default text (the text to be shown if the visitor's name is not stored).
Click the Update button and the web page will be instantly updated, replacing all instances of REPLACENAME with special code that will show the visitor's name (or the default text).
All the code added is Javascript, so you should still be able to safely edit the page using your usual HTML editor. Additional code is added to ensure that the solution works correctly even if the visitor does not have Javascript enabled in their web browser (in this case it is not possible to show the visitor's name, but the default text will appear).
With this quick and easy tool, you can personalize all your web pages in seconds.
has been added to your cart!
have been added to your cart!
Package Details:
Download File Size – 1.56 MB
License Details:
[YES] Can be used for personal use
[YES] Can be given away
[YES] Can be sold
[YES] Can be packaged with other products
[YES] Can be offered as a bonus with other things you sell
[YES] Can be added to paid or free membership sites
[YES] Can be offered through auction sites
[YES] Can sell Master Resale Rights
[NO] Tools cannot be modified in any way
Share this and get 20% off!