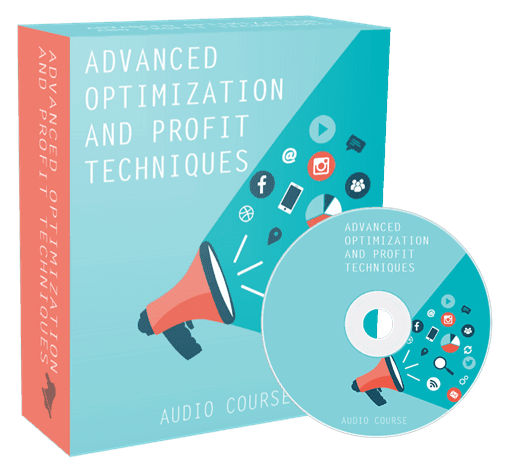 Choose Your Desired Option(s)
has been added to your cart!
have been added to your cart!
Advanced Optimization and Profit Techniques Training Program
Discover the Secret to Doubling, Tripling, or Quadrupling Your Sales From Your Email Campaign With a Few Small Tweaks . . . 100% Guaranteed!
Do you have the basics in place . . . a content base, a few products, a squeeze page, but you just aren't making the kind of money you think you should be, for all the time you have put in?
Or maybe you've been doing things that way the gurus and coaches have been telling you for years, maybe you are making $500 a month, or $1000 a month, or maybe even $5,000 a month – but you know that you could be doing more, you just can't put your hand on it?
If so, I understand. I remember when I first started this business, I literally started from scratch, writing articles from scratch, not even knowing what the articles should say or how to really get subscribers the right way. And now I have over 25,000 articles online.
No one else I knew of was building a business the way I wanted to.
Then I wrote my first ebook – a $10 monster! and it sold like hotcakes . . . but $10 doesn't add very fast!
Then I created my first "product" and now I have dozens and dozens and dozens of "products"
Then I created my first audio training – and now I have an estimated 75 training programs and an estimated 500+ hours of training.
And through the process of writing well over 2,000 emails personally, recording hundreds and hundreds of hours of training, working with hundreds of clients, I have discovered very specific optimization and profit techniques that have allowed my business to grow to incredible levels – all working from my home or local coffee shop, my car, a ski resort, or hotel room – all from my handy lap top computer and a cell phone for recording.
Over the course of the next 7 years, as I've grown a 6 figure business, I've learned some of the industries' hottest secrets about upsells, pricing strategies, high ticket pricing, and so on.
But the single biggest thing I have discovered that has had the biggest impact on my daily sales, day in, day out, month in, month out, has been a boringly, unsexy, super-simple process of optimization and maximization I don't see anyone else teaching.
Now I don't know if they aren't teaching it because it's really simple and no one wants to buy something that's not sexy and glamourous, or if it's because it's so simple they are afraid folks will think their training has regressed.
But I don't care.
It's time for YOU to be let in on these high-level secrets the gurus just aren't talking about.
So yesterday I set up my makeshift "recording studio" in my home, my lap top on my dining room table, my cell phone in my hand, my notes on the table, and set out to record for the first time ever, my insider secrets of optimization and profitization that I use personally and teach my personal ($300 – $500 an hour) clients)
But before I share with you what's in this powerful training, I'd like to share with you what some folks have said about working with me (and please understand, these are folks who took what I said and took action – if you are the kind of person who buys trainings, and forgive me if this is you, and doesn't listen to them or doesn't DO what is taught – these results will NOT happen to you! Just the truth, folks!)
"When I first came across Sean Mize I was making just a few hundred dollars a month online and really struggling to make it work. Less than 4 years later my business has generated almost 1.9 million in sales. I count Sean as one of only a handful of guys that helped influence that success. Sean is the real deal. – John Oszajca
Introducing The…
Advanced Optimization and Profit Techniques Audio Course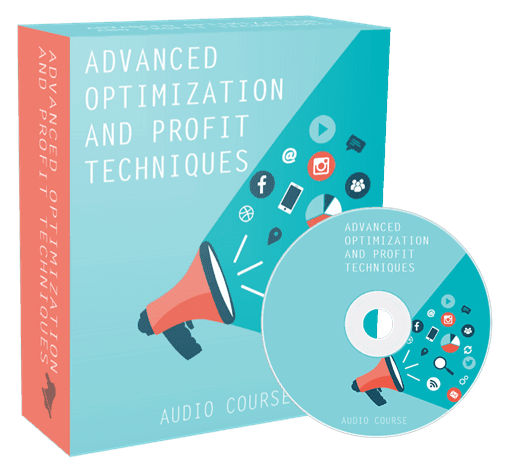 has been added to your cart!
have been added to your cart!
I'm a pro copywriter and was looking to get out of being reliant on client work — but I was stuck for what to do, when to do it, and in what order. It wasn't so much more KNOWING I needed as more DOING.
After making an investment with Sean for one-on-one coaching and some of his products, within just a fortnight I had released my first coaching programme with an ROI of over 2:1 — it's now 70% full, and places are STILL selling like hot cakes.
If I fill all the places, then my revenue will be just shy of $20,000 with an ROI of over 3:1 — that's more than $3 back for every $1 invested — within just 21 days. Better yet — the programme will keep ON selling between now and forever in one form or another, so my long-term ROI is likely to be measured in the hundreds- or thousands-to-one.
Thanks, Sean. Probably the best investment I ever made (and I've been around this stuff for a long time).
Jon McCulloch
Direct Response Marketer
I've been learning from Sean for a while now.
Why do I STILL invest in his coaching program?
Because his methods work!
I followed his system and launched my first coaching program in a long while. The result?
14 people invested in a 6 week $247 program that I am STILL creating. I am being paid handsomely to
develop a coaching program that is earning me money now and will continue to earn passive income for years  to come.
More reasons why I continue to invest in coaching and mentoring with Sean:
He is accessible, he responds to emails!
Opportunity for one on one help each week in live coaching calls
He actually does what he teaches
I trust him, he is a man of integrity
If you work with Sean and actually do what he teaches you can realistically expect to see a good return on your
investment.
Lynne Lee
I really enjoyed it. Most importantly, I followed up and have already created two courses. I created a 90-day course (4 days of email access per month) and I'm putting the finishing touches on a 5-week course. I created audios, PowerPoints and have already sold two memberships (for the 90-day product) for $600. – – Jim
So I went through the training with you Live while on Vacation in FL. I did everything you instructed us to do and it's working out AWESOME. Not only did you help me identify what it was that my list wanted, you taught me how to sell the program.
After coming home from Vacation, I wrote the sales letter and structured a 5 day launch to my list for my new Coaching program.
I closed cart yesterday and ended with 16 new clients for the program. I had a goal of 15 enrollments and actually planned to shut it down at 15 (that's the scarcity I used)… Had some issues with my sales page not updating as I was trying to pull the offer down and one more sign up came through. (Not a bad problem to have)
Generated approximately $8500 in sales in a 5 day period.
I can't thank you enough man. Now I'll have an asset that can be automated for future sales.
You rock…. and quit teaching people this stuff for so cheap
Chris B.
These are real letters from real people who sent me emails to tell me their results after doing what I suggested.
I had one client who bought my book, Anyone Can Coach, adapted the pre-written email campaign in it for use in his business, and did just shy of $30,000 in coaching sales in a few weeks.
Another client built about a $20k a month business within about 6 weeks of starting with me.
I don't want to brag.
In fact, I'm against it.
God has given me a unique ability to motivate and educate others to higher levels of success, and I'm just doing what God has empowered me to do.
But one of the things that has stuck me recently is how obscure some of my simple techniques are, things other high-level infobusiness people are using in their business, but from what I can see, no one I see is teaching these techniques.
So I have decided to create a training program that sequentially teaches you EXACTLY how to optimize your business and double, triple, quadruple, even QUINTUPLE your business sales without increasing traffic – by following some very easy optimization principles.
In my brand new, Just-Recorded-Yesterday Advanced Optimization and Profit Training Program
You'll discover:
The Secret to Tripling Sales Through a very easy 8 hours a month process that will revolutionize your business
How to Create a new membership in your business – that will double or triple your sales when using a very special secret technique that fills your membership with OTHER infomarketers' content (legally and with not only their permission but their excitement!)
The principle of the constantly improving funnel – and very easy testing and optimization techniques that anyone can do, no matter how little you know about technology or statistics
The 4 critical components in your business – and how to trouble shoot each area of your business using the SAME questioning process I use with my $500/hour clients – 100% opened and revealed for you here!
A super-simple coaching program formula – I think this is the BARE EASIEST I have EVER taught this formula – you could start a new coaching program TOMORROW with this simple technique!
My secret formula for determining why you aren't doing more revenue than you are – a simple 4 step process, easy – peasy as they say across the pond!
My specialized optimization and tweaking process –
In addition, and this is the BEST part of this brand – new training:
My own specialized email campaign sequence tweaking process which will DOUBLE your sales within 60 days, almost without fail. This is so simple it takes only minutes a day – and your return can be  DOUBLING of sales – with no more traffic or subscribers – in 60 days – just one simple tweak to your email campaign (One  client I've taught this has gone from selling 5-10 new memberships at $37 a month to selling 60 new memberships this quarter at $67 a month, almost exclusively with this easy technique)
You'll also discover some rare but insightful ideas for creating more content in your business faster than you might have ever imagined possible!
You'll discover that YOU can create a complete – full time information business – and completely rocket your earnings, in the next few months, and put yourself on a path to financial independence fast, by using a couple of very simple realizations – and I'll lay it all out for you in black and white!
In short, this is your complete Advanced Optimization and Profit Techniques Program and it's red-hot training prepared especially for TODAY'S Competitive InfoBusiness environment, going into 2014 –
Are you excited and ready to get this training?
If so, excellent!
Now, the way this is arranged is 5 short audio trainings – each one you can listen to each day, one audio per day – implement each audio instruction each day for 5 days, and your business will be revolutionized, I promise.
In fact, I'm so excited about the growth in YOUR business and how fast YOU are going to be able to take your business from where it is now, $500, $5000 or even $10,000  a month to $5000, $30,000, or even $50,000 a month using these simple procedures, that I'm going to give you a BOLD guarantee: try out this system for 60 days, test it out, run my full proprietary email campaign sequence tweaking process and if you don't DOUBLE your sales, let me know, and I'll DOUBLE your money back – that's right, not only do I NOT want to keep your money if this doesn't work for you, I'll PAY you to try it out in your business!
Now, you might be asking, what's the investment, Sean?
And I'm glad you asked.
First of all, I want to say this: for the last few years, I have reserved this information for my highest level clients – people who pay me $1000, $3,000, $4,000 or even $10,000 and $15,000 for me teach them and guide them.
As you may know, I charge upwards of $500 an hour in everyday pricing, and $1000 an hour for some project types for my advice and consultation. And I'm not bragging, every single thing I teach or know I have received from someone else, and God has blessed me incredibly to be able to command these kinds of prices.
But the reason folks are willing to pay up to $15,000 for me to give them advice and consultation is because I have unique methods that, frankly speaking, work when they implement them.
I say all of that to say this: I could probably package this at $2000 like some of my training, and folks would get their money's worth for sure.
And it would be worth every penny.
Again, I don't say that to brag, but these new techniques that I am using, many of them are brand new with me.
That's means that if you start using them in YOUR NICHE TODAY, you'll be ahead of the curve.
This means that you can start doing these things in your niche BEFORE your competition does it, and you probably know that when it comes to optimizing email funnels and sales conversion rates, the early bird really gets the worm.
Now, like I said, I believe I could price this at $2000 and limit who gets access, and this program is worth every penny.
But right now I'm planning to value this at $500 rather than $2000 to make this something that everyone can afford and get access to. I simply want to reward my clients and subscribers who have been faithfully following me for years.
To get this entire $2000 – value training program for $500:
has been added to your cart!
have been added to your cart!
To your success with your infobusiness,
I'm including a very special bonus training that I believe is worth $200 all by itself, which teaches you my ultimate sales funnel conversion method – I literally teach you how to create a sales funnel from scratch that operates at the very highest level possible!
 This includes:
The number 1 thing required to make sales (without this: ZERO sales)
The ideal sales funnel – which products, how many, what the escalation is
How to create a sales funnel that converts and generates profit and maximum revenue
What to put in your email campaign in the first 7 days
What to put in your email campaign in days 8-14-21
The three track theory of writing your email campaign (this theory unlocks the mystery of "when do I send content, when do I send sales messages, and so on)
The exact emails I use in my own automated launch campaigns
another detailed look at the email campaign optimization process (this is worth the price of this training ALONE!)
And by the way, this training is 100% guaranteed – if for any reason, at any time, you decide its' not for you, just shoot me an email, let me know you want your money back, and I'll give you a fast refund, no questions asked. So you have nothing to lose, and tons of revenue to gain, go ahead and get my Advanced Optimization and Profit Techniques Training Program now while it's at it's lowest price:
has been added to your cart!
have been added to your cart!
Listen To A Sample Of This Advanced Optimization and Profit Techniques Training Course
[disk_player id="544313″]
has been added to your cart!
have been added to your cart!
Package Details:

Introduction to Advanced Optimization and 5 Component Foundation
Advanced Troubleshooting in Your Business – Consultation Style
Optimization and Maximization For Growth
Email Campaign Optimization Procedure
Bonus 1: Advanced Sales Funnel Mastery
Bonus 2: Ideas and Concepts for Technology and Methods for Optimization and Optimization
Overview and Review of Optimization and Maximization Procedures
License Details:
[YES] Can be used for Personal Use
[NO] Can convey and sell Giveaway Rights
[NO] Can convey and sell Resale Rights
[NO] Can convey and sell Master Resale Rights
[NO] Can convey and sell Private Label Rights to the original document
Share this and get 20% off!