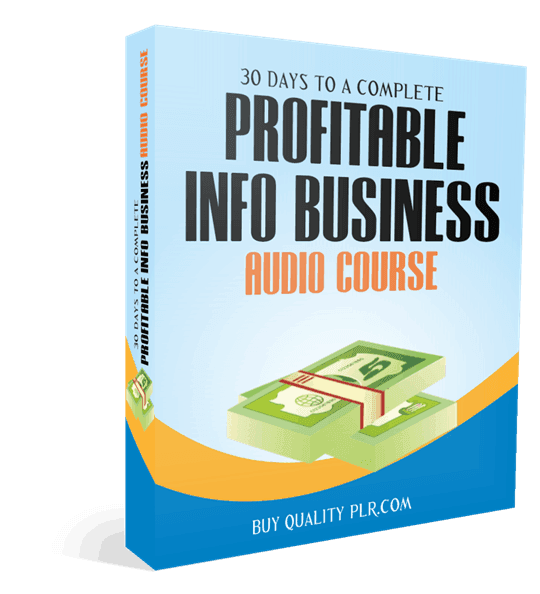 Choose Your Desired Option(s)
has been added to your cart!
have been added to your cart!
30 Days To A Complete Profitable Info Business Audio Course by Sean Mize

Discover the Secret to Building a Fully Operational and Profitable InfoBusiness in 30 Days or Less
Are you frustrated because you have been trying to build an online business for 1-3 years, and frankly, speaking, you have nothing to show for it?
Have you hired coach after coach to teach you, but they keep teaching you steps that don't yield any results?
Are you struggling to get "traffic" to your site, and then when they get there, they just don't buy?
Or maybe you have all the traffic that you need, but you don't have the right products and coaching to sell to them?
has been added to your cart!
have been added to your cart!
Introducing The…
30 Days To A Complete Profitable Info Business Audio Course

It's a 4-module training program, and each module contains about 2-3 hours of intense training, then a complete homework assignment with exactly what to do and how to do it, so that when you do the work, you will get the results, you WILL get your business built fast.
Module 1: Your Complete Expert Content Creation System
How to easily create 5 youtubes, 5 slideshares, and 5 articles everyday in less than 1 hour each day (that's right, it's that easy, I promise)
How does all this content get you traffic? IN module 1 you'll see how it works.
And you'll have traffic coming in the first 30 days.
Qualified traffic that WANTS to buy from you, just like my prospects WANT to buy from me because they trust me and want to learn more.
Module 2: How to Create an Email Campaign from Your Daily Emails
That's right – it's that simple: instead of painstakingly writing a 21 day email sequence in one sitting, I show you an interactive way to write your email campaign, and in 30 days, you'll have a full campaign, including content, interactive emails, and even your product launch campaign automated for new subscribers to buy your $300 training on autopilot!
How to write your daily email each day by simple repurposing (1) one of your articles created in that first hour online.
How to write your entire email campaign, step by step, including your product launch emails that you can automate
Module 3: How to Create a Coaching Program From Scratch in Less Than 30 Days
In this module, I show you step by step how to create a coaching program from scratch, simultaneously with creating your daily content.
This is an easy process, the thing with coaching is that since coaching is delivered after someone signs up, you don't have to create the "lessons" ahead of time . . . instead you simply teach what your clients need as they need it. So you start enrolling clients in coaching as soon as someone wants your help, you don't have to wait until you have created pre-recorded lessons.
Yes, it's just this easy.
And I break it down so that this is all a no-brainer!
Module 4: How to Create a $300 Home Study Course You Can Sell on Your Site on Autopilot
How to create your initial 10 hour home study course you can sell for $300 just by creating your above-mentioned content as part of a product-creation outline instead of thinking up new
Sample of The Audio Course:
[disk_player id="525264″]
has been added to your cart!
have been added to your cart!
Package Details:
Download File Size – 104 MB
License Details:
[YES] Can be used for Personal Use
[NO] Can convey and sell Giveaway Rights
[NO] Can convey and sell Resale Rights
[NO] Can convey and sell Master Resale Rights
[NO] Can convey and sell Private Label Rights to the original document
Share this and get 20% off!