10000 Steps Premium PLR Package - High quality walking PLR pack including ebook, report, articles, emails, social posts and lots more. Over 51 000 words of done-for-you walking for fitness PLR content ready to be used to grow your business and educate your audience about health and fitness.
#steps #fitness #fitnesscontent #fitnesstips #fitnessplan #wellbeing #keepfit #workoutplr #exerciseplr #fitnesstraining #exercise #gym #walking #jogging #walkingfitness #walkingcardio #walk #exercise #walkforexercise #fitnessguide #fitnesscourse #fitnesswalking #walkingforfitness #walkforfitness #fitnesscontent #plrguides #plrcontentpack
10000 Steps Premium PLR Package Premium PLR Package – Featuring Over 51 000 Words of Done-For-You Evergreen Fitness and Exercise Content.
Attention: Health, Fitness and Wellness Entrepreneurs
Done for You Premium Fitness PLR Product on a
EVERGREEN Topic:
 Fitness!
Dear online business owner, When it comes to top fitness and exercises searches, the Fitness is one of the most searched-for topics online.
It's safe to say that fitness has spawned an entire industry of blogs, fitness courses, and products.
This is where my premium done for you 10000 Steps PLR Package comes in. Its all about teaching your customers How and Why to Walk 10,000 Steps Every Day to Improve Your Health, Burn Calories and Get Fit.
Everything is done for you – from the main Walking PLR info product to your social media updates – its simply up to you to add your branding and firmly establish yourself in this lucrative fitness niche.
Introducing The…
10000 Steps Premium PLR Package
Featuring Over 51 000 Words of High Quality Fitness Content Ready To Be Used In Your Business!
This Walking for Fitness PLR package covers the hugely popular fitness niche. Fitness and exercising is evergreen and will always be. This Walking PLR content package is well-written by an experienced copywriter and comes with full private label rights so you can edit it, put your name on it, put your brand on it and sell it and use it to build your list of raving fans.
has been added to your cart!
have been added to your cart!
Here's everything you'll get in the 10000 Steps MEGA PLR Package…
Main eBook:"10,000 Steps to Fitness (How and Why to Walk 10,000 Steps Every Day to Improve Your Health, Burn Calories and Get Fit"
(4,539 words, 18 pages, 7 images)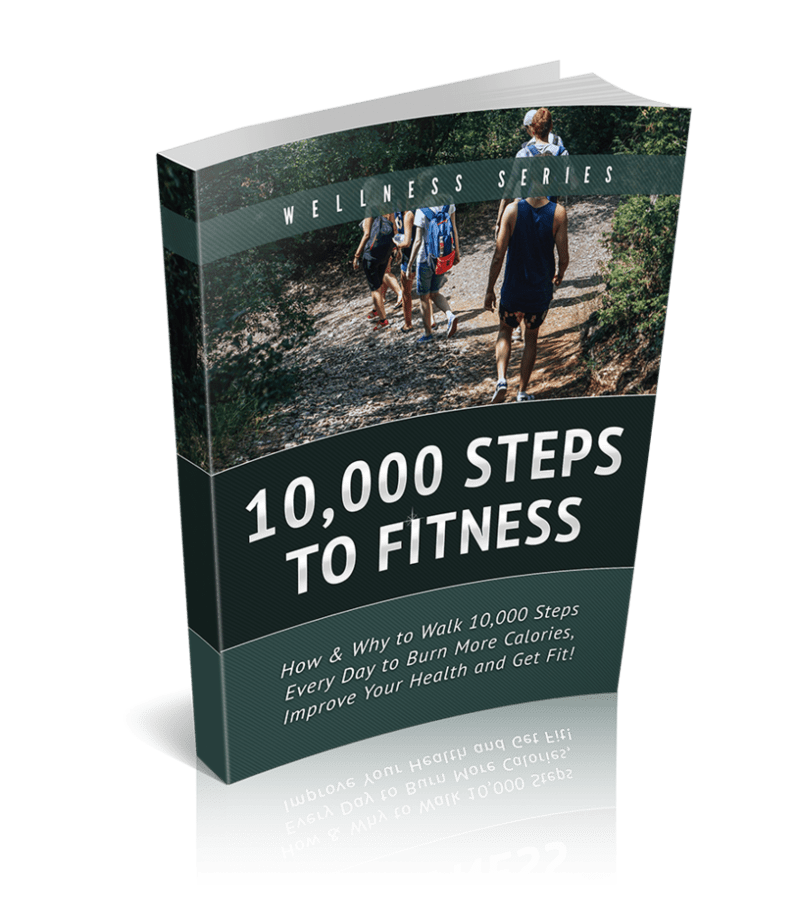 A look inside the 10000 Steps Premium PLR eBook:

Table of Contents for the 10000 Steps Walking Fitness PLR eBook:
How to Walk 10,000 Steps Every Day……………………………………. 3
Making Time for Walking……………………………………………………… 5
Easy Ways to Get in 10,000 Steps………………………………………….. 7
15 Ways to Get Your Steps in Without Exercising More……….. 9
Fun, Unique Ways to Get in Extra Steps………………………………. 15
What to Do Next…………………………………………………………………… 18
Sample Content for the 10000 Steps PLR eBook:
How to Walk 10,000 Steps Every Day
You've probably heard this standard piece of health advice, along with "drink at least 8 glasses of water a day" and "get at least 8 hours of sleep a day":
Walk 10,000 or more steps every day
Why? Where did this idea, and this particular number, come from? The simple answer is that getting moderate levels of physical activity throughout the day leads to better overall health.
The benefits of moderate physical activity are widely known, including reducing the risk of many common health problems such as:
Obesity
Diabetes
Hypertension (high blood pressure)
Heart Disease
And walking is probably the most accessible type of regular physical activity because it can generally be done anywhere, without any specialized equipment or pricey gym memberships.
So why track steps? Well, to be honest, you could track the amount of time you walk each day and work towards a time goal. But consider how that might look in practice:
You got up from the sofa and walked to another room of your house. That took 17 seconds. Later you walked down to the basement to get something out of storage. 24 seconds. At some point you walked to the mailbox to check the mail. 52 seconds.
It's much easier to track steps throughout the day than time or distance, particularly if you use a pedometer, fitness tracker, or some other inexpensive device.
And even though walking 10,000 steps a day, every day might sound like a lot, it's actually not as difficult as you might think. Yes, doing so might represent a big change. It might actually take a bit of effort and time. But knowing the benefits can help keep you motivated and excited to get your steps in on days when the world seems to be conspiring against you.
Fortunately, there are plenty of strategies, secret tactics and not-so-secret tactics for getting those steps in.
That what we're going to talk about here.
Note: The above content is just a snippet of the ebook.
Short Report:"Simple Ways to Get More Steps Into Your Life"
(1,706 words, 12 pages, 5 images)

A look inside the Simple Ways to Get More Steps Into Your Life PLR Report:

Product Reviews:
Bellabeat Leaf Urban Smart Jewelry Health Tracker – 411 words
"Just Move!: A New Approach to Fitness After 50" – 402 words
OneTweak New EZ-1 Pedometer for Walking – 405 words
Pure Compression Comfort Padded Walking Socks – 403 words
Vive Pedal Exerciser – 423 words
Product Comparison Review:
Top 5 Fitness Trackers and Pedometers – 942 words
5 Emails/ Blog Posts:
Topic: Why You Should Walk 10,000+ Steps Every Day
Email1-Welcome to our why you should walk ecourse – 371 words
Email2-Walking and weight loss – 379 words
Email3-Health benefits from walking – 362 words
Email4-The nutrition factor – 362 words
Email5-Seven lessons learned from walking – 613 words
10000 Steps Email Sample Content:
Email #5 – Seven lessons learned from walking
Over the course of the first 4 lessons, we have learned why walking is so good for you from using it to lose weight to reaping the mental and physical health benefits derived from a routine walking program. But that is only the beginning; here are 7 more reasons to walk daily:
While the number 10,000 is frequently recommended as the number of steps you should walk in a day, the number is really arbitrary. Some short-legged people only end up walking maybe 7,000 steps, others 15,000 steps. What you will find over time from walking is that you will end up moving more and sitting less – without even thinking about it.
Your walking speed will increase. Over time, your natural pace of walking will get faster, even during your normal daily routine. Soon you will notice how slow other people (usually not as fit as you) walk. They seem to be moving at a snail's space.
You will end up sitting less. Did you realize you sit more during a day than you sleep? Its true. Most of us sleep on average 7.7 hours per night but sit 9.3 hours per day. But numerous studies have all found that sitting for long stretches of time is causing many serious health problems. As a matter of fact, it now has its own distinction – the sitting disease. Researchers have found it is as deadly as smoking. What you will find from consistently walking though is that even while you are sitting, you'll move more. You lean forward, lean back, fidget in your seat – just generally move more than before you started walking.
Walking keeps you healthy. It just does. From improving your immune function to getting enough vitamin D from walking outside, you will be healthier from just walking.
Other forms of "walking" adds to your daily step count. Whether it is dancing on a Saturday night, playing tennis or another court sport, other forms of exercise add to your step count and actually have a synergistic effect in that you burn even more calories than if you would have gained those steps just from walking. Plus, it gives you some variety to your exercise routine. Because the body strives for efficiency, it will over time learn to burn fewer calories while doing the same thing, so it is great to throw it some curve balls and keep it guessing as to what you will do next.
You will think more. Many experienced walkers will tell you that some of their best ideas and thoughts came to them while they were walking. Walking puts you in an environment where you have minimal distractions and have time to really do some deep thinking.
Walking is living. As you get into walking, you will notice things around you that you never noticed before – changes along your walking route that happen; new things that crop up. It increases your awareness of what is going on around you, which is a good thing.
Wow, who knew so many good things could come from the simple act of walking. If you have some pounds that you would like to lose and are looking for a lower impact exercise than running, consider starting a walking program where you get at least 10,000 steps in per day. Track your steps on your wearable fitness device or smartphone. Your body will thank you for the exercise and handsomely reward you with weight loss!
Thanks for sticking with us to the end. I hope you have learned something about walking. Now strap on those shoes and get to it!
High Quality 10000 Steps PLR Articles:
4 Benefits of Walking to Work Every Day – 407 words
4 Examples of Good, Low-Impact Exercise – 412 words
4 Ideas for Walking More Steps in a Day – 389 words
5 Reasons Why Walking is Good for Your Health – 388 words
Can You Lose Belly Fat By Walking? – 380 words
Can You Lose Weight with Low-Impact Exercise? – 404 words
Does Walking Burn Fat? – 398 words
How Do You Tone Up Your Body? – 399 words
How Long Will It Take to See Results from Exercise? – 409 words
How Many Calories Do You Burn Walking 10,000 Steps? – 401 words
How Many Steps Do You Need to Walk Per Day to Lose Weight? – 409 words
How Many Steps Do You Need to Walk Per Day to Maintain Your Weight? – 429 words
How Often Do You Need to Exercise? – 396 words
Is a 30 Minute Workout Enough? – 373 words
Is It OK to Exercise Every Day? – 417 words
Is Walking As Healthy As Running? – 430 words
Walking Vs Cycling Vs Running: Which Is Best? – 484 words
What Are the Dangers of Sitting Too Much? – 413 words
What Are the Most Effective Exercises? – 440 words
What is the Healthiest Way to Lose Weight? – 390 words
10000 Steps PLR Article Sample:
4 Examples of Good, Low-Impact Exercise
While the best methods for burning calories and gaining muscle are things like sprinting and lifting weights, those aren't necessarily great for your body. Injuries while sprinting or lifting weights are incredibly common, hence why they are considered high-impact exercises, they have a high-impact on your body. Now, we aren't saying not to do these exercises, just that you should give your body a break once and a while by doing some good, low-impact exercises. You can still burn calories while doing these exercises. With that being said, here are 4 examples of good, low-impact exercises.
Elliptical Training
One of the best low-impact exercises out there is elliptical training. There are a few reasons why this is the case. Firstly, ellipticals put very little strain on your muscles and bones. Even though using an elliptical may seem similar to running or using a treadmill, either of those will put far more strain on your body than using an elliptical will. Secondly, elliptical training still burns quite a few calories. Lastly, elliptical training can be combined with other exercises. Many people use elliptical training in conjunction with high-impact exercises like weightlifting to keep their body loose.
Cycling
Cycling burns almost as many calories as running (an hour of running will burn in the neighborhood of 1,000 calories, while a similar amount of cycling will burn around 800 or so). However, whereas running is very hard on your knees and your joints, cycling isn't anywhere near as bad. So, you burn the same number of calories, while having minimal impact on your body and thus minimal chance of injury. While cycling does have some downsides, such as having a high initial cost if you don't own a bike and requiring you to know to ride a bike, it is otherwise a great low-impact exercise.
Yoga
You probably could have guessed that Yoga would appear on this list the moment that you read the title. There really isn't a whole lot to say when it comes to yoga since you likely already know everything that you need to know. Yoga doesn't put any undue strain your body, while still letting you burn a lot of calories.
Swimming And Water Exercises
Swimming, or really any water-based exercise, are great low-impact exercises that still lets you burn a ton of calories. There is a reason why people often recommend swimming or other water-based exercises to seniors, and it is because they have minimal impact on the body.
Browse for more Walking PLR article packs at BuyQualityPLR.com
Social Media Posts & Images:
5 Shareable Social Media Graphics (PLR)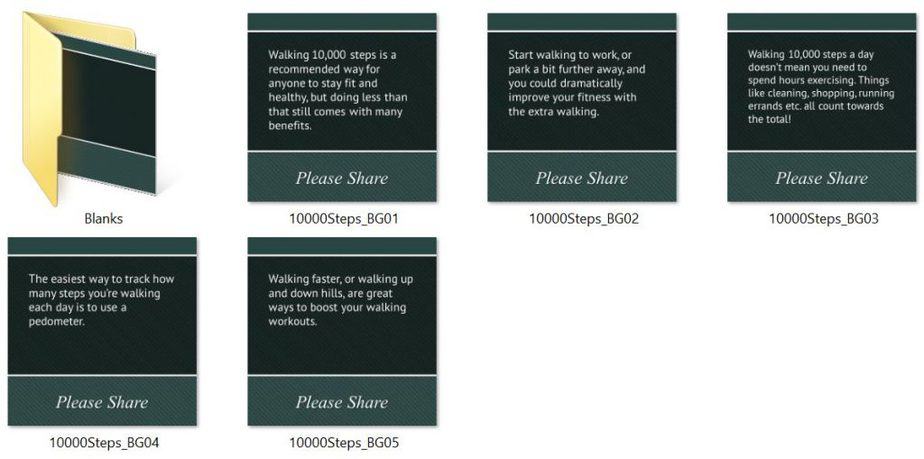 5 Shareable Social Media Inspirational Images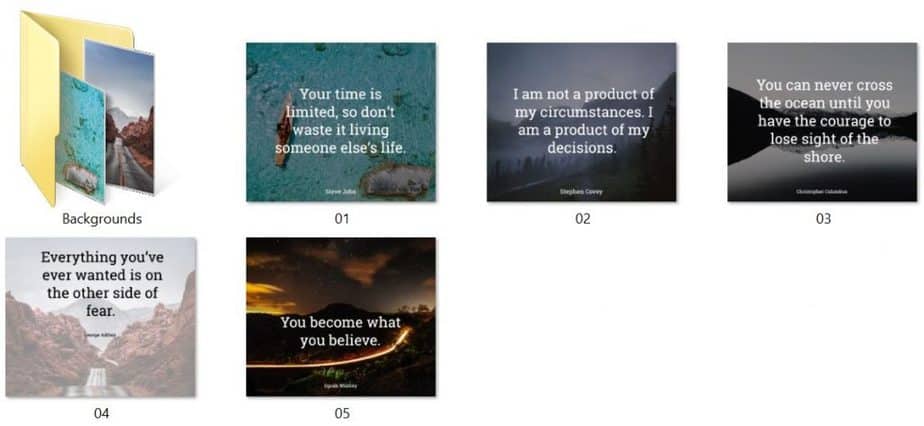 20 Social Media Posts (for sharing on Twitter or Facebook)

12 Royalty Free Images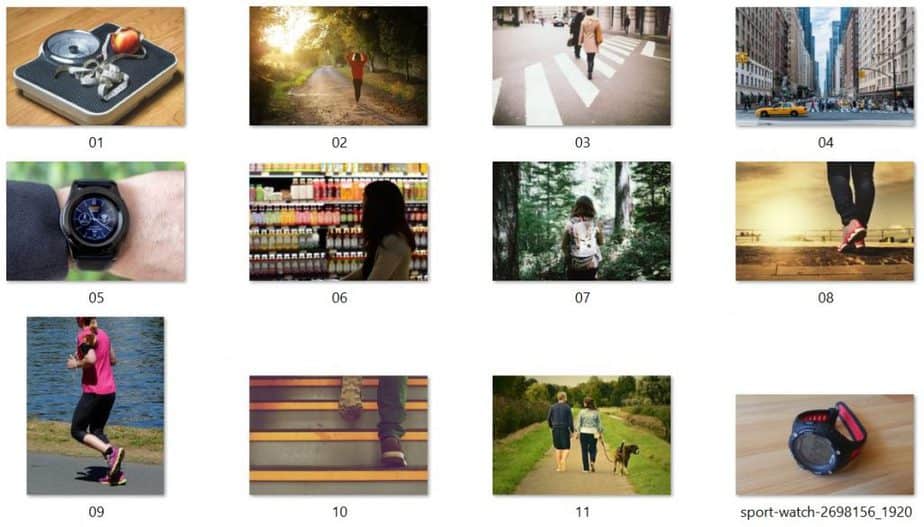 Images of All Products Reviewed

10000 Steps Keyword Research Pack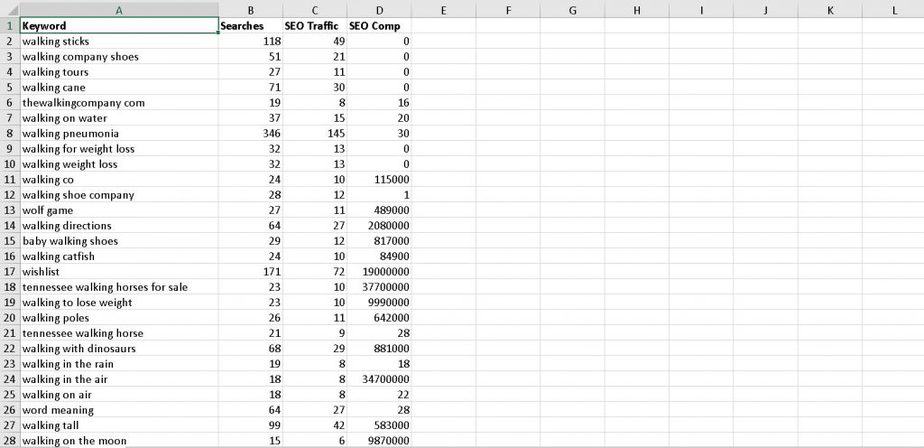 Bonuses:
Beginners Guide to Starting a Walking Routine – 5102 words
This walking PLR Report is available in .TXT and Word Doc format and includes a PLR License.
Beginners Guide to Starting a Walking Sample Content:
There are so many reasons walking is good for you, it's virtually impossible to talk about all of them in one short report. So, think of this as a mini primer. Before we get into the "why" of things, here are some fun and interesting facts about walking:
Every step you take uses up to 200 muscles.
The average person walks the equivalent distance of five equators in his or her lifetime.
Believe it or not, it's better to swing your arms when you walk. Why? When you don't, it increases the effort of walking up to 12 percent.
Under certain circumstances, when you walk, the pressure you put on your feet exceeds your total body weight. If you run, this pressure can be up to three or four times your weight.
Want to burn more calories? Try walking sideways. It actually gets rid of 78 percent more of the little culprits.
Walking uphill increases cardiovascular fitness and muscle tone.
It takes approximately one hour 43 minutes to walk off 540 calories, which happens to be the caloric count of a Big Mac. If your meal included a super-size Coke and French fries, you need to walk seven hours to burn the calories.
If you're trying to improve your health, experts suggest walking 6,000 steps per day. If you're trying to lose weight, walk a total of 10,000 steps to get the job done.
Some people get exercise via walking, even when they don't want to. Sleepwalking, also known as somnambulism, affects approximately 18 percent of the world's population.
The term "walk" comes from the old English word "wealcan," which means "to roll."
It's extremely important to be constantly aware of your surroundings when you walk. Statistics indicate a person is 36 more times likely to be killed walking than driving a car and 300 times more likely to be killed walking than traveling via airplane.
Now it's time to cover some of the many reasons walking is good for you and an excellent way to keep fit. One of the greatest things about walking is the fact that you benefit from it, no matter how much or how little you walk. Of course, the more you walk the better. But, every little bit helps.
10 Quality Exercise PLR Articles and Social Media Posts
Exercise PLR Article Titles:
Exercising with YouTube videos – 510 words
Cheap and Versatile Gym Equipment for the Home – 512 words
Exercise for Free with the Family – 506 words
Exercise through Volunteering – 499 words
Tips for Getting the Best Value Walking and Running Shoes – 503 words
How to Get the Best Possible Gym Membership Deal – 505 words
The Five Cheapest Team Sports – 506 words
Strength Training on a Budget – 506 words
Swimming on a Budget – 506 words
Dog Walking for Exercise – 509 words
Exercise PLR Article Sample:
Dog Walking for Exercise
If you're looking for an enjoyable way to keep fit, dog walking is a great idea. There are a lot of benefits that come from owning a dog and exercise is just one of them.
While simply getting out on a dog walk is good exercise in itself, there are other ways to tweak it so you gain even more exercise benefits. Below, you'll discover several more ideas for using dog walking for exercise.
Make Sure You Set a Routine
The best way to use dog walking as exercise is to get into a set routine. Depending upon the breed of dog you own, it is recommended you walk twice a day for 30 minutes. Most people find it best to go early in the morning and then again in the early evening.
When you establish a routine, you'll get plenty of exercise without really thinking about it.
Walking over Different Terrains
One way that dog walking can help to boost your exercise routine, is to walk over different terrains. You might not think about it, but you use different muscles when walking over different types of terrain.
Try to mix up your dog walks. Sometimes you can stick to paths, while other times you can go on grass and even hike up mountains. By mixing up your dog walk, you'll also have less chance of getting bored with the routine. So, pick different places you can go, particularly at the weekends where you can typically travel a little further afield.
Push Your Pace
If you are only going on shorter walks, you can get more out of them by pushing your pace – that is, walking faster and more deliberately than you usually would. With longer dog walks, you can get away with sticking to a gradual pace. However, when time is short, a more intense and faster pace will give you the exercise you need.
Just remember that if you're only just starting out, it's important to build up your pace slowly. Trying to do too much too soon could result in injury.
Combine It with Weights
If you want to give yourself an extra challenge while you're out walking, you can add in some hand weights. With this, you'll need to ensure your dog can walk off lead without any issues. Simply carrying the weights can be enough to give the body an extra workout.
You could also invest in a weighted dog walking vest. However, it is important to discuss this with a veterinarian beforehand. Improper use of these vests could give your dog knee, back, and hip problems. Hand weights are the safer option as they pose no risk to your dog.
These are some of the main ways dog walking can be used for exercise. Just playing with them while you are out can also boost your exercise routine. Studies have shown that dog walkers get a lot more exercise than those without pets. So, embrace going out for your daily walks and watch yourself start to become much fitter.
10 Social Media Posts
These PLR articles are available in .TXT format and includes a PLR License.
10 Walking PLR Articles and Tweets 
Walking PLR Article Titles:
1.Finding the Right Footwear – 484 words
2.How to Track Your Progress – 467 words
3.Nine Tips for Making Walking More Fun – 521 words
4.Setting SMART Walking Goals – 464 words
5.Speed Walking and Power Walking – Tips for Beginners – 490 words
6.The Many Benefits of Walking – 700 words
7.Tips for Walking in Inclement Weather – 701 words
8.Tips on How to Fit Walking into Your Daily Schedule – 629 words
9.Walking for Charity – 522 words
10.Walking to Lose Weight – 673 words
These PLR articles are available in .TXT format and includes a PLR License.
Walking PLR Article Sample:
Finding the Right Footwear
One of the things you need to consider if you want to start a walking program for yourself is your footwear. Finding the right shoe for walking is essential because if you have foot pain or problems with your feet, it can cause problems with the rest of your body too – from your legs to your knees to your back and more.
Buy a Walking Shoe
If you're going to use the shoes for walking, you should buy a walking shoe. Walking shoes are typically lightweight, allow for ventilation to prevent moisture, have outsoles that provide traction, plus they offer the right type of arch support.
You Don't Have to Buy Expensive Shoes
You really don't have to buy an expensive walking shoe to protect your feet. You only need to make sure it has the right walking shoe features such as those mentioned above. Look for shoe sales in January and April to get the best deals on walking shoes.
Think About How Your Foot Is Shaped
Everyone is different, so once you start looking at walking shoes you want to figure out what type of foot you have. How wide is your foot? How long is your foot? Do you have a big arch or a small arch? Different walking shoes will fit different criteria.
Ensure That the Shoe Fits
When it comes to walking shoes, you don't need to "break them in." They should feel comfortable from the moment you put them on. When trying on the shoes, be sure to wear the type of socks you plan to wear while walking to ensure that they fit the same. Also, try shopping for shoes after you have been walking so that your feet are at their largest size. Get your feet measured too, because you may be wearing the wrong size out of habit.
Don't Wear Old Shoes
You really do need to buy new shoes more often than you might think. A good walking shoe will last about 400 miles of use, but you can also choose to get rid of them when the outsole is worn (as a guide). The best thing though is to check your mileage, just like you would for your car tires. If the outsole is not in good shape, it can cause a considerable impact on the rest of your body due to not giving you enough traction or cushion for your steps.
Wearing the right walking shoes will prevent issues such as blisters, as well as body pain that can be caused by the shock of your foot hitting the pavement. That's why a walking shoe is lighter, has good shock absorption due to the way the outsole is made, and good materials inside to cushion the impact of hitting the ground with each step. Your feet will thank you, and your entire body will thank you too.
15 Getting Started on Walking for Exercise PLR Articles Pack 
Getting Started on Walking for Exercise PLR Article titles:
Try These 5 Tips to Forge A Proper Walking Technique – 498 words
Try These Support and Motivation Resources for Your Fitness Walking – 457 words
Use These 5 Tips to Increase Your Speed and Walk Faster – 471 words
Walking on The Treadmill-Here Are The Basics – 469 words
5 Things To Consider When Creating Your Own Walking Training Plan – 522 words
5 Walking Mistakes Youre Making and How to Avoid Them – 540 words
Choosing the Right Walking Shoes-What To Consider – 526 words
Get Started On Walking for Fitness With These 3 Simple Tips – 494 words
Getting Started With Race Walking – 473 words
Heres How Walking Helps You Lose Weight – 456 words
Nordic walking-How To Get Started – 478 words
Power Walking-Getting Started – 508 words
Take Your Walking Program to the Next Level With These 5 Ideas – 477 words
Talking A Walk For Exercise-Heres What You Need To Get Started – 478 words
These 3 Powerful Benefits of Walking Will Surprise You – 454 words
These PLR articles are available in .TXT format and includes a PLR License.
Getting Started on Walking for Exercise PLR Article Sample:
Getting Started With Race Walking
Race walking is a unique form of walking. It's actually an Olympic sport. Race walkers can reach speeds that are almost equal to that of running. Elite race walkers can reach speeds of five and a half minutes per mile.
What is Race Walking?
Race walking is both a technique and a sport. However, you don't have to compete to be a race walker. Race walking is defined by two very specific rules or form techniques. They include:
One foot must be in contact with the ground at all times. Stand up for a moment and jog in place. When you jog or run you'll notice that there is a very short time period where your feet are not touching the ground. You're propelling yourself forward. When you walk however one foot is always in contact with the ground.
The other rule is that your support leg must straighten when your heel touches the ground in front of you. And it must remain straight as it passed underneath your body.
It's this straight leg rule that gives most race walkers that funny hip wiggle. However, it is also a source of power that helps you walk quickly.
Unlike walking, race walking isn't intuitive. Your body will need time to adapt to the new and perhaps awkward feeling movements.
Race Walking Tips
When race walking there are some very important things to remember. The first is that