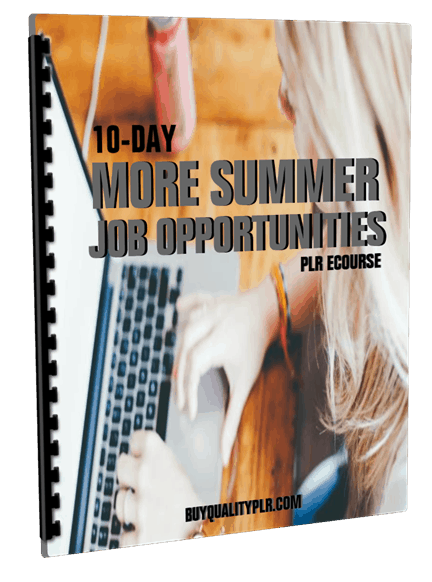 Choose Your Desired Option(s)
has been added to your cart!
have been added to your cart!
#SummerJobOpportunities #SummertimeJobs #VolunteerJobs #WorkingAbroadJobs #GardeningJobs
10-Day More Summer Job Opportunities PLR ECourse
10-Day Summer Job Opportunities PLR ECourse ready to be used for list building, autoresponder emails and training your subscribers.
Simply slap your name on the squeeze page, monetize the emails with your own offers or affiliate offers and then pop them into your autoresponder tool like Aweber or GetResponse.
As you just already know, The Summer Job Opportunities is evergreen and extremely profitable, so building your Popular Diets email list, and training your customers while monetizing your emails is the best way to make money with this Summer Job Opportunities PLR newsletter emails.
This is a complete ecourse consisting of Summer Job Opportunities emails messages with private label rights to help train your customers on Summer Job Opportunities.
has been added to your cart!
have been added to your cart!
Introducing The…
10-Day Summer Job Opportunities PLR ECourse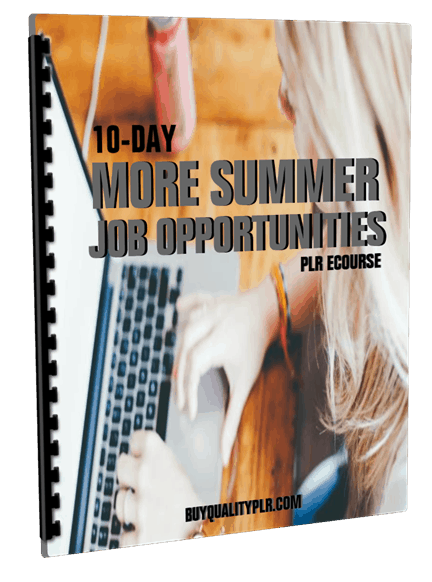 Below are the Summer Job Opportunities that you are going to learn:
1. Working abroad
2. Volunteer work
3. Internships
4. Summer camp
5. Tutoring
6. Shop work
7. Gardening
8. Working with animals
9. The highest earning summertime jobs for teens
10. Jobs to avoid
How Can You Use This Private Label Rights Ecourse To Make Money?
Use it to build a list of loyal subscribers that are eager to buy from you
Use it as a ecourse to train your list
Offer the ecourse as a bonus for affiliate offers
Offer the ecourse as a bonus for your own offers
Monetize the emails with your own products or affiliate products
convert the content into an ebook and sell it as a PDF
Make changes to the content and use it as blog posts to drive targeted traffic
Sample 10-Day Summer Job Opportunities PLR Ecourse Message:
Getting a summer job abroad as a teen is a great way to not only get paid but also to learn about another culture and even have a little fun during the process. Travel experiences and exposure to new cultures can really open the mind and the world for a teenager. Seeing the world before finalizing career options and answer the "what do I want to be when I grow up" question is one of the best things you can do for your teenager.
* Get a Passport – A teenager will need a passport to travel outside the country. A child of 16 and older will need to apply for their passport themselves, and for younger kids their parents can do it for them. However, to work abroad as a teenager, you'll generally need to be at least 17. The fee for this right now is less than 150 dollars, but it can go up.
* Get a Work Visa – How this happens will depend on how you do it, but often the company the teenager will work for is going to help with work visas because they'll need an employer to sponsor them. The fee for this varies and will depend on the country that they work in and whether the business is going to pay for it and support it or not.
* TEFL Certification – If your teenager wants to teach English abroad, which is one of the most sought-after jobs, they'll need to get this Teaching English as a Foreign Language certification so that they know they are prepared for the job. If there are any other certificates needed, make sure they get them.
* Find a Program – There are several work-abroad programs that your teen can investigate to ensure that they find the right opportunities. One such place is GoAbroad.com (https://www.goabroad.com/). They offer tests plus can lead you to opportunities. You can also explore positions as an au pair, summer camps, theme parks, and more.
If you want your child to work abroad (or they want to even if you don't want them to), do your due diligence to ensure that they have all their documents in order. Know that your teen will have shelter and food, and then let them send in their applications and fly from the nest for a summer job abroad.
Next time, we'll talk about how volunteer work can help a teenager become a more well-rounded individual and set them up for better jobs in the future. All jobs don't have to pay to be valuable to the teenager
Please Note: This is only snippet of the content so you can see the quality of the PLR report.
Share this and get 20% off!
Related Products That May Interest You