10-Day Joint Venture Profits Course PLR ECourse - 10-Day Joint Venture Profits PLR ECourse ready to be used for list building, autoresponder emails and training your subscribers.
#JointVenture #JointVentureTips #JointVenturesIdeas #JointVenturePartners #JointVenturesMistakes
10-Day Joint Venture Profits Course PLR ECourse
10-Day Joint Venture Profits PLR ECourse ready to be used for list building, autoresponder emails and training your subscribers.
Simply slap your name on the squeeze page, monetize the emails with your own offers or affiliate offers and then pop them into your autoresponder tool like Aweber or GetResponse.
As you just already know, The Joint Venture Profits is evergreen and extremely profitable, so building your Popular Joint Venture Profits email list, and training your customers while monetizing your emails is the best way to make money with this Starting a Business PLR newsletter emails.
This is a complete ecourse consisting of Joint Venture Profits emails messages with private label rights to help train your customers on Joint Venture Profits
has been added to your cart!
have been added to your cart!
Introducing The…
10-Day Joint Venture Profits PLR ECourse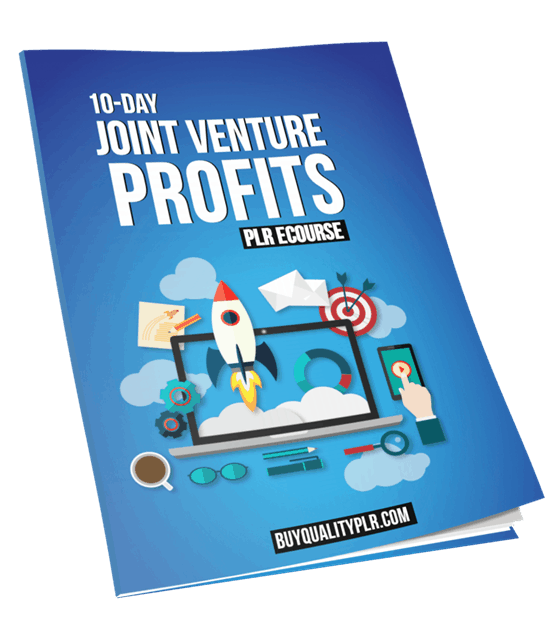 Below are the Joint Venture Profits that you are going to learn:
1. What is a joint venture anyway?
2. Joint venture partner search: Finding the right fit
3. Joint venture partner agreements
4. Joint ventures and taxes
5. Joint venture partnerships: Minimize your expenses
6. Organizing and sharing beneficial data with your joint venture partners
7. Joint venture partners: Sharing beneficial resources
8. Product creation ideas for joint ventures
9. How and why to host a JV webinar
10. Common joint venture mistakes to avoid
How Can You Use This Private Label Rights Ecourse To Make Money?
Use it to build a list of loyal subscribers that are eager to buy from you
Use it as a ecourse to train your list
Offer the ecourse as a bonus for affiliate offers
Offer the ecourse as a bonus for your own offers
Monetize the emails with your own products or affiliate products
convert the content into an ebook and sell it as a PDF
Make changes to the content and use it as blog posts to drive targeted traffic
Sample 10-Day Joint Venture Profits PLR Ecourse Message:
One way to boost your profits in your business is to enter into strategic joint ventures with one or more business owner for a specific project or business activity. Usually, a joint venture is not a long-term permanent business, although it can be. Most of the time, it's a short period of working together toward the achievement of a common goal.
Some common joint venture ideas include:
1) Project – This is the type of JV most people are familiar with. Bringing together like-minded individuals to present on one topic to a joint audience that each invites from their own lists is an excellent example of this type of joint venture. It's based on one project at a time and is not ongoing.
2) Functional – In this type of joint venture, you agree to work together based on your skill set. For example, let's say you have a plugin you've already created for a particular market. You don't have the funds to get the word out, but you know someone who works with that audience that you can work with to get the word out, because they have capital and connections.
3) Vertical – This type of JV is an agreement in place where the JV partners agree to only buy and sell from each other. For example, a few virtual assistants form a JV together to service clients based on each induvial skill set. One builds the websites, one makes the graphics, one creates the content, and one handles tech issues regarding hosting. But they all maintain their own business entities and bill clients separately.
4) Horizontal – Affiliates often fit into this type of JV. Each JV partner agrees to sell the other JVs products and services, usually for a cut. This type of JV is usually more ongoing; the JVs involved don't know each other and the central business might not even personally know the affiliate, but there is a contract when the affiliate signs up. Using influencers can also be categorized here.
Sometimes a JV can result from a common cause and a desire to work together to contribute to that common cause, such as a fundraising event or a conference (online or off) that has numerous speakers and presenters working together to talk to the same audience about their solutions.
While most JVs are short term, they can work continually. In this case, you'll for sure want a contract that spells out everyone's responsibilities and duties to make the JV successful for all parties involved. For either long- or short-term projects, both businesses stay separate entities other than the one project or goal in which they share expenses and income.
The main reason to start a joint venture is to share resources. When you work together, each of you brings to the table your own separate resources. Resources include your audience, email lists, skills, expertise, money, and more. There are cases where one might have more of something than the other, but it all balances out in the end.
When you start a joint venture, both of you gain resources and expertise, and your money will go further due to it. Plus, you'll end up making more money. When forming a joint venture, the best thing to do is to come up with the idea on your own, then approach those who might want to work with you about it. Make saying yes a no-brainer by doing most of the prep and work for them.
Always set up a contract. It doesn't have to be complicated. You can simply make a one-page contract that spells out the division of labor, payments, and everything you want to accomplish with the JV. The more specific your agreement is, the better.
One thing to remember is that a joint venture, while sometimes called a JV partnership or a JV partner, is not really a "partnership" in the business sense of the word. You keep your businesses separate, pay taxes only on your portion of the profits, and keep track of your own expenses.
So, how do you find a joint venture partner? The next email has a lot of tips.
Please Note: This is only snippet of the content so you can see the quality of the PLR report.
has been added to your cart!
have been added to your cart!
Share this and get 20% off!
Related Products That May Interest You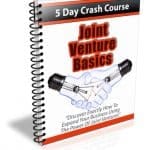 #JointVentureBasics #JointVenture #JointVentureTips #JointVentureCourse #JVTips Joint Venture Basics PLR Newsletter eCourse Inside This Easy To Follow 5 Day Crash Course You Will Be Introduced To The Power Of Joint Ventures…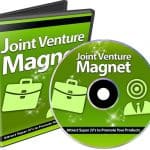 #Jointventures #Jointventure #JVmagnet #affiliatepromotion #affiliatetraffic Joint Venture Magnet PLR Video Series with Reseller Toolkit Discover How to Attract Super JVs to Start Promoting Your Products and The Reason Why Most…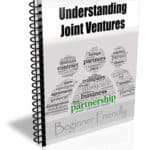 Understanding Joint Ventures PLR Newsletter eCourse #UnderstandingJointVentures #JointVentures #JointVenturesTips #PLRnewsletter Quickly Tap Into the Lucrative Joint Venture Niche Without Spending a Fortune or Hours of Your Own Valuable Time Creating…
---
TAG : joint venture profits plr, joint venture profits plr autoresponder series, joint venture profits plr ecourse, joint venture profits plr email course, joint venture profits plr emails, jv plr emails
CATEGORY : Affiliate Marketing, Affiliate Marketing PLR, Business, Business PLR, Internet Marketing, Internet Marketing PLR, Lead Magnets, Marketing PLR, Online Business PLR, PLR Autoresponder Series, PLR eCourses, PLR Lead Magnets, Private Label Rights Products