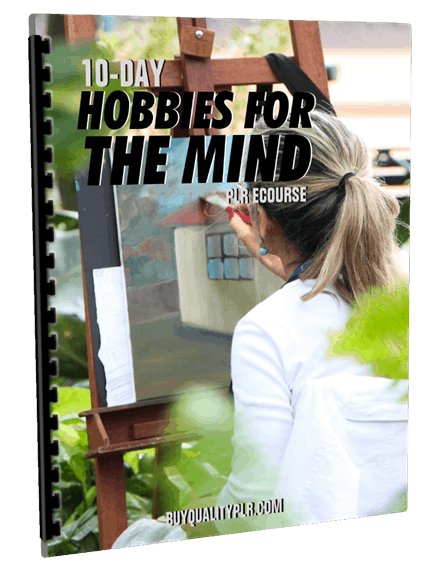 Choose Your Desired Option(s)
has been added to your cart!
have been added to your cart!
#HobbiesForTheMind #Hobbies #Traveling #CreativeCrafts #creativeWriting #Cooking
10-Day Hobbies for the Mind PLR ECourse
10-Day Hobbies for the Mind PLR ECourse ready to be used for list building, autoresponder emails and training your subscribers.
Simply slap your name on the squeeze page, monetize the emails with your own offers or affiliate offers and then pop them into your autoresponder tool like Aweber or GetResponse.
As you just already know, The Hobbies for the Mind is evergreen and extremely profitable, so building your Popular Hobbies for the Mind email list, and training your customers while monetizing your emails is the best way to make money with this Starting a Business PLR newsletter emails.
This is a complete ecourse consisting of Hobbies for the Mind emails messages with private label rights to help train your customers on Hobbies for the Mind.
has been added to your cart!
have been added to your cart!
Introducing The…
10-Day Hobbies for the Mind PLR ECourse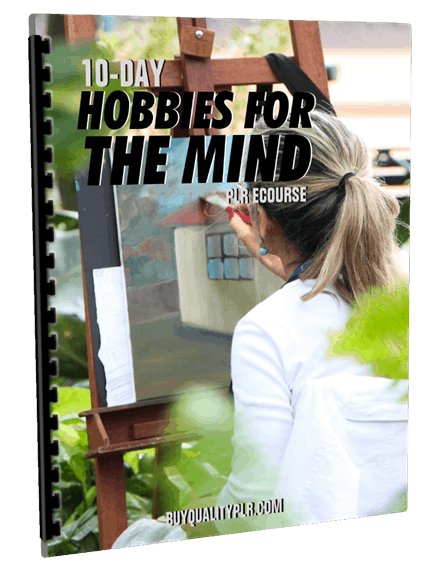 Below are the Hobbies for the Mind that you are going to learn:
1. Dance more to think more
2. Ways hiking helps keep your mind sharp
3. Why traveling keeps your brain young
4. Ways music improves brain function
5. What learning a new language does to your brain
6. How creative writing helps improve memory
7. Creative crafts that make your brain healthy
8. How cooking can increase your brain's dexterity
9. Ways that doing puzzles and brainteasers bring your brain to life
10. Why reading is essential for brain health at all ages
How Can You Use This Private Label Rights Ecourse To Make Money?
Use it to build a list of loyal subscribers that are eager to buy from you
Use it as a ecourse to train your list
Offer the ecourse as a bonus for affiliate offers
Offer the ecourse as a bonus for your own offers
Monetize the emails with your own products or affiliate products
convert the content into an ebook and sell it as a PDF
Make changes to the content and use it as blog posts to drive targeted traffic
Sample 10-Day Hobbies for the Mind PLR Ecourse Message:
Not only is dancing fun, but it's also been shown to improve brain function in people who participate. Never mind that dancing improves physical endurance and is good for your body – the fact that it makes your brain work better makes it even more desirable as an activity. To get the most benefits from dancing, participate in dancing that requires you to learn certain steps.
* You'll Improve Your Memory – When you learn new dance moves and the steps to your new dance, it helps you challenge your mind. And anytime you give your brain a challenge, it starts working even better. The region of your brain that is so important to memory is the hippocampus, and it's profoundly impacted by movement.
* You'll Improve Your Oxygen Levels – There is no mistaking that moving aerobically improves your lungs, but all that oxygen also improves your brain function. When you get more oxygen to your brain via exercise, it helps your mind work better.
* Dancing Is a Social Activity – The other thing that improves brain function is being social. When you are social, it has very positive benefits on aging and your health due to the conversations you have with people and the other stimulating factors involved in being around others.
* Dancing Improves Your Mood – When you move and dance and listen to music, it will lift your mood and make you feel better. When people are in a good mood and feel happy, their brain works better.
* Dancing Improves Your Posture – Good posture correlates to better brain function, and dancing correlates to better posture. Because of this connection, taking dance classes, going to a ballroom dancing class or other types of dancing should be one of your first choices for a good activity to do.
Because of all the good things about dancing, it just goes to show that everyone should add dancing to their list of hobbies or things to do for fun that also helps improve your health. If you add in dancing as part of your daily or weekly exercise plans and social life, you will start noticing positive effects within about four weeks and significant changes by 12 weeks in your body, mind, and spirit. Find out if you have classes via your local community and join in.
Another type of movement that helps improve brain function is hiking. Learn more about that next time.
Please Note: This is only snippet of the content so you can see the quality of the PLR report.
Share this and get 20% off!
Related Products That May Interest You