#Decluttering #DeclutteringYourYard #DeclutteringTips #DeclutteringYourGarage #DeclutteringClothes
10-Day Decluttering PLR ECourse
10-Day Decluttering PLR ECourse ready to be used for list building, autoresponder emails and training your subscribers.
Simply slap your name on the squeeze page, monetize the emails with your own offers or affiliate offers and then pop them into your autoresponder tool like Aweber or GetResponse.
As you just already know, The Decluttering is evergreen and extremely profitable, so building your Popular Diets email list, and training your customers while monetizing your emails is the best way to make money with this Decluttering PLR newsletter emails.
This is a complete ecourse consisting of Decluttering emails messages with private label rights to help train your customers on Decluttering .
has been added to your cart!
have been added to your cart!
Introducing The…
10-Day Decluttering PLR ECourse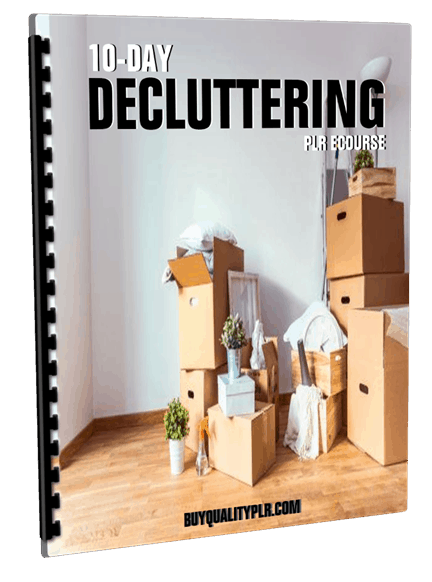 Below are the Decluttering that you are going to learn:
1. The KonMari method of decluttering
2. The four-box method of decluttering
3. Creative ways to declutter
4. Decluttering clothes
5. Tips for decluttering your yard
6. Tips for decluttering your garage
7. Tips for decluttering your attic
8. Decluttering before moving
9. Tips to avoid overwhelm when decluttering
10. How to reduce your sentimental clutter
How Can You Use This Private Label Rights Ecourse To Make Money?
Use it to build a list of loyal subscribers that are eager to buy from you
Use it as a ecourse to train your list
Offer the ecourse as a bonus for affiliate offers
Offer the ecourse as a bonus for your own offers
Monetize the emails with your own products or affiliate products
convert the content into an ebook and sell it as a PDF
Make changes to the content and use it as blog posts to drive targeted traffic
Sample 10-Day Decluttering PLR Ecourse Message:
One of the best ways to simplify your life is to declutter. There are numerous ways to go about doing this. One of the most popular ways right now is The KonMari Method™ created by Marie Kondo, from the popular show on Netflix called "Tidying Up with Marie Kondo" and inspired by her bestselling book, "The Life-Changing Magic of Tidying Up."
Link – https://amzn.to/2M8V4uc
The KonMari Method™ uses the idea of categories to get organized instead of just going room by room. You'll organize by category starting with your clothing, and then you'll work on books, papers, miscellaneous items, and then lastly sentimental items. The idea is to touch each thing, keeping only what continues to "spark joy." If the items don't still spark joy, you are supposed to thank them for their service and let them go, either to a new home or the trash.
This is an excellent method for decluttering because it relies on categories instead of where things are kept. The reason it works is that in each room, you often have many categories of items that are hard to find or contain. If you create a home for each thing and only keep the things that are useful and joyous to own, you'll need less storage and everything will be easier to find.
Plus, by starting with clothing first, you're tackling one of the things that often cause bottlenecks in the morning when getting dressed and out the door. By ending with sentimental items, you will allow your mind to adjust to letting go before you even get to those items.
The short story on this method is:
1. Declutter First – Take everything out so you can look at it, touch it, and remember it. Toss the trash, box up the giveaway, and put away the stuff you're keeping.
2. Understand Your Space – It can help to take a picture before you start decluttering, and then one when it's empty so that you can understand the space and find a good home for each thing.
3. Start with Your Clothing – Most people have too many clothes, so it's a good place to begin letting go, finding a home for things, and practicing feeling joy and gratitude.
4. Touch, Remember, Feel Joy and Gratitude – When you are decluttering, touch each item, remember what you do with it, and feel joy and gratitude for each thing. If you're keeping it, it's due to joy; if you're giving it away, it's because you've got all the use out of it you can.
5. Find a Home for Everything You Keep – When you put things away, since the things you keep are special and bring joy, store them in a way that makes them seem special. Everything in a home has a place.
6. Learn to Fold Marie's Way – This is a good folding method to learn because you can store more clothing in smaller areas without messing them up when you look for them. Here is a good YouTube video to help:
7. Work on Sentimental Items Last – Go through all the categories of items and only touch the sentimental items at the end. It can take months of going through the method before you get to this, but when you are ready, it won't be as hard.
8. Take Your Time – You don't have to do this in one weekend if you don't want to. You can take your time and work on each category through time. The great thing is that your kids will learn this method by watching you and do it too.
If you want to try the KonMari Method™ yourself, it's highly advisable to get her book. The TV show is good too, but it doesn't really explain the method as well as the book does, and you're likely to skip steps if you don't go through the book. You can get it on Kindle so that you don't have another item to make a decision about – especially since with this method, she wants you to try to keep only 30 books.
In our next email, we're going to look at another method of decluttering.
Please Note: This is only snippet of the content so you can see the quality of the PLR report.
has been added to your cart!
have been added to your cart!
Share this and get 20% off!
Related Products That May Interest You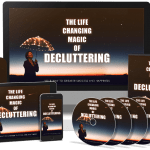 #Decluttering #DeclutteringTips #Clutter #ClutteredFreeLife #ClutteredLiving The Life Changing Magic of Decluttering Sales Funnel with Master Resell Rights It's About Time For You To Learn The Life Changing Magic Of Decluttering!…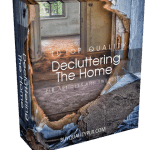 10 Top Quality Decluttering the Home PLR Articles and Tweets In this PLR Content Pack You'll get 10 Quality Family Decluttering the Home PLR Articles and Tweets with Private Label…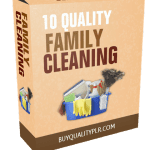 10 Quality Family Cleaning PLR Articles ready for you to use as your own for blogging or repurpose into other formats. Instant Download Access.
---
TAG : decluttering clothes plr, decluttering plr, decluttering plr autoresponder series, decluttering plr ecourse, decluttering plr email course, decluttering plr emails, decluttering tips plr
CATEGORY : Lead Magnets, PLR eCourses, PLR Lead Magnets, Private Label Rights Products